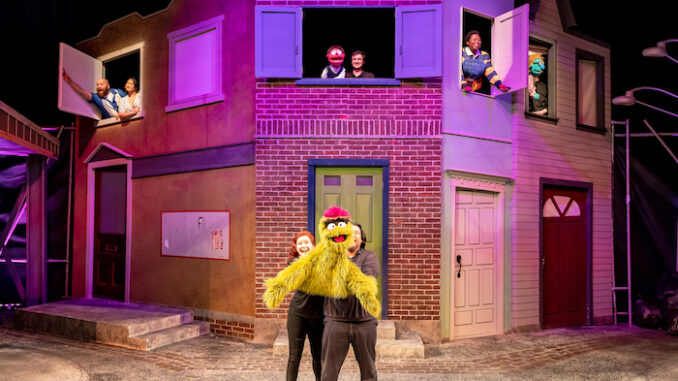 Music Theater Works opens its 43rd season with Avenue Q in the North Theatre at the North Shore Center for the Performing Arts in Skokie, 9501 Skokie Blvd, Skokie where it is playing until April 2. Although the show is 20 years old, having opened on Broadway at the Golden Theatre July 31, 2003, this production is fresh and energetic.
The Tony Award-winning musical comedy with book by Jeff Whitty, music and lyrics by Robert Lopez and Jeff Marx is based on an original concept by Robert Lopez and Jeff Marx. The show is directed and choreographed by Christopher Pazdernik, assistant directed by Ashley Keys and music directed by Eugene Dizon. The running time, including the intermission, is currently 2 hours.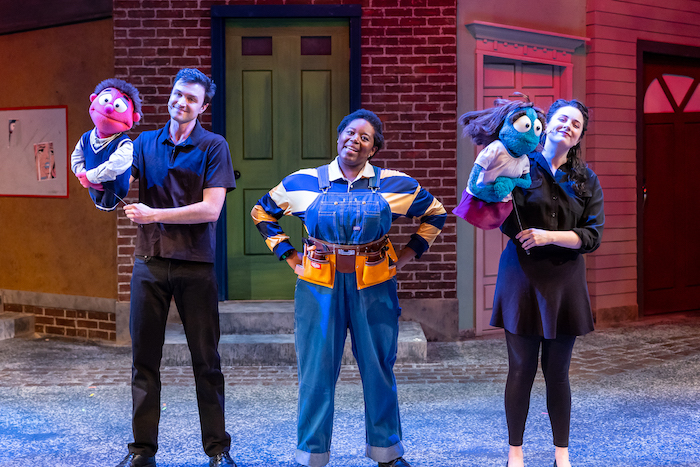 This show is sometimes referred to as "Sesame Street for adults". Entering the theatre, there it was a set that shouted Sesame Street used effectively as the story is told, puppets and all. Princeton, a recent college graduate hoping to find a life of purpose begins his tale and soon we follow him to Avenue Q, in New York.
His story is largely told in songs like "What Do You Do with a B.A. in English?" and "I Wish I Could Go Back to College," "Avenue Q" with lyrics portraying higher education as an extended stay in the carefree land of adolescence. Princeton finds himself drifting through life, trying to discover his true purpose. His puppet tells us-
"I can't pay the bills yet
'Cause I have no skills yet.
The world is a big scary place."
As we follow our hero Princeton, to Avenue Q we meet the people in his neighborhood, puppets, of course, and learn the stories of many kinds of people. Bottom line is it isn't any easier to "grow up" twenty years later. The words are magic, the voices are fantastic, the costumes are perfect and the staging and choreography were just right. The tunes are wonderful and it is very funny. I left feeling lighter and happier than when I entered. It is no wonder that AVENUE Q won the Tony for Best Musical, Best Score, and Best Book. Come and see it and let it win your heart.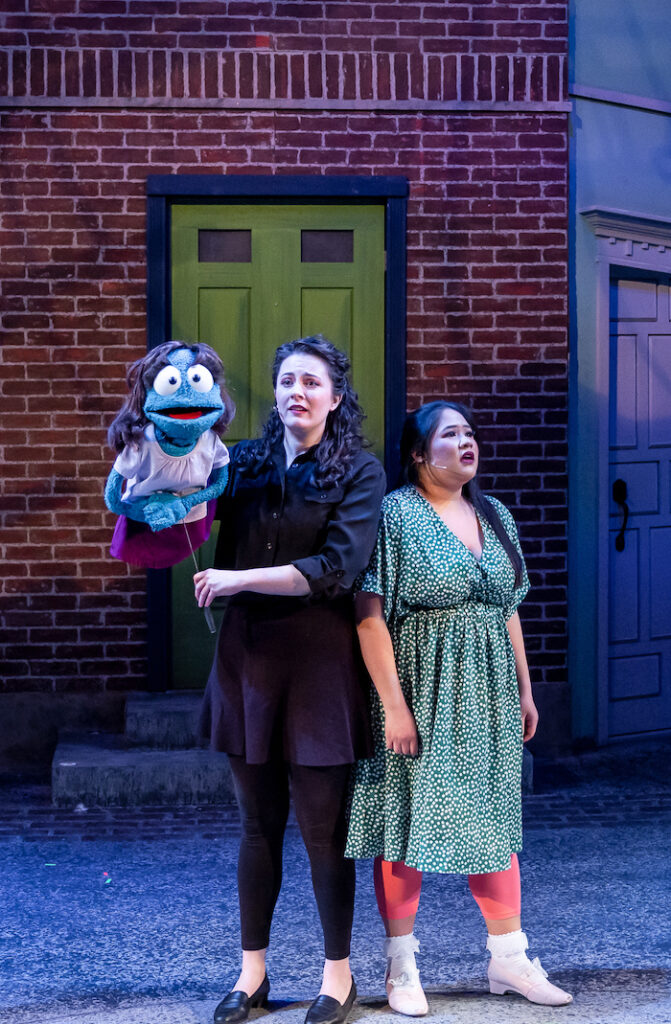 The cast of Avenue Q includes Jimmy Hogan (he/him/his, Princeton); Brandy Miller (she/her/hers, Kate Monster); Adam Ross Brody (he/him/his, Rod); Andres J. DeLeon (he/him/his, Nicky/Trekkie Monster/Bad Idea Bear); Melissa Crabtree (she/her/hers, Lucy/Mrs.Thistletwat/ Bad Idea Bear); Thomas E. Squires (he/him/his, Brian) and Mai Hartwich (she/her/hers, Christmas Eve) and Whitney Dottery (she/her/hers/they/them/theirs, Gary Coleman).
The hard work of the production team is evident in the fabulous show. The Avenue Q creative team currently includes Christopher Pazdernik (any with respect, director/choreographer); Ashley Keys (she/her/hers assistant director); Eugene Dizon (he/him/his, music director); Ben Lipinski (he/him/his, scenic designer); Justin LeBlanc (he/him/his/they/them/theirs, costume designer); Andrew Meyers (he/him/his, lighting designer); Rick Sims (he/him/his, sound designer); Bob Stilton (he/him/his, props designer); Nick Zabel (he/him/his, technical director); Kristi Martens (she/her/hers, puppetry trainer); Cameron Koniarski (he/him/his, master electrician); Will Hughes (he/him/his, scenic shop technical director); David Sajewich (he/him/his, media designer); Tony Churchill (he/him/his, associate media engineer); Alexis Lotspeich (she/her/hers, assistant costume designer); Chelsea Lynn (she/her/hers lighting programmer); Elena Patterson (she/her/hers/they/them/theirs, stage manager); MaK Cole (they/them/theirs, assistant stage manager); Jennifer King Russell (she/her/hers, company manager); Chris Chase (he/him/his, production manager) and Kyle A. Dougan (he/him/his/they/them/theirs, producing artistic director).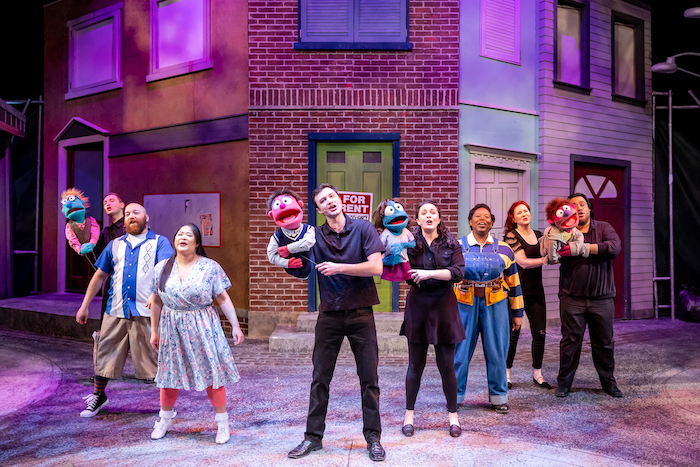 The performance schedule is Wednesdays at 1 p.m., Fridays at 8 p.m., Saturdays at 8 p.m., Sundays at 2 p.m. with a Saturday matinee, March 18 at 2 p.m. and two Thursday performances on March 23 and 30 at 7:30 p.m. Complete performance schedule is included at the end of this release. Tickets are now on sale from $39 to $106 with tickets for guests 25 years old and younger available at half-price at MusicTheaterWorks.com or by calling the Music Theater Works box office at the North Shore Center, 847.673.6300. Group discounts are available for groups of 10 or more by contacting 847.920.5360.
Photos are courtesy of AVENUE Q