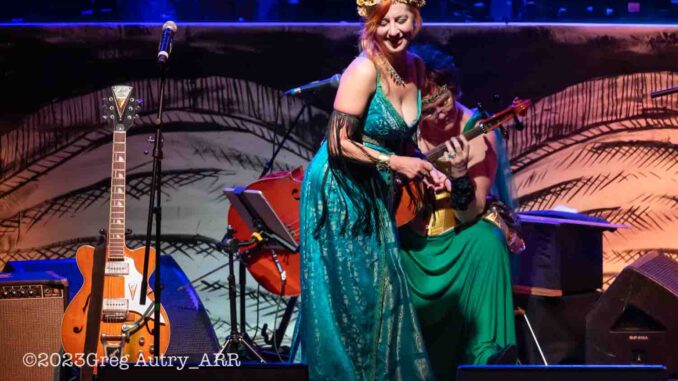 by Greg Autry
February 25, 2023
Per my Exclusive interview with Justin Katz and Carrie Rose Katz.
Justin Katz: " It was the summer of 1998, and Rosin Coven [the band] were hosts of a somewhat fabled martini lounge in the middle of a remote Northern Nevada desert. One evening, after a particularly rousing sunset performance, they were carousing around the bar with their friends when they noticed someone had left a copy of Edward Gorey's "Gashlycrumb Tinies" on the bartop. This led to a dramatic reading and the sudden idea that it would be great fun to throw a party in Gorey's honor upon returning to San Francisco. And thus, in December of that same year, the first-ever "Edwardian Ball" was thrown in honor of our great author-saint. Gorey was always our Edward, but we knew from the start that the play on the name would lead to a wonderful re-imagining of the past and a new interpretation of an "Edwardian" era.
For the first four years, Rosin Coven held down the event on our own. We read the book and acted out the parts as best we could while simultaneously performing an original musical score. By year five we realized we had hit the limit of doing everything ourselves and teamed up with the emerging Vau de Vire Society in 2005 to co-create "The Evil Garden", our fifth incarnation of The Ball and our first with them (Vau de Vire Society) as co-hosts. Rosin Coven and Vau de Vire have chosen and created an original stage performance of Gorey's work each and every year (that wasn't totally shut down by a pandemic) for a total of 17 shows together. It's been a synergy, an amazing partnership that we never could have anticipated going so far and so long!
And, this year we have come to the bittersweet point of Rosin Coven being ready to hang up our top hats and wind down our musical project after 25 amazing years. So this year's Edwardian Ball will be our last. We are excited to be performing with Vau de Vire for one last weekend, animating a Rosin Coven classic called "The Zookeeper's Awakening" in a rousing, wild animal roundup!"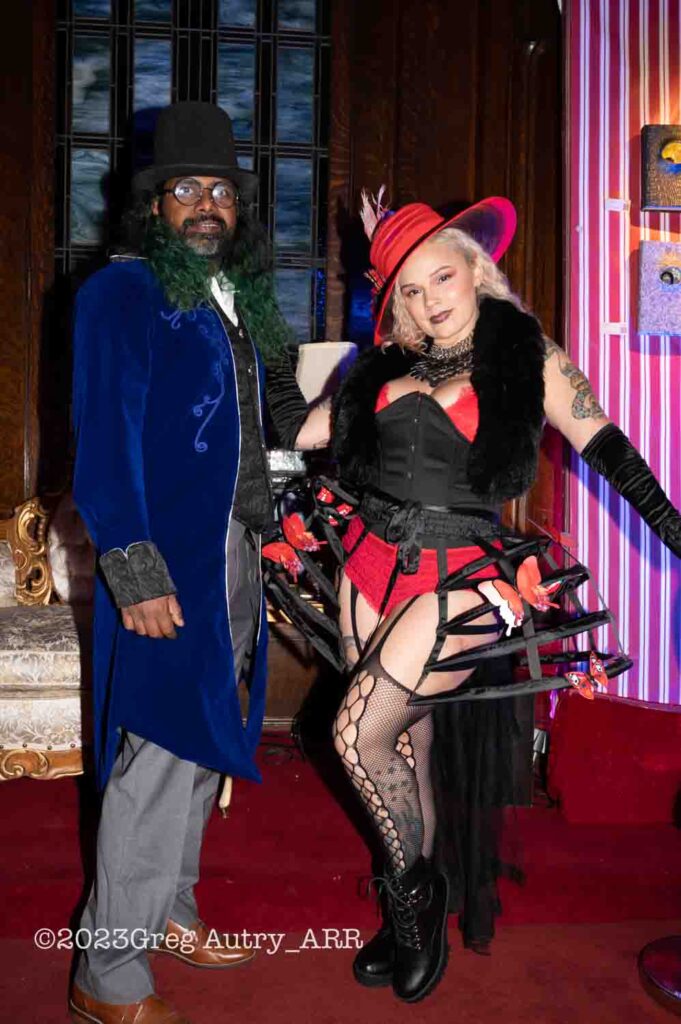 The Edwardian Balls are dedicated each year to both the Edwardian time period and the illustrator Edward Gorey. The annual Balls are immersive, wondrous, magical events, which are in turn elegant, whimsical celebrations of all things creative. You will find art, music, dance, theatre, fashion, technology, circus, and the beloved creations of the late, great author and illustrator Edward Gorey [more 'bout this, keep reading.]
2023 marked the final Edwardian performances of the band, Rosin Coven, who was instrumental in the creation of the Ball itself, over twenty-five years ago [per Justin Katz above.]. This year's Splash coverage is respectfully devoted to the band, Rosin Coven, as well as the myriad cast, crew, and performers who make the Ball possible, and the thousands of followers who attend in their mastery of costume and historical delight.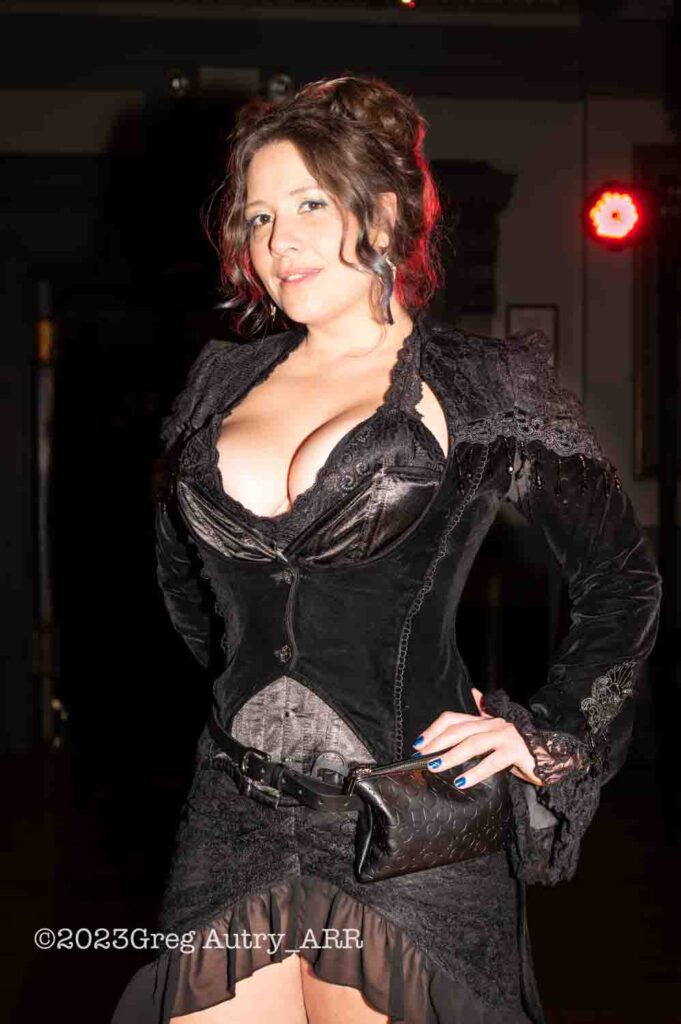 Rosin Coven, "The Worlds Premier Pagan Lounge Ensemble," initially formed in 1996, as a trio. Formed around lead vocalist Midnight Rose, going through several iterations, the band members today are; Midnight Rose (Carrie Rose Katz), Jasmin Garden (Lila Sklar), Gingerbread Candy (Beth Vandernennet), Patrick de la Esperanza (Tim O'Keefe), Abraham Birmingham (Justin Katz), Louis Capricorn (Patrick Kaliski), and Toby Bain (Tim Carless).
Carrie Rose Katz has penned the mainstay of the band's repertoire and the band collaborates on orchestration and improving the final works. Justin Katz joined the band soon after formation and remains the bassist, in addition to being the Creative Director of Paradox Media and producer of the Edwardian Ball.
Rosin Coven has remained a San Francisco based ensemble band, toured on a limited basis by choice, and has put out three albums; Penumbra, Live in the Pagan Lounge, and Menagerie. In addition to being a featured act in the annual Edwardian Balls, they are well known in the Burning Man community. Check out this link to Apple Music, for a sample of the Rosin Coven sounds.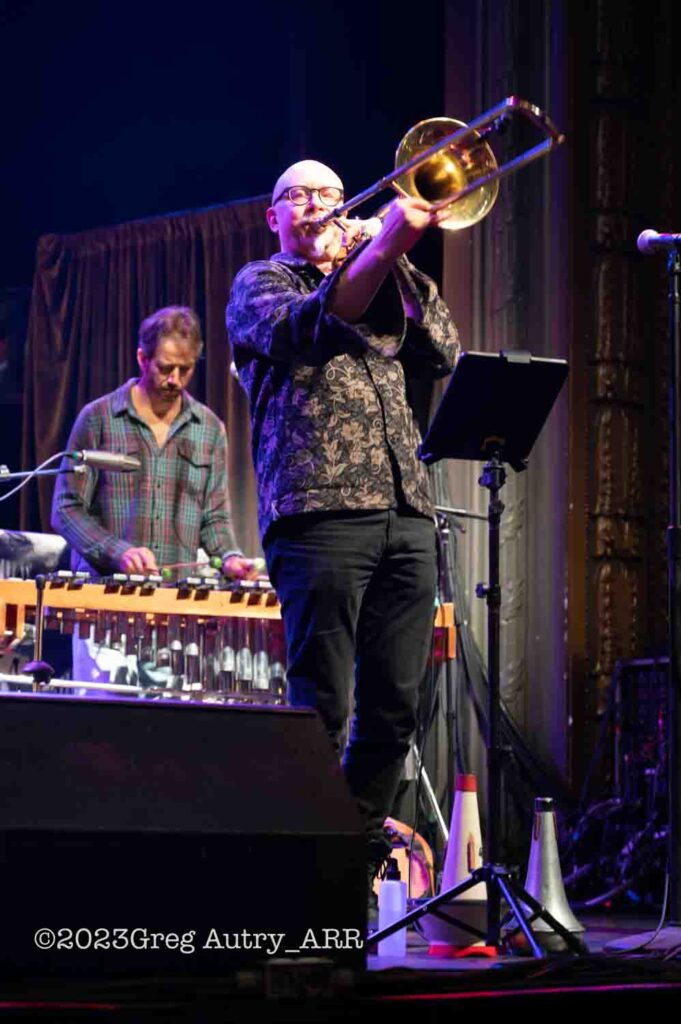 When I interviewed both Justin and Carrie before this years Ball, they told me 'While the band and its involvement in the Edwardian is coming to an end, their work together is not ending. Justin Katz said, "The boys of Rosin Coven, along with tenor sax extraordinaire John Schroeder, have a cartoon jazz band called Dr. Abacus. We've been around forever, and plan to keep popping up with musical lab experiments here and there throughout the Bay Area."
Carrie Rose Katz also told me, "The ladies of the Coven, along with collaborator Sarita Pockell, have been creating the Dreamhive Collective, presenting an annual cycle of immersive, playful, meaningful, sensory, and participatory events scheduled around the equinoxes and solstices."
The Final Performances by Rosin Coven was cause for celebrating the changes of life's journey, and looking towards new opportunities. While Justin Katz and Rosin Coven will not perform with/at future Edwardian Balls, he assured me that he will remain as involved as ever, as head of Paradox Media, co-Producing the Ball along with Mike and Shannon Gaines of Vau de Vire Society. Justin also works as the Executive Producer for Burning Man Project's year-round events.
The Regency Ballroom is a spectacular venue and again featured San Francisco based Dark Garden Corsetry, premiering their new line in a fab fashion show each night.
Friend Jim Sweeney – presented Hubba Hubba Revue, upstairs and lauded over a bevy of beauteous burlesque acts. Only a smitten I can show you here.
I do apologize the myriad of performers and acts whom I have not mentioned here. Alas, the Edwardian Ball, and my Review of the Ball would mean nothing without the astounding support of the patrons who dress up and literally, have a ball each and every year. To them I salute with the images from the evenings dance floor and throughout the Ball., interspersed throughout the article.
The first Edwardian Ball was held at the Cat Club in San Francisco in December 1999, then moved to the Great American Music Hall, then to the Regency Ballroom in 2008. The 2023 Edwardian Ball was held on February 3rd & 4th at The Regency Ballroom, in San Francisco, California.
I first covered the Edwardian for Splash Mags in 2014, the year of `The Curious Sofa,' and have done so every year since, sans 2021 when there was no Ball, due to the Pandemic. I have written a total of 13 articles to date, covering SF and LA.
Throughout, Rosin Coven has hosted, performed their theatrical sets of music, and created & performed an original score to over 20 Edward Gorey tales since, 18 of which with their dear friends Vau de Vire Society.
Tickets for the 2024 Edwardian Ball go on sale October 31, 2023. I tell you THE TRUTH, the tickets will be sold out. Join the mailing list to get notified of the best deals. People do come from around the world to this amazing event. Friends I know, took a private Jet from Los Angeles, to come to the Ball this year.