Shakespeare is back at A Noise Within with MUCH ADO ABOUT NOTHING, the Bard's frothiest romantic comedy. Under the superb direction of Guillermo Cienfuegos, the play is one of the funniest ever, making Shakespeare's sometimes turgid and/or difficult to understand play readily available to today's theatergoer. Written in 1598 or 1599, MUCH ADO ABOUT NOTHING explores many issues of interest then and now (especially around Valentines Day), including infidelity, treachery, masks and mistaken identity, and love gone wrong. Shakespeare's comedy has seen multiple London and Broadway productions and been nominated and/or awarded Tonys between 1973 and 1985. MUCH ADO ABOUT NOTHING has also been immortalized on the Silver Screen, most notably in 1993 directed by Kenneth Branaugh with a dazzling array of Hollywood stars, including Denzel Washington, Kate Beckinsale, Emma Thompson, Keanu Reeves, and Michael Keaton. The ultimate screwball comedy, MUCH ADO ABOUT NOTHING is A Noise Within's current production.
The time is World War II and the place is the port city of Messina in Sicily, MUCH ADO ABOUT NOTHING follows the up-and-down romances of two couples, Claudio (Stanley Andrew Jackson III) and Hero (Alexandra Hellquist) and Benedick (Joshua Bitton) and Beatrice (Erika Soto). Prince Don Pedro (Fredrick Stuart) has just come to Messina with his victorious army for some much needed R&R. The timing is perfect for the lovelorn Claudio to push his suit for the beautiful Hero, daughter of the city's mayor.
Meanwhile Beatrice, Hero's cousin and "Lady Tongue," and Benedick, the Prince's Jester and Claudio's buddy, want nothing of love – and they're not afraid to let everyone know. Their witty and often caustic remarks to each other are meant to wound, but they might just be a cover-up for a mutual attraction which they dare not acknowledge. To quote director Cienfuegos, "It's scary to make yourself vulnerable – to love, and to allow yourself to love…I don't think there's a person in this world who can't relate to that…this play gets that message across in a very funny way." Highjinks ramp up as the "merry war" between the two unlikely lovers continues. But wait. Even though Claudio and Hero's nuptials seem certain, there's a villain in the piece named Don John (Rafael Goldstein) who is committed to make sure that the wedding doesn't happen. Lots of giggles and guffaws embellish the show as the improbable become probable and the unlikely happens. For trivia lovers, the title of the piece is also a clever double entendre drawn from Elizabethan days: "nothing" not only designates gossip – but is also a slang term for vagina.
Cienfuegos helms the production with consummate skill, eking out every comic moment to its fullest. He is aided and abetted by the extraordinarily gifted cast. Scenic designer Angela Balogh Calin probably had lots of fun making a fluid set which changes directions constantly as cast members scurry about tugging and lifting. Ken Booth's lighting, Christopher Moscatiello's sound, Christine Cover Ferro's costumes, and Tony Valdes' wigs and make-up keep the motor running throughout. And don't forget that 40s music and dance with choreography by Joyce Guy.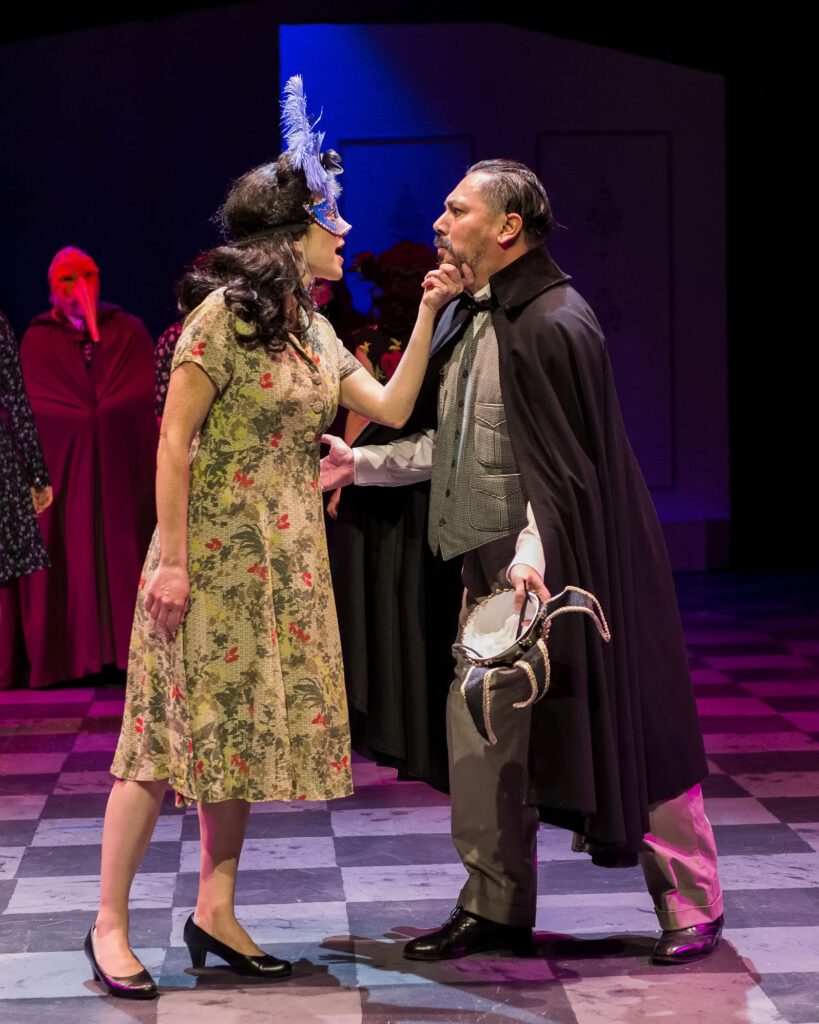 Above all, MUCH ADO ABOUT NOTHING is clever, hysterically funny, and entertaining – as well as a perfect piece to prove to nonbelievers in Shakespeare's works that the Bard really was a very funny fellow with a huge funny bone. It only took a brilliant director and cast to prove it.
MUCH ADO ABOUT NOTHING runs through March 12, 2023, with performances at 8 p.m. on Fridays, at 2 p.m. and 8 p.m. on Saturdays (2/18, 2/25, 3/4, and 3/11), at 2 p.m. on Sundays (2/12, 2/19, 2/26, 3/5, 3/12). A Noise Within is located at 3352 E. Foothill Blvd., Pasadena, CA 91107. Tickets start at $25 (students $18, Thursday 2/9 Pay-What-You-Choose starting at $5, discounts for groups of 10+). For information and reservations, call 626-356-3100 or go online.