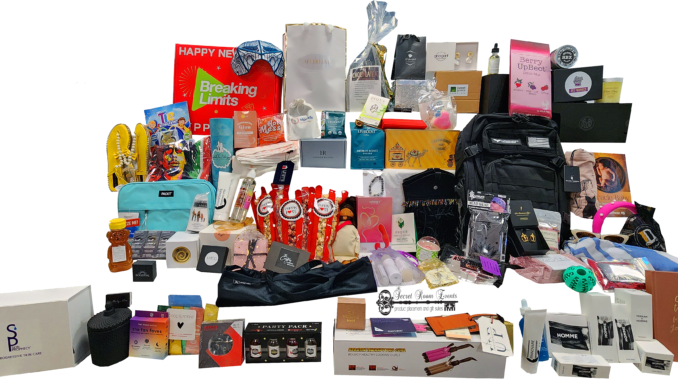 The sun was out and the Southern California skyline took center stage as sunshine and a perfect day greeted guests on Friday February 3rd, as Secret Room Events hosted their annual Pre-Grammy Nominee Lounge. Secret Room Events put the amazing day together along with co-sponsors this year are the following: Lifeboost Coffee , Retuned Jewelry and SJW Cosmetics LLC., with the event helping kickoff Grammy weekend festivities with a luxury celebrity gift suite that took place on the beautiful rooftop of the iconic Petersen Automotive Museum.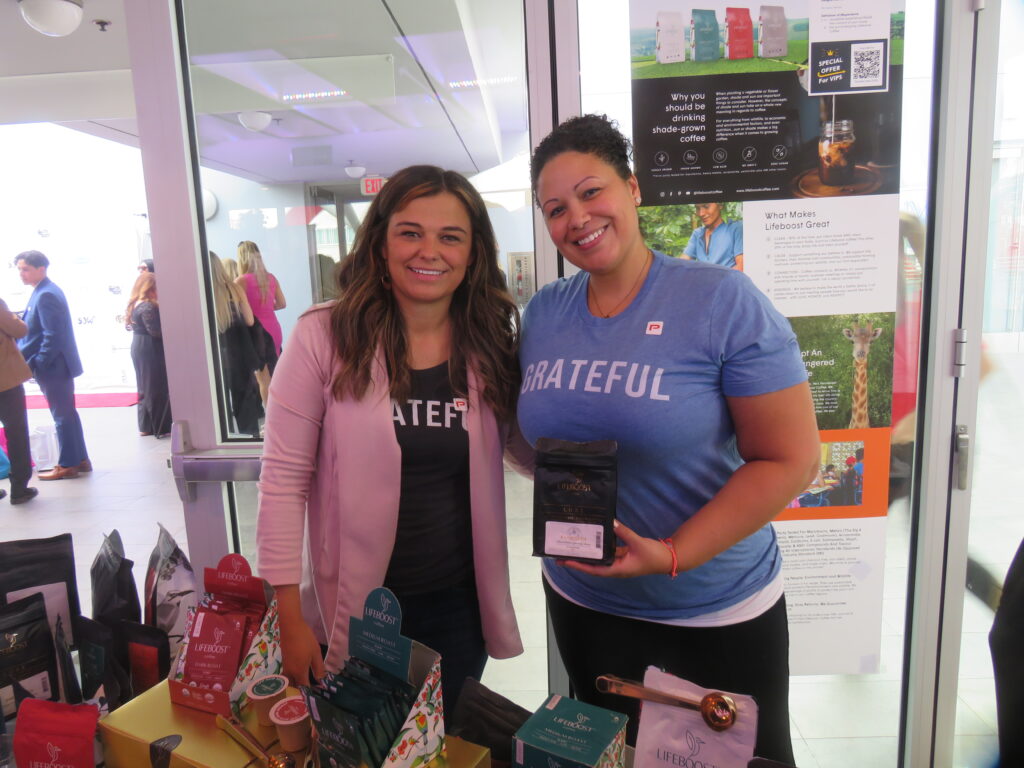 Lifeboost Coffee were treating guests to a cold brew version of their single origin, certified organic coffee as well as a box of coffee and their truly unique Lifeboost Everlo Coffee Drops, which help balance pH and reduce acidity regardless of the water that you are using to make your coffee. Lifeboost is the coffee that makes sure you have a quality cup of coffee as they have a third party test for mycotoxins, molds, heavy metals, pesticides plus 400 other toxins to ensure you are getting the cleanest beans anywhere. For more information, visit: Lifeboost Coffee
Retuned Jewelry were gifting their repurposed guitar string jewelry. Retuned Jewelry wanted to bring the love, passion and hard work that the strings of musical instruments symbolized into jewelry that also gives those strings a new life. For more information, visit: Retuned Jewelry
Molly Bz were treating guests to their newest cookie, "The Hot Mess". Like all the Molly Bz cookies, this is a huge cookie and very rich, this one is loaded with Mango chunks, white chocolate and topped with HOT CHEETOS. Sweet, spicy to with a crunch, this is unique like every Molly Bz cookie. For more information, visit: Molly Bz
HOMME were gifting products from their vegan men's skincare line. They have you covered from head, shampoo, to face, shaving and more including a concealer product that is unique to men. HOMME has a three color concealer that let's you match any skin color or type for a perfect look. For more information, visit: HOMME
Outter Goddess: Embrace your inner Goddess at Outter Goddess by absorbing yourself in all the hottest and latest luxury designer fashion trends to empower you so you can feel like your most authentic self. At the Secret Room Events Pre-Grammy Nominee Lounge guests were catered to jewelry and clothing that emulated star quality. Look like a Goddess in fashion with totally affordable choices.
Cakestry Cosmetics: All the way from St. Peters, Missouri Cakestry Cosmetics treated guests with the most fun and engaging way to enjoy desserts without the calories! These dessert-inspired bath and body treats are handmade with love, created by a mom. How can you not enjoy your daily skin regimen with products like Bubble Bath Ice Cream Scoops: Rainbow Sherbet, Watermelon-Lemon Sorbet, or Ocean Breeze Ice? You can also shop for Body Treats: Body Butters like Winter Cranberry + Peppermint or Pumpkin Spice to name a few. There are also amazing gift sets but hurry they sell out quick! Why? They are made with natural ingredients, paraben-free, sulfate-free, cruelty free and made in the USA! Enjoy 15% off your next purchase using code: GRAMMYS2023 (only valid for 30 days from 2.5.2023)
Be A Heart were gifting an assortment of their children's toys that were created for people who seek to find God in the midst of every day life. Be A Heart produces goods follwing the promptings of the Holy Spirit, these items span from home goods and textiles to baptism gifts as well as children's toys. For more information, visit: Be A Heart
Wrapped Clothing: Are you ready to be wrapped darling? The Wrapped Clothing are waiting to wrap you in comfort and style. Guests were gifted their best-selling item: Shoulder Shrug – Scarf with Sleeves which comes in many fun colors. This sweater knit stretch fabric will keep you looking stylish while warming you up during those breezy days or chilly nights. You can sport this over your summer dresses, tank tops, or t-shirts just in case you get a little cool or be cool in this stylish wrap. Let if flow freestyle-like or pin it with your favorite broach to keep in place, no matter what fashion you will look stylish just like a grammy winner!
5 Circle Skin Care were gifting products from their skincare line that was developed with specific ingredients to target your skin concerns. 5 Circle will make sure you get the product that is right for you skin by giving you a one-on-one consultation with a real esthetician. For more information, visit: 5 Circle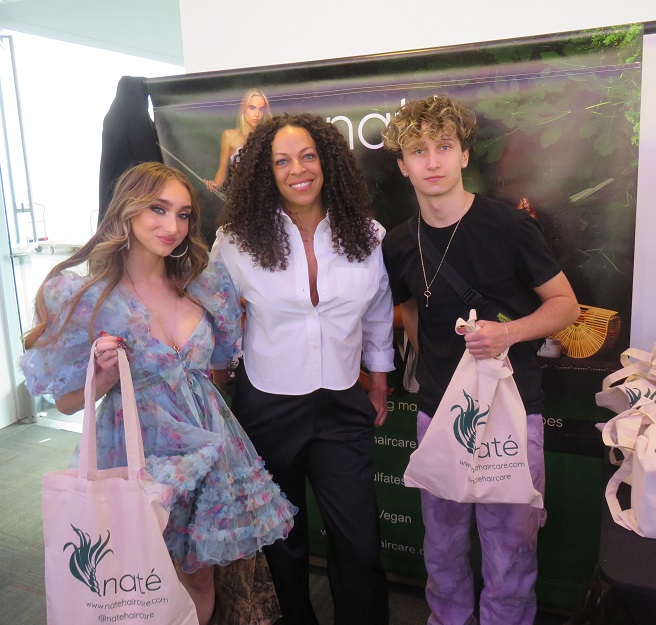 Nate´Hair Care: Everybody going to the Grammy's should have luxurious hair for that red carpet moment so Nate´gifted The Masque: A weightless deep conditioning product for all hair types. Using this revolutionary, 100% vegan, silicone-free formula once a week will strengthen your hair and provide the shine your hair deserves without that heavy weight feel. Made from nutrient-rich Pacific seaweed, aloe vera, and growth stimulating kaolin clay, The Masque will reveal the true beauty of you and your hair.
PureTrim, a line of health products that are manufactured following time-tested Mediterranean health principles in combination with modern scientific advancements, was gifting and sampling an assortment of products. For a daily healthy drink, the Cardio 9 provides 23 organic greens, fruits & vegetables, specifically blended to help improve your Nitric Oxide level, as well as supporting healthy circulation, cholesterol and energy levels. For more information, visit: PureTrim
RADAZZ Apparel were gifting their truly unique bandanas that were designed and conceived to solve three major problems. The first problem was to eliminate the pain, discomfort and additional pressure a person feels when wearing sunglasses under the bandana. The RADAZZ bandana design has slots on the exterior to prevent the arms of the eyewear from touching the side of your head and ears. The RADAZZ bandana is pre-folded so you have a perfect and secure fit. It also has a spot in the bandana inside to hold your money, ID or credit card. For more information, visit: RADAZZ
Candles by Adisa: Aromatherapy Candles made with 100% CBD and Virgin Coconut Soy Wax, were gifted Friday before the 2023 Grammys. Specifically made to calm your mind and body while providing aesthetically pleasing decor and amazing fragrances from around the world. Candles by Adisa are luxury vessels that slowly stimulate you into a peaceful state especially in stressful situations from work, school, or traffic. Float away with these soothing fragrances and rejuvenate your existence.
Skin Prophecy were gifting a box of their wonderful skin care line and if you are ever in Santa Barbara visit the clinic for a number of their in-person treatments. Pet Prophecy is a line of products for pets that takes the same care in creating high quality products to pamper your pets. For more information, visit: Skin Prophecy and Pet Prophecy
Smart Dog Ball: Pet lovers were treated with this fun and interactive toy for your doggies. Cats like mine like it too! This engaging ball was created to keep your pet cheerful while you are away. Made of durable non-toxic rubber, this creative toy encourages play while also cleaning your pets' teeth. Simply place small treats or kibble in the tracks of the ball, and your pet can happily chew them off while being stimulated in play. Get yours today! Smart Dog Ball
Epico Designs were gifting their safety pin earrings and necklace to guests from their women's jewelry line. Epico handpicks their natural healing stone, crystals and pearls to help create their beautiful pieces. For more information, visit: Epico
SJW Cosmetics: SJW Cosmetics gifted their new product The Body Alchemy which is an anti-age moisturizer. This delightfully silky cream is designed to lift and tighten the whole body and can be used on the facial areas as well. After 10 days you will notice a positive change in your skin with daily use. Along with this new product guests were given NV glo the facial serum, NV skull serum that rids crows feet and wrinkles, and the Rose Gold Syringe that will fill in gaps and wrinkles within minutes.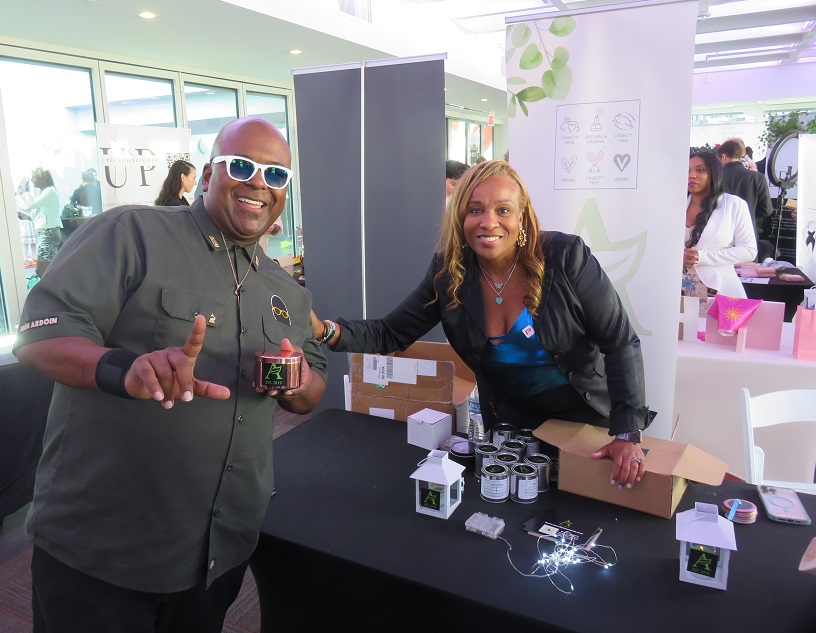 Anecdote Naturals were gifting products from their soap, candle and hair product line that is meant to reinvigorate the mind, body, and spirit; inspiring moments of hope and happiness as people effortlessly connect with products that smell good and are good for them too. The incredible soap line is free of: Preservative, Parabens, Detergent, Phthalate, SLS/ Sulfate Free (Sodium Lauryl Sulfate), are cruelty free and vegan friendly. For more information, visit: Anecdote
Moss and Palm: Inspired by the natural beauty of the Caribbean, Moss and Palm products are formulated with only nature's finest ingredients. The Lavendula Dream Body Bar are what clients love the most and guests were introduced to this all natural, paraben & phthalate free, cruelty free product. Shop the catalogue for essential oils and other natural products.
Beauty Assassin Cosmetics: The Beauty Assassins Cosmetics provided guests with the Anti-Wrinkle Day Cream, Peptide Cleanser, and Peptide Serum. Peptides are a key ingredient in firming skin for a younger-looking appeal and also may be a positive use for fewer facial and back breakouts. Receive a 10% discount upon your first order.
Cheeterz Club Eye Wear: Affordable, quality reading glasses, by Cheeterz Club Eye Wear, were given out to guests last Friday. These plant-based frames with spring hinges and CR-39: A scratch proof lenses were a big hit. Shop the catalogue to view amazing styles like the Blue Light, Honey Bunny, Pretty Panda, or Ginger Lemon all with blue light filtering. Cool men frames include Gold Rush, Silver Linings, or Havana Nights.
Peach X Pearl: A beauty technology company whose products are designed in the USA! Peach X Pearl eliminates multi-step processes in skincare and beauty regimes and specialize in anti-aging and cosmetic solutions. In 2024, a new season of beauty will be revealed: RENUVI TOUCH® ROBOTIC FACIAL TONING AND LIFTING DEVICE be on the lookout!
ForLove Bridal: On your special day, ForLove Bridal believes you should have nothing but the best. They hand select each piece, and no matter the budget, ForLove Bridal will work with you to provide you only quality fabric, beading, lace, appliqué and more. Based in the valley – Sherman Oaks, just outside Los Angeles, ForLove Bridal will never compromise excellence for your special day!
Afi Briant: Based in Toronto, Canada, Afi Briant designs gowns to your specifications and are cut to order. These designer gowns are luxurious yet affordable without compromising quality or fit.  Browse the Song of Love collections for 2023 and other amazing collections.
Kindred and Crew by Erika Alexandra: Capture the picture-perfect moments for the whole family. Browse matching & coordinating outfits for all your loved ones including, Mommy & me, Daddy & me, Sibling matching and more. Shop at Kindred and Crew
Coop & Spree: Book a private shopping appointment below (walk-ins won't be accepted) or shop here 24/7. Bookings are currently accepted through February 15th on this page and via our @coopandspree Instagram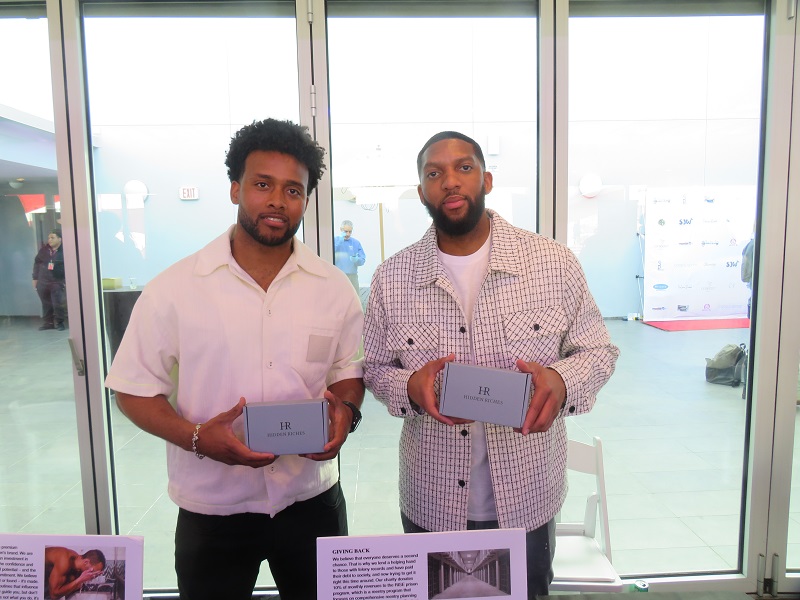 Hidden Riches Men's Skincare were gifting products from their men's skincare line, including: cleanser, moisturizer and exfoliator. Hidden Riches donates 10% of monthly revenues to the RISE prison program, which is a reentry program that focuses on comprehensive reentry planning at CCDOC/IDOC/Juvenile Detention Centers. For more information, visit: Hidden Riches
Go Kart World, located in Carson, CA, were gifting guests with certificates to come try their racing skills on one of their go kart tracks. They offer experiences from young, the novice and someone who really wants to rev up their go-kart as fast as they can. Go Kart World also offers a kiddy truck and bumper cars to make sure the entire family can have a great time. For more information, visit: Go Kart World
Phantomasy were gifting guests apparel from their unique pieces that take inspiration from Forest Fantasy, Alternative Fashion, Gothic Victorian Aesthetic, Elegant Beauty, and the Dark and Mysterious. For more information, visit: Phantomasy
Upleatherdesigns were gifting bag from their luxury leather line crafted by hand on Vancouver Island. For more information, visit: Upleatherdesigns
Mikel Kristi skincare were gifting products from their non-toxic, clean, cosmetic dermatology products. Their botanical-based products are carefully formulated according to the European Union's (EU) strict standards for cosmetic and skincare safety. You can be certain that what you are using on your skin from Mikel Kristi is always safe and of the highest quality. For more information, visit: Mikel Kristi
Freestyle Photo: While the digital age has made for snapping images quick and easy, old school film and cameras are still around and make for a truly different experience. While they are not commonplace you can still find all of the great products needed through Freestyle Photo. For more information, visit: Freestyle Photo
Guests were also treated to a huge bag filled with wonderful items from the events gift bags sponsors, in Large SJW Cosmetics canvas bags. Guests were gifted products from: Pomp & Sass Turkish cotton towels, Brown books Publishing Group, The Couture Cushion Ltd, Blessed Hex candle company, Crisilyne, Olbali, The Wandering Jewel, The Pearl Ladie, a gift certificate from Mochidoki, a premium Mochi ice cream, Lavender And Water, Historically modern Designs, Of the Earth creations, Build to Blossom, DuxStyle, Boot Roxy, NH ALRABIAH, LAKOET, Armoured THREADS, Ancient Rituals Cosmetics, Global Teas, LLC, Honey Play Box, Solistial Jewelry, JP Beautiful Jewels, J Chrishay LLC, PackIt®, AQUA REE Inc., LUMIFY® redness reliever eye drops, STR8CRON CLOTHING APPAREL, Ink Defense, 4U by Schells, Michel Leng D & Co. International, GINA GANT PEARLS, Midnight Moon Moonshine, Ice cream papers, Waxaholic Body Waxing. LLC, WW Galleria, Sipsafe Drinking Buddy, VAHDAM India, Tatiyana Collections, Sweet Grass Essentials, Warriorenics, Rinnovare Skincare, LLC, Amazfit, Clayton golf, Quarbar, Jillian Leigh Jewelry, PoppinLove, Gold star laces.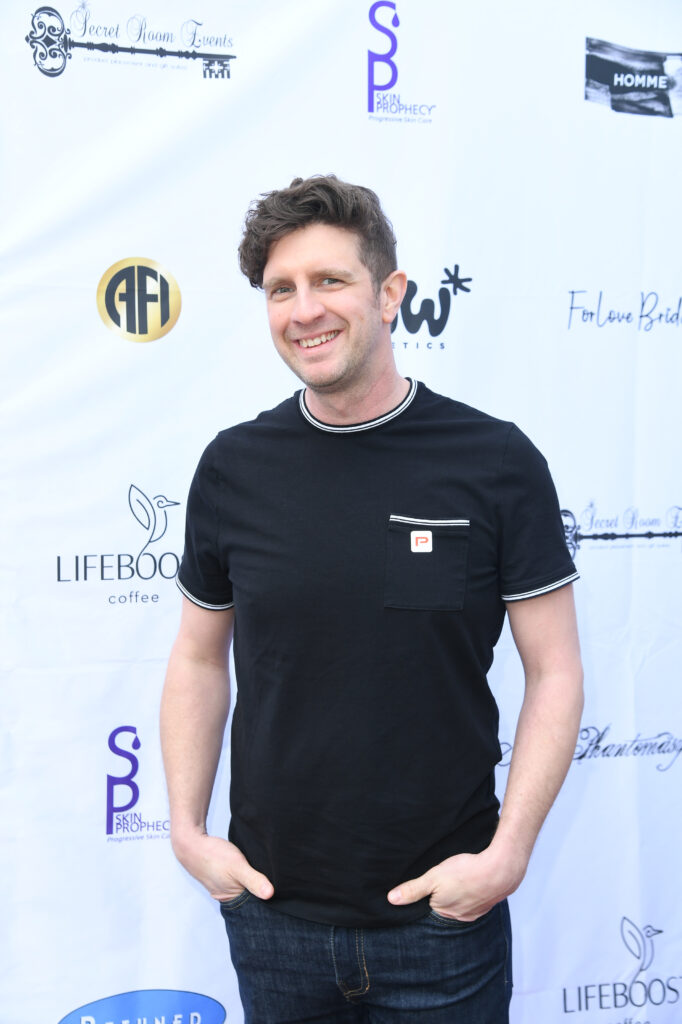 Guests got to enjoy this beautiful sunny day with a cocktail in hand as Rasta Rita was serving their BAO'JITO margaritas to guests. Rasta Rita can take care of any event that you are holding, a wedding, corporate event or just a party at your house, they put together a drink menu that will give your guests a memorable experience. For more information, visit: Rasta Rita