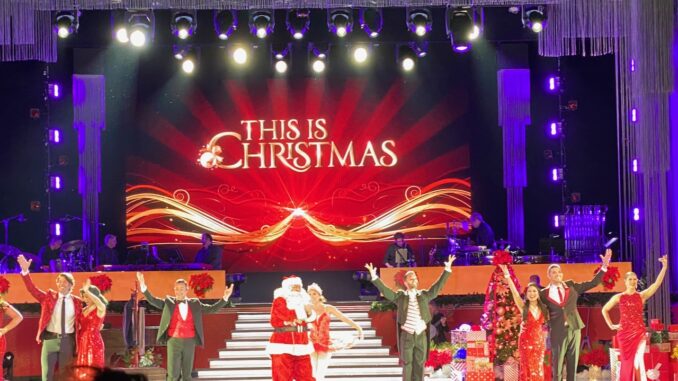 THIS IS CHRISTMAS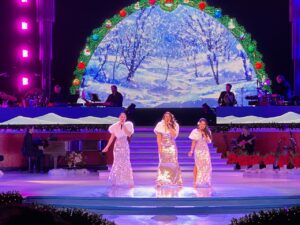 Do you need a little Christmas? Well then here's a show for you. It is suitable for all ages and Yes, you will see Santa Claus on stage. It's titled This Is Christmas and is playing at the Palazzo Theater at the Venetian Resort through December 26th.
This show is a sojourn to some holiday favorites – classics you remember and many you are singing every year. It's a star-studded production with familiar faces of Broadway performers and finalists and contestants on American Idol.
Many have appeared in Vegas productions. There's Broadway star Randal Keith and American Idol Ace Young, award-winning dance duo Alejandro Domingo and Sarah Le Clear, American Idols' Diana DeGarmo, Lou Gazzara, Jasmine Trias, Laura Suzanne Wright. And more – Las Vegas headliner Jaclyn McSpadden, British singer and entertainer Ben Stone.
There's nothing heavy weight about this show. No deep plot to follow, no script twists and turns. Just a compilation of holiday favorites to entertain you and bring the spirit of Christmas into your hearts.
There's a lovely re-creation of Virginia's letter asking if there is a Santa Claus. And we all know the answer, but it's heartwarming to hear it again.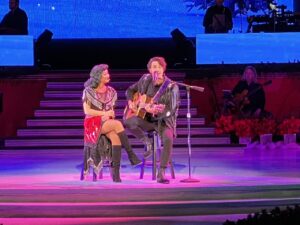 You'll enjoy Tennessee Christmas, Baby Its Cold Outside, Silent Night, And I'm Dreaming Of A White Christmas. Oh, And Santa Baby.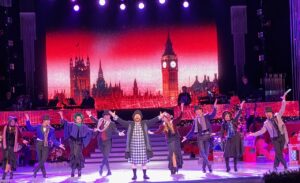 And off the stage, I enjoyed seeing the youngsters all dressed up to go to a Christmas show. It warms the heart.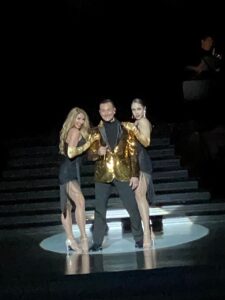 The show was created and produced by Pat Caddick for PC Entertainment Group, and is directed by Blair Farrington. Accompanying the show's powerhouse vocals is a live all-star band, with conductor Keith Paraska on piano, Carlos Mata on saxophone and keys, Jose "Pepe" Jiminez on drums, Bob Benora on percussion, Jake Langley on guitar, Dave Richardson on keys, Bill Zappia on keys and Jeff Zinn on bass.
Tickets start at $69.95, plus applicable fees, and are available for purchase at Ticketmaster or Venetian tickets, or any box office at The Venetian Resort or by calling 702.414.9000 or 866.641.7469.