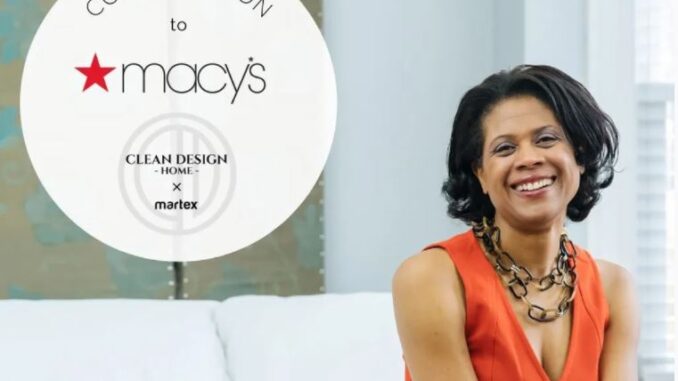 Hitting the shelves at Macy's on January 2, 2022, Designer Robin Wilson's new line of home textiles in partnership with Martex is aimed at providing relief for allergy sufferers while maintaining a sleek and calming modern aesthetic.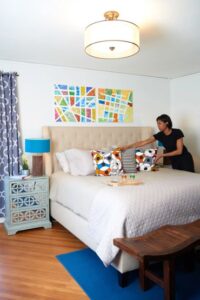 Robin is making history as the first Black American female founder of a global, licensed hypoallergenic textile brand. An American entrepreneur, author, and designer, Robin has been the creative director for the eponymous brand Robin Wilson Home since 2000. Wilson is also the founder of A Blue Egg Corporation, the conglomerate created to bring together real estate, design, and licensing – founded in 2006.
She left the corporate world in 1999 after an IPO provided her with a windfall – and found that even with a graduate degree in Real Estate Finance (NYU), the fiscal disparity in the banking world prevented her from gaining traction as a developer.
After successful collaborations with major developers and hospitality groups, she became the first Black woman to license her brand to custom kitchen cabinetry sold nationwide by 400 independent dealers, generating over $82 million, wholesale – followed by an eponymous textile line sold at retail.
In 2020, Robin was named one of the Top 100 Female Founders in the world by Inc. Magazine. Her influence in the area of eco-friendly, sustainable, and hypoallergenic issues has elevated her career trajectory through hard work and consistent messaging. Her new line of textiles is her next step in this.
CLEAN DESIGN HOME™ x Martex has an assortment of textiles focused on keeping asthma and allergy triggers – like dust mites, pet dander, pollen – under control. This line confirms Robin's focus to partner with leading manufacturers as the health and lexicon of "home" changes throughout the pandemic and beyond.
"Robin Wilson brings a new level of expertise in the world of Clean Design and anti-allergen products that we have not explored up to now." says WestPoint Home CMO, Regan Iglesia, "With Robin Wilson, we studied the market and believe that there is a need and desire for 'better' products in this category."
After the Macy's launch, WestPoint Home plans to distribute the CLEAN DESIGN HOME™ x Martex bed and bath collection through its website, as well as select department and specialty stores, starting in spring 2022.
The collection includes pillows, sheet sets, comforters, robes, towels plus a special collection of allergen-barrier utility options for mattress and pillow protection.
The palette will be minimalist white, grey, light blue, ivory, and blush, and will also include 400 thread-count sheet sets and duvets. All the products are made with BCI (Better Cotton Initiative) cotton and certified Made-in-Green by Oeko-Tex®. Plus, the towels are Supima cotton-loop and tightly woven bathrobes are low-linting, so they reduce the presence of airborne allergens.
The collection will be at 165 doors across the US, including Hawaii, Guam, and Puerto Rico with an online preview on December 26, 2021. Pricing for the CLEAN DESIGN HOME™ x Martex collection will range from $15 to $275.
Robin and her team were kind enough to answer questions for Splash about her company, partnership, and the launch of her new line.
SPLASH: What inspired her to become a designer when her background is in finance?
Robin Wilson grew up pan-allergic in Austin, Texas – and she always knew she wanted to be an entrepreneur. She left her corporate job when they held an IPO – and she received a windfall. One of her mentors asked her what she would do if she could chase her dream, and it was a moment when she realized that her hypoallergenic awareness, interest in real estate, and entrepreneurial goals could be realized if she opened her own firm. She got a degree from NYU in Real Estate Finance and found barriers to entry as a woman developer, but she was able to translate her skills into a project manager role for high-net-worth individuals with multiple homes – and she built her business as a coordinator for their spaces – in the winter she was in the summer hotspots, and in summer she was in the winter locations – so that her clients would have move-in ready homes at the start of the season.
SPLASH: How did she become interested in sustainable and eco-friendly design?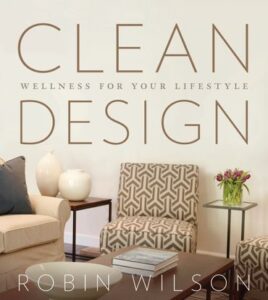 Robin grew up in Austin, Texas – a hotspot for environmental awareness. Her parents found a holistic ("hippie") pediatrician whose motto was 'raise a strong child, not a child on strong medicine' and he guided them to make changes in their home – from the foundation (removal of shag carpet) to the triggers (shoes at front door and no smokers inside) and diet (no dairy, limited red meat) – and exercise to build strong lungs. The pediatrician was ahead of his time, and his philosophy worked for Robin, so she has been rigorous in her personal living spaces – and brought that same sensibility to her clients.
As a pioneer in the eco-friendly movement, she has been a strong advocate for solutions and the education of consumers. She was clear that the 'greenwashing' was occurring and there needed to be clear messaging. She wrote a book, CLEAN DESIGN: Wellness for Your Lifestyle" (Greenleaf, 2015) which became a #1 bestseller on Amazon – with basic tips for a consumer who wanted to learn about how to create a healthier ecosystem for their home.
SPLASH: When was she first diagnosed with allergies and how did that affect her? It doesn't seem to have impacted her success.
As Malcolm Gladwell mentions in his book, "The Tipping Point", it takes 10,000 for someone to have expertise – and since Robin was a baby when her parents took her to a holistic pediatrician in Austin, Texas – she has definitely earned her hours through personal experience, hospitalizations, and a lifetime wellness journey.
SPLASH: This line seems to be all about keeping out dust mites, but there are other allergens. Do these help reduce allergies for people who have other types of allergies?
CLEAN DESIGN HOME™ x Martex is a textile line that focuses on two tenets: protection and prevention – specifically in the bed and bath spaces. One of the interesting facts is that you can ask people how old the pillow is on their bed – and the general answer is: six years. Think of six years of drool, dander, dust mites, pollen – and given that we spend one-third of our lives sleeping, it means that those dark circles under your eyes might be from 'dirt' and not just a restless sleep.
SPLASH: How did Robin end up partnering with Martex? Did she approach them with the idea, or did they seek her out as an expert?
Robin Wilson and West Point Home began a conversation and her firm licensed the CLEAN DESIGN HOME™ brand – and the team worked together to create a concept, resulting in the collection that will be launched at 165 Macy's stores nationwide on January 2, 2022 (online preview on December 27, 2021). The collection will focus on the luxury market with pillows, cotton sheets, Supima cotton towels, and robes – with a spring 2022 launch of quilts. Says Robin, "It is such an honor to be partnered with the venerable West Point Home team – as they have worked with iconic brands – and it is thrilling to be the first Black international brand for hypoallergenic, luxury textiles."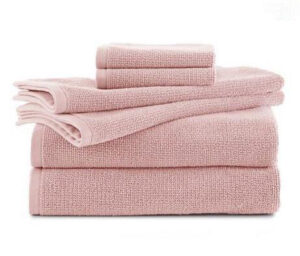 SPLASH: Why no patterns? Is it to promote the "clean" aesthetic? Or can't patterns be created to the tolerance levels required?
As the CLEAN DESIGN HOME™ x Martex collaboration launches, it is initially solid textiles, but it will likely morph into patterns for sheeting. However, the quilt line which will launch in Q2 2022 will exhibit some amazing patterns, evocative of Robin's paternal grandmother, who was a seamstress and made beautiful quilts in the African-American tradition, with a focus on Texas colors and heritage.
SPLASH: What else does she have forthcoming in textiles to help promote clean, eco-friendly design?
Robin plans to launch a fashion collection of pajamas and casual wear – and will begin to work with wool in her collection.
SPLASH: What would SHE like to say about this new line?
ROBIN: "It is an amazing experience to work with the West Point Home team – and when I learned that the UK and Japan markets were launching the CLEAN DESIGN HOME™ x Martex collection, someone pointed out that we were making history – as the first Black international textile brand focused on the luxury hypoallergenic market. I pay homage to my parents and ancestors who were sharecroppers picking cotton, and now my brand will be sold internationally and it is made of cotton. What a wonderful impact this brand will make for the 60 million Americans (1 in 5 people) and more globally, who suffer from allergic triggers. Perhaps our Rule of 3's: wash a zippered pillow protector every 3 weeks; wash a down alternative pillow every 3 months, or replace every 3 years – will help consumers and limit wheezing and sneezing."
More information about the collection can be found at their website. The textiles go on sale at Macy's on January 2, 2022.
All photos were provided by Robin Wilson.