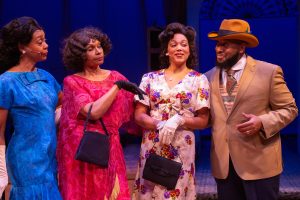 October 2021 marked the soulful blues production, BLUES IN THE NIGHT, at Long Beach's International City Theatre (ICT). In association with L.A.'s Ebony Repertory Theatre, the Tony and Olivier award nominated show features a potpourri of classic blues tunes made famous by the likes of iconic blues performers like Bessie Smith and Duke Ellington. BLUES IN THE NIGHT is a veritable treasure trove of classics from times past, songs that never go out of style – melodies like "Taking a Chance on Love," "Willow Weep for Me," "I Gotta Right to Sing the Blues," and of course "Blues in the Night."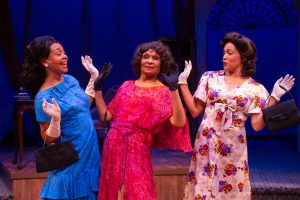 Set in a 1948 Chicago Hotel, BLUES IN THE NIGHT is brought to life by three women and a man – an incredible quartet of singers – including "the Girl with a Date" (Jenna Gillespie Byrd), "the Woman of the World" (Karole Foreman), the "Man in the Saloon" (Parris D. Mann), and the "Lady from the Road" (Vivian Reed). The talented vocalists could easily charm the birds from the trees as they warble and moan their way through some of the world's most heart-breaking melodies. Besides the poignant tunes, these singers are also actors who manage to hold the audience's attention and even inject some humor into the ditties. After all, life is made up of misery, humor, and sublime happiness with all the stops in between. Hold onto your seat when the songbirds get together with the perfect harmony of a truly experienced and vocally matched set of singers. Heaven was never like this!
As if it weren't enough that the songs and singers do such a splendid job of conveying the pain and pleasure of love – BLUES IN THE NIGHT also features a real live band headed by music director William Foster McDaniel on piano, Del Atkins on bass, Clayton Cameron on drums, Scott Mayo on woodwinds, and Fernando Pullum on trumpet. But there's more. Let's not forget Mann's tappity-tap rhythms from the soles of his shoes. Kudos to resident costume designer Kim DeShava for her retro perfection, as well as scenic designer Edward E. Haynes, Jr., lighting designer Donna Ruzika, sound designer John Feinstein, and the entire skilled production crew.
The Sheldon Epps-conceived musical is directed by Ebony Rep producing artistic director Wren T. Brown and features music direction by McDaniel and choreography by Keith Young. BLUES IN THE NIGHT is a genuine group effort with superb results. Following their run at ICT, BLUES IN THE NIGHT is scheduled for a four-week Ebony Rep run at the Nate Holden Performing Arts Center in Los Angeles. This is a not-to-be missed musical evening.
BLUES IN THE NIGHT at ICT runs through November 7, 2021, with performance at 8 p.m. on Thursdays, Fridays, and Saturdays, and at 2 p.m. on Sundays. ICT is located at the Long Beach Performing Arts Center located at 330 East Seaside Way in Long Beach, CA 90802. Tickets range from $49 to $52. For information and reservations, call 562-436-4610 or go online.
BLUES IN THE NIGHT at the Ebony Repertory Theatre in the Nate Holden Performing Arts Center performs from November 12 to December 5, 2021. The Nate Holden Performing Arts Center is located at 4718 West Washington Blvd., Los Angeles, CA. Show times are at 8 p.m. on Fridays and Saturdays and at 3 p.m. on Sundays. Tickets range from $40 to $50. For information and reservations, call 323-964-9766 or go online.