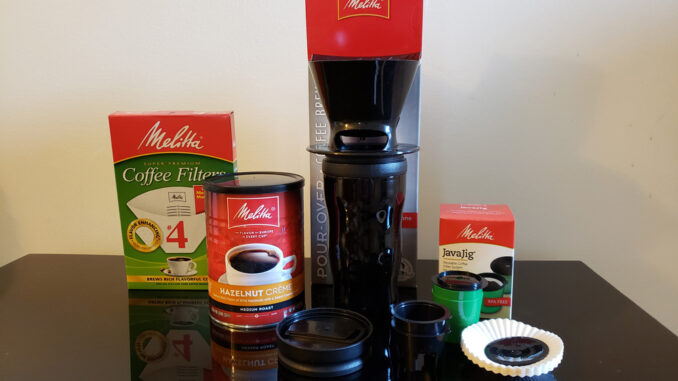 The modern work world is fueled by caffeine, much of it in the form of coffee. From the convenience of the corner coffee shop to your favorite grocery store aisle, there are a wealth of options for getting your favorite fix. But convenience can come at an environmental cost, especially when using single-serve coffee pods and the like, which are often not recycled.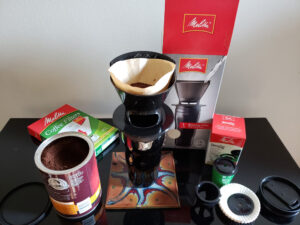 While many of us are familiar with the ubiquitous Melitta branded coffee filters that you can find nearly everywhere coffee is sold, Melitta, from its founding by inventor Melitta Bentz near the turn of the 20th Century, has been committed to excellence.
Bentz, herself, invented the coffee filter as we know it today. She tired of the over-brewed percolator coffee, the grounds left in espresso from the machines of the day, and the linen bag filters of the time that were difficult to clean. So, she experimented with a new way to filter coffee and came up with blotting paper from her son Willy's homework and a brass pot punctured with a nail. The new paper filter did the trick and the coffee was less bitter and free of grounds. She was granted a patent in 1908 and after working with a tinsmith to create the new filtration devices they sold 1,200 at the Leipzig fair in 1909 and founded the business we know today.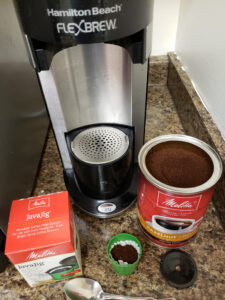 And one of the best things about paper coffee filters is that they are biodegradable. And the Melitta company has continued its commitment to sustainability. They support Rainforest Alliance and Fairtrade in coffee-growing countries to help coffee growers and minimize environmental impact. Their coffee plant in Cherry Hill, NJ is solar with 20% of the plant's electric capacity generated on-site. They have also created single-serve compostable coffee pods.
Recently they sent me two new reusable options that use sustainable, biodegradable paper filters and both make a wonderful cup of coffee.
The first is a reusable K-cup killer, the Java Jig. It fits into any K-style machine and you fill it with your own favorite coffee and one of the Java Jig filters. Then you brew as usual and you wind up with an excellent cup of coffee. And what's even better, you know you aren't throwing more plastic into the environment. You just dispose of the paper filter and grounds (recycling preferred), rinse out your Java Jig, refill and you're ready to make your next cup. It's very easy to clean out and easy to use, so you can use your convenient one-cup brewer with no guilt!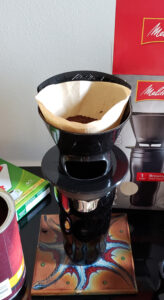 They also sent me a 1-Cup Pour-Over Coffee Brew Cone & Travel Mug Set. The pour-over device fits snugly on top of the travel mug for easy use, and the mug's screw-top prevents leaking. What's also great is that you can use paper or Melitta bamboo filters, and pour overs don't even require any electricity to operate, so you could even use it when you go camping.
I intend to take it with me the next time I go on a trip along with some good coffee, as the options for first thing in the morning in many hotels are sub-par. And I have to say, the mug kept my coffee warm for a very, very long time and the pour-over device worked neatly and was extremely easy to use. This is a great way to get ready for your daily commute when you're on a business trip.
The thing that was truly the revelation, however, was the Melitta-brand coffee. Along with my, Java Jig, filters and Pour-Over Coffee Brew Cone & Travel Mug Set, they sent me their own brand Hazelnut Cream coffee. Like many, I had no idea they had their own coffee brand as I've only ever seen their filters in stores, but let me tell you, this was the BEST Hazelnut coffee I've ever tasted. I immediately sought it out and still could not find it at stores near me. But I am relieved to find that it is available online at a number of retailers, and of course, directly from Melitta at their own website, along with all of the products I've mentioned here. I will be happily using the samples they sent for some time to come and seeking out more of their coffee flavors and products online.
Shop at Melitta.
All photography by Suzanne Magnuson