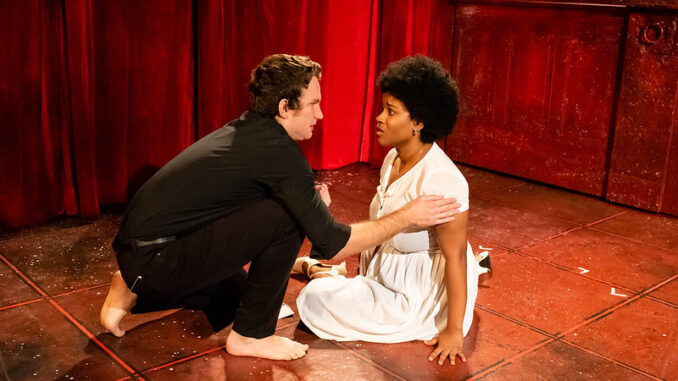 By David Hamilton
The Invictus Theatre Company production of Shakespeare's HAMLET is the opening production in its fifth season of plays. The popular tragedy will be performed through November 21, 2021 in the company's new venue at 1106 W. Thorndale Avenue in Edgewater (the space formerly known as The Frontier). Tickets for HAMLET are on sale here.
Shakespeare. Just the name evokes a response from the casual theatre goer to the one who goes to see
multiple plays a week (and there are such people). The beauty of Shakespeare's plays lies in the crafting
of its story, its twists and turns, the richness of its characters and of course…the language. And it is
precisely the language on which these other aspects hang. An actor can learn iambic pentameter, to
breathe or pause at the punctuation and to emphasize the capitalized words; all of which demonstrates
a proficiency at performing Shakespeare. None of which demonstrates a proficiency at acting
Shakespeare. For many audience members the language of Shakespeare is "the rub". Something you will hear a lot is, "It sounded good, but I had no idea what they were talking about." And because of the language, a level of commitment is needed from the actor to convey the tone and emotion behind
Shakespeare's words.

The play follows Hamlet, the Prince of Denmark, who is dealing with the sudden loss of his father and
the equally sudden marriage of his mother (Gertrude) to his uncle (Claudius). Hamlet is visited by the
ghost of his father who reveals that he was murdered by Claudius and wants Hamlet to avenge his
death. Hamlet then sets his mind to devising a plan that will expose Claudius thus giving Hamlet the
proof he will need to justify killing him.

The production of Hamlet at Invictus, while a quality effort, does have some uneven performances. This
version of Hamlet is directed by and starring company member Charles Askenaizer and staged at The
Frontier. The great thing about storefront theatre is the actors are truly exposed. Every facial expression, gesture and movement can be seen by the audience. Authenticity and honesty can't hide, it's as clear as the look on the actors face. In this production some performances ring true while others fall short. This production should be seen just for Darren Jones' Polonius. Polonius is counselor to the new King. He acts more out of self-preservation than anything else. Polonius is servile, duplicitous, verbose and manipulative, all of which Darren expertly and deftly conveys. He spends his time trying to undo Hamlet in order to keep him away from his daughter Ophelia, competently played by Ebby Offord. Michael Lewis plays Laertes, son of Polonius and gives an arresting performance. Laertes is all rash and swaggerand will protect his family at all costs. Before returning to France, Laertes warns his sister Ophelia to stay away from Hamlet, and upon his return he finds that his world is very much in upheaval. It's always fascinating to see an actor playing the moment and not waiting for their cue line. You can see in Michael's eyes that he is listening and processing in real time. At times Michael's emotion took over and I lost some of what he was saying, but it was clear what he was feeling. Jack Morsovillio and Andrea Uppling play Rosencrantz and Guildenstern, friends of Hamlet. They have been tasked, by Hamlets uncle/King, to discover if Hamlet has actually gone crazy. As a tag team they are quite enjoyable adding humor, whimsy and a dash of pragmatism as they attempt to get to the root of Hamlet's distemperment. Other notable performances, in ensemble roles, are Robert Koon, Keenan Odenkirk and Maria Clara Ospina. These actors fill out the world of the play as soldiers, priest, nurse and troubadours. Not a small feat, crafting believable characters with a point of view while having few lines to do so, a testament to their preparation.

Overall, this a solid production and the performances of the aforementioned actors make this iteration
of Hamlet engaging to even the casual theatre goer.
The cast also includes Barry Irving (Horatio), Michael Lewis (Laertes), Jack Morsovillo (Rosencrantz, Gravedigger), Andrea Uppling (Guildenstern), Chuck Munro (Ghost, Gravedigger); and Maria Clara Ospina, Robert Koon, and Keenan Odenkirk (Ensemble). Understudies are Keenan Odenkirk (Hamlet), Chuck Munro (Polonius), Michael Kunnari (Claudius, Ghost, Gravedigger 2 ), Ryan Kordana (Rosenkrantz, Guildenstern), Simmery Branch (Ensemble 1, Ophelia), Tristan Odenkirk (Ensemble 2 and 3), Xavier Dorsey (Horatio, Laertes), and Andrea Uppling (Gertrude).


The production team will include Kevin Rolfs (Set/Props Designer), Isaac Pineda (Costume Designer/Wardrobe Supervisor), Warren Levon (Sound Designer), Chad Lussier (Lighting Designer), Glenn Thompson (Violence/Intimacy Designer), Sarafina Vecchio (Text Coach), Jessica Greenhoe (Stage Manager), Michael Shapiro (Dramaturg), Todd Faulstich (Production Manager), and Morgan Askenaizer (Associate Director).
Production Photos by Brian McConkey