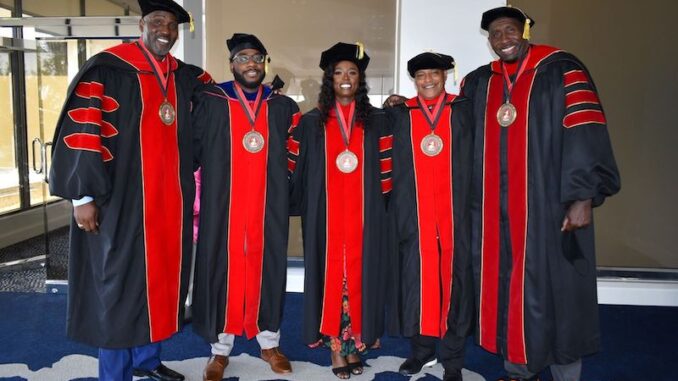 "9/11" will be remembered for many reasons including honoring individuals for their Heroism in the aftermath. This year, on "9/11" in Ft Lauderdale, Florida, the Global International Alliance University (GIA) under the leadership of Ambassador Dr. Lenora Peterson and Dr. Dee Thompson (Florida) honored and certified a prestigious Honorary Doctorate in Humanitarianism with several recipients earning dual awards with the Joe Biden Presidential Lifetime Achievement Award for a lifetime of outstanding service and giving back to local and international communities.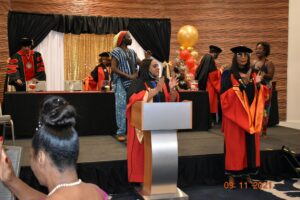 Ambassador Dr. Peterson is the official Global Goodwill Ambassador Chief Executive Director for the Global International Alliance program (GIA) and was recently voted one of the "100 Most Successful Women in Business" in The Global Trade Chamber's Book Collaboration.
Dr. Thompson, named 1 of 50 Most Powerful & Influential Black Leaders in South Florida by Legacy Magazine, is the Florida Regional Chaplain for the Global International Alliance program who presented her graduation ceremony event with grace, prestige, elegance, spiritual, excitement and fun.
Dr. Thompson said, "It was a wonderful event to have so many humble, amazing people and how they made sacrifices to come on "9/11" touched my heart. I'm still receiving so many calls saying the event was really good. Even the volunteers were happy to be there. Everybody was so warm, appreciative and down to earth. Even Dr. Harry L. Smith Jr., the millionaire who owns 33 McDonald's Restaurants and Founder of the Smith Foundation was down to earth.
People said I made everyone feel like we've known each other for years and you really made us feel part of this. I love people and if they feel that way, I have achieved my goal. Push them into their Purpose". I totally agree with Dr. Thompson, who also is an Executive Life Coach & Motivational Speaker. That is why I purchased her book, PurposeNeverDies™ on Amazon.
Dee Thompson Speaks – Life Coach, Motivational Speaker, Life Coach
Everyone was very enthusiastic about being part of this special, honorable, inspirational, motivational graduation ceremony. Even though I had several friends receive this honor this day, I was just as excited for others and gave them my full respect knowing they are making a difference in so many lives with their Humanitarianism.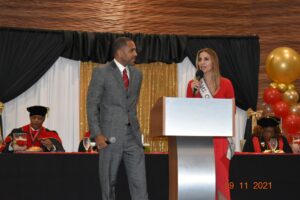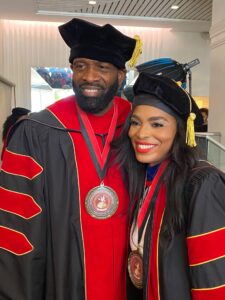 DR. ANTHONY J. HENDERSON, COACH, MOTIVATIONAL SPEAKER COMMENTS ON THE EVENT "click"
Dr. Tia Tatem said, "The event was awesome for me and I felt honored to be there. It motivated me to do more and continue to help others. It's what God will have me to do. You have to be passionate, committed and totally grateful. I thank my parents for planting in us at an early age to get up and go help in the communities. Now, we have taught our children the same techniques of going out in the community and making a difference in other's lives. We feed, clothe, have Toy Drive–Giveaways every year and so much more."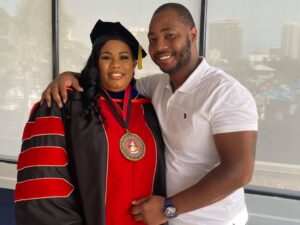 Bernard Tatem, an amateur comedian said, "This event was major and I was so honored to be part of something so huge. I even had a "groupie" moment when I took photos with the Hollywood legendary actor, director Dr. Cylk Cozart. Also, he was very inspiring especially when he told his story earlier in his speech when he was 14 years old and how he jumped on his bicycle to go warn a couple their house was on fire like a little fireman".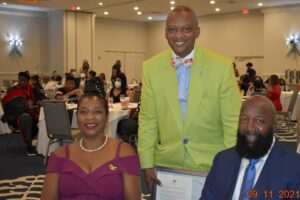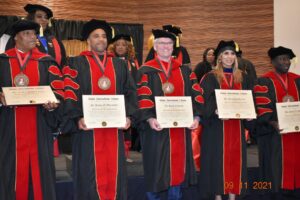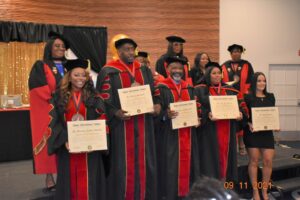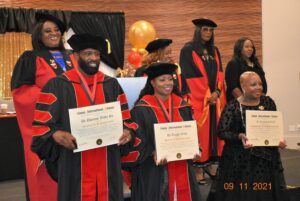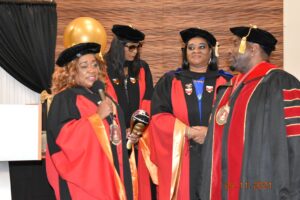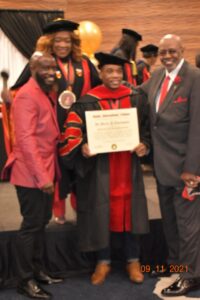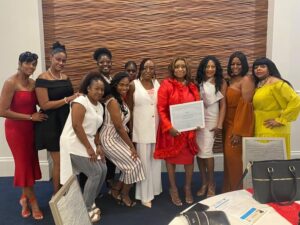 Dr. Calvin Cylk Cozart not only received his Honorary Doctorate Humanitarianism Degree and Presidential Lifetime Achievement Award, but he was awarded the keys to Broward County from former Mayor and now Commissioner Dale V.C. Holness. The presentation was an historical, unforgettable, sentimental moment knowing almost 40 years ago (1983), Mr. Cozart starred in his first movie "Blue Skies Again" in Fort Lauderdale, Fl and is still starring in movies as well as being a director.
Dr. Calvin Cylk Cozart's Presentation Courtesy of Cylk Cozart
This 2021 Honorary Doctorate Degree in Humanitarianism Graduation and Award Ceremony will never be forgotten and will be etched in our minds forever remembering where we were on 9/11 of 2021. To this day everyone is still talking and writing about this event. May someone be inspired by the many honorees that were highly acknowledged by Dr. Lenora Peterson, Dr. Dee Thompson and the Global International Alliance.
Remember this award has been offered to persons who have made countless contributions to their society by way of community service, advocacy and philanthropic work. So, continue to care and do for others, give from the heart because someone is always watching you, but overall, you are watching yourself.
Therefore, do your best in this lifetime and you just may be one of the next elite graduates to walk across the stage earning your Honorary Doctorate in Humanitarianism.
Class 2021 Exiting In Style and Fun Courtesy of Dr. Violet L. Howard