Palo Alto, CA to the World – "I wrote this play to celebrate the differences we all have as human beings," playwright Jeffrey Lo says. "It's an unapologetically Filipino American story and I'm so excited to welcome audiences both Filipino and non-Filipino to take some time to live with these characters and learn a little bit about what their lives are like."
Directed by Victor Malana Maog for this special June 5-9 fund raising event in partnership with Compassion in Oakland for Bay Area Asian Americans and Pacific Islanders (AAPI), Lo's Writing Fragments Home tells the story of Jay, played by Jomar Tagatac, a young playwright with writer's block. His girlfriend, played by Kara Wang, has just left him, he's just lost his job, and he's just moved back in with his Filipino-immigrant mother (Emily Kuroda). Stuck sleeping on the couch since his mother won't let him stay in his old room, Jay must also endure her nagging for not "just becoming a nurse like she did." During this seemingly lowest of low times in his life, Jay must learn to parse the pressures and dreams of his parents while also contending for his voice as a young artist of color.
Co-presented by more than 40 leading theatres and arts organizations in the Bay Area and beyond, this reading is testament to the power in communities coming together as it benefits a nonprofit formed in response to the surge of anti-Asian attacks and dedicated to promoting safety and community in Oakland Chinatown and beyond.
"One of the big themes in Writing Fragments Home is loneliness and how sharing stories is a way for us to cure loneliness and build empathy in our world," Lo says. "When I think about the tragic rise in hate crimes against the AAPI community, I can't help but think about how scared, anxious and alone our community feels right now. I keep thinking about how these hate crimes were activated from a lack of empathy for people with different backgrounds and identities. My hope is that this project—in addition to financially supporting the incredible work of Compassion in Oakland—can inspire empathy, hope and make the members of the AAPI community feel a little less lonely and a little more understood."
Jeffrey Lo is a Filipino-American playwright and director based in the Bay Area. He is the recipient of the Leigh Weimers Emerging Artist Award, the Emerging Artist Laureate by Arts Council Silicon Valley and Theatre Bay Area Director's TITAN Award. Selected directing credits include The Language Archive and The Santaland Diaries at TheatreWorks Silicon Valley, Vietgone and The Great Leap at Capital Stage, A Doll's House, Part 2 and Eurydice at Palo Alto Players (TBA Awards finalist for Best Direction). In addition to his work in theatre he works as an educator and advocate for issues of Equity, Diversity and Inclusion and has served as a grant panelist for the Zellerbach Family Foundation, Silicon Valley Creates and Theatre Bay Area. He is the Director of Community Partnerships and Casting Director at the Tony Award Winning TheatreWorks Silicon Valley.
Victor Malana Maog was named one of American Theatre Magazine's inaugural "People to Watch," has worked at the Public Theater, Second Stage, Williamstown Theatre Festival, Classic Stage Company, Drury Lane Theatre, American Conservatory Theater, Berkeley Rep, Cal Shakes, Magic Theatre, etc. He also directed for ABC/Disney's Casting Project and created live events, spectaculars, and experiences at Disney Parks Live Entertainment. A lifelong educator, he's taught and directed in training programs across the country and has been a guest artist at NYU, Yale, ACT, MIT, UPenn, among others. Most recently, he's directed for virtual celebrity charity events featuring Alan Menken, Lin-Manuel Miranda, Bebe Neuwirth, David Cross, and Daniel Dae Kim. Currently, he's the Visiting Professor in Theatre at St. Mary's College of California. BA, NYU/Gallatin.
Jomar Tagatac (he/him/his, Jay) starred as George in TheatreWorks' production of The Language Archive, a role for which he won a San Francisco Bay Area Critics Circle Award. Tagatac has been seen at theatres including SHN's Orpheum Theatre (Holes), American Conservatory Theater (Vietgone, Hamlet, Monstress, A Christmas Carol), California
Shakespeare Theatre (As You Like It, War of the Roses, Everybody), San Francisco Playhouse (King of the Yees, Tiny Beautiful Things, You Mean to Do Me Harm), The Magic Theater (The Happy Ones, Dogeaters), New Conservatory Theatre Center, and Shotgun Players. In June 2021, Tagatac will also star as Gordon Hirabayashi in Hold These Truths at San Francisco Playhouse, directed by Lo—this inspiring play made its Regional Premiere at TheatreWorks Silicon Valley.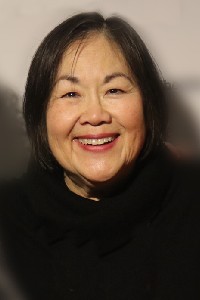 Emily Kuroda (she/her/hers, Mary Gwen) was seen in TheatreWorks' productions of The Language Archive and Calligraphy. Known to national television audiences for her role as Mrs. Kim on "Gilmore Girls," she has enjoyed a lengthy career on stage, screen, and in TV series/movies. Her major film appearances include Red, Minority Report, Shop Girl, Maybe Someday, Hotel for Dogs, and many more. On television Kuroda has been seen in "Bloodline," "Six Feet Under," "Curb Your Enthusiasm," "The Practice," "ER," "The Good Doctor," "Chicago Hope," "Melrose Place," among others. Kuroda has won five DramaLogue Awards for "Outstanding Performance," and has appeared on national stages including
The Public Theater, La Jolla Playhouse, South Coast Repertory Theatre, New York Theatre Workshop, Playwright's Arena, Los Angeles Theatre Center, Mark Taper Forum, Seattle Repertory Theatre, and Berkeley Repertory Theatre.
Other cast members include Will Doa as "Actor," Moses Villarama as "Ronalda," and Kara Wang (Good Trouble, Goliath, and the Rookie) as "Actress."
Stage Director for this performance is Jenny Nguyen Nelson. Video production by Stephen Muterspaugh. Stage Manager is Randall K. Lum. Scenic Design by Chris Fitzer.
WHAT: In a time where the manifestation of prejudice and violence toward the Asian American and Pacific Islander (AAPI) community has reached an extreme high, TheatreWorks Silicon Valley will stream a benefit reading of Writing Fragments Home to raise funds to support and uplift the AAPI community. Written by Filipino American playwright and TheatreWorks Director of Community Partnerships/ Casting Director Jeffrey Lo, this comedic play is an unapologetically Filipino American story about art, family, and culture, exploring one playwright's journey to rediscover his voice while combatting systemic racism. Co-presented by more than 40 leading theatres and arts organizations in the Bay Area and beyond, this reading will benefit Compassion in Oakland, a nonprofit formed in response to the surge of antiAsian
attacks and dedicated to promoting safety and community in Oakland Chinatown and beyond.
WHEN: Livestreamed at 7pm PDT, Saturday, June 5, 2021
with streaming on-demand access available June 6, 2021 at 12pm PDT through
June 9, 2021 at 7pm PDT.
WHERE: Online. Patrons who sign up for the show will be emailed a link to stream the programs at home on their computer, SmartTV or other device.
---

TICKETS: Viewers can sign up at TheatreWorks.org to receive a link to view Writing Fragments Home without charge, although donations are encouraged to support Compassion in Oakland.
Donation tiers:
$10 – McDonald's Filipino Spaghetti
$15 – Sizzling Sisig
$25 – Pancit
$35 – Adobo
$50 – Lumpia Platter
$100 – Lechon
Or Pay What You Can
INFO: For information or to order tickets visit theatreworks.org.
A fundraiser for the Bay Area AAPI community through Compassion in Oakland