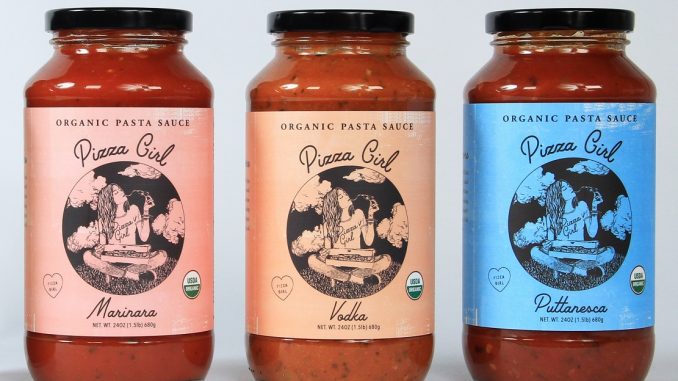 Good pasta is not about the bland strings but the flavorful sauce. Some individuals prefer bottled pasta sauce to make the job easier. Others rely on homemade pasta sauce to maintain the authenticity of flavors. Either way, the pasta sauce plays a great role in determining the taste and likes of your pasta. Choosing a bottle might seem as easy as deciding by flavor or a brand you know, but when it comes to eating taste has to be the deciding factor. One jar combines not only the best flavor, but also the finest organic ingredients and that comes from the recently released Pizza Girl™ line of USDA Certified Organic, locally-sourced pasta sauces.
Pizza Girl was created by the original Pizza Girl, Caroline D'Amore, owner and executive chef of Los Angeles-based family restaurant, D'Amore's Pizza. The family-derived recipes originated with D'Amore's great grandmother, "Big Mumma," in Italy, and have been perfected over time. While the recipes have kept all of the family flavors, they also went through all of the stringent testing that goes with becoming certified-organic. Meaning you get the best of all worlds in each jar.
"I just wanted to bring something really special to what is an already saturated market," Caroline said. "I wanted to shake things up a little by creating something that was truly natural and truly organic."
Pizza Girl™ comes in Marinara, Puttanesca, and Vodka sauces. While most people are very familiar with marinara and vodka sauces, the lessor known puttanesca is a must try as it is going to be a truly unique flavor to any Italian dish. You are immediately going to taste the powerfully flavorful Kalamata olives and they are joined by capers, onion, garlic, olive oil, diced tomato, red pepper flakes, black pepper, sea salt, and dried basil. If you are looking for flavor, you will find more than you ever expected in a pasta sauce in this jar.
Pizza Girl can be purchased at Whole Foods, Bristol Farms, Erewhon, Gelson's Markets, Malibu Vintage Grocers, Follow Your Heart Market, D'Amore's Pizza locations, Little Tokyo Market Place, PizzaGirl.com, and on Amazon.com in 24-oz glass jars.
Being a socially-conscious company with integrity is the backbone of Pizza Girl, which is why Pizza Girl will be donating a portion of proceeds from every jar sold to Smile Train. To learn more about Pizza Girl's work with Smile Train, visit pizzagirl.com to see how they are helping children around the world in need of corrective surgery for cleft lips and palates.

If you are looking for recipes to use with Pizza Girl sauce, visit: Pizza Girl and on IG @PizzaGirlOfficial.

About Pizza Girl™
From the family that brought you D'Amore's Pizza comes Pizza Girl™Pasta Sauce, a line of USDA certified-organic, locally-sourced and ethically-bottled Marinara, Puttanesca, and Vodka sauces. All Pizza Girl sauces are non-GMO, USDA certified-organic, locally sourced, ethically bottled, and shipped with eco-friendly packaging in 24-oz glass jars for $9.99. Find more information for Pizza Girl online at www.pizzagirl.com and on IG @PizzaGirlOfficial.
About Smile Train
Smile Train empowers local medical professionals with training, funding, and resources to provide free cleft surgery and comprehensive cleft care to children globally. We advance a sustainable solution and scalable global health model for cleft treatment, drastically improving children's lives, including their ability to eat, breathe, speak, and ultimately thrive. To learn more about how Smile Train's sustainable approach means donations have both an immediate and long-term impact, please visit smiletrain.org.