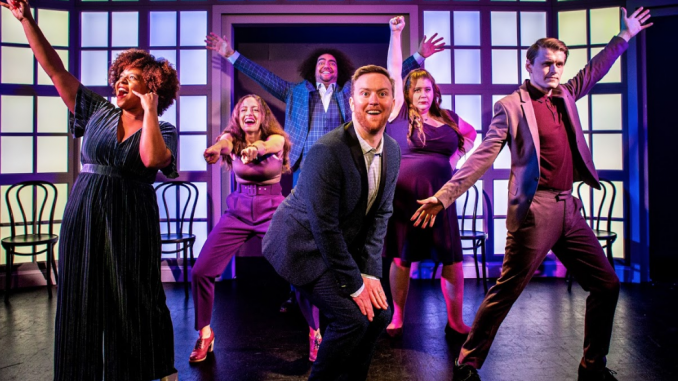 The Second City's 108th Mainstage Revue, Do You Believe In Madness?, which premiered on Thursday, November 7th, 2019, hilariously examines how we're all gleefully speeding towards a modern apocalypse in this brand new revue from The Second City. From hot-button issues in our own backyards to the unstable atmosphere and beyond, this show aims its sights on everything from legalizing weed to infiltrating Facebook; breaking down Brexit to building new relationships; and navigating new parenthood to navigating our current political landscape. I enjoyed the chance to laugh at the ways we're all the same, and shamelessly the way the review skewered our differences in today's confounding world, where super villains sound logical, and the sweet sounds of the ukulele lull you further and further into the madness.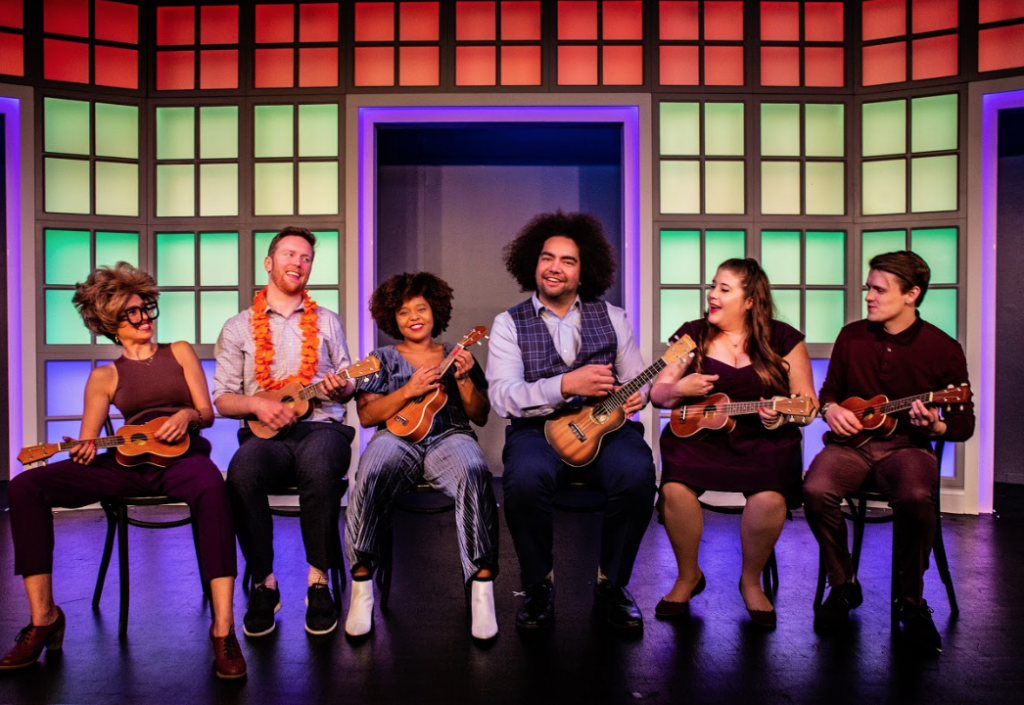 The show's run will coincide with The Second City's 60th anniversary, which falls on December 16. The Chicago Mainstage has been an artistic home to an impressive number of comedy superstars who began their career on the Second City stage with little more than a few black bentwood chairs. The new ensemble includes Mary Catherine Curran, Sarah Dell'Amico, Andrew Knox, Asia Martin, Jordan Savusa, and Adam Schreck.

I have seen and experienced many revues at Second City with sketch comedy poking fun at everything from politics to religion to race to national and international current events to hobbies to gender. Each year new revues come out with promising comedians making their Second City stage debut, while tackling fresh sketch comedy material. They each do their best to make the performances their own, no matter the content.

From my own personal perspective, I was surprised to find that Do You Believe In Madness? was lacking in Second City's usual reputation for outstanding humor and performances. There were indeed funny bits throughout the show, but here and there, the show, unfortunately, seemed like it was overdoing it with thin, weak material, that resulted in little and even forced laughter from the audience.

Overall, don't get me wrong-I thought the newcomer comedians were all talented and funny, even with the material they were working with, including the return of the hilarious Andrew Knox, who I have now encountered in two hilarious past performances at Second City's e.t.c. stage (for me the best part of this new show). His facial and body expressions always leave my gut hurting from constant laughter. However, with the only-so-impressive humorous content and jokes, the actors did not exactly get the full opportunity to really shine. Considering what they were given to work with, I cannot deny that they did their best.

My favorite part of a new Second City revue is the improv, when the actors have audience members volunteer words or situations, that can be utilized to create humorous, quick sketches onstage. I witnessed an hilarious one, for example, where a woman convinces all of her classmates to help her cheat for an exam, and then they all get in trouble with the teacher. Overall, I always have an entertaining experience at Second City, and I look forward to many future shows!
About The Second City
Since opening its doors 1959, The Second City has grown to become the world's premier comedy club, theater, and school of improvisation, entertaining 1 million theatergoers a year around the globe. Alumni of The Second City's resident stages, touring companies, and theatrical divisions include some of the biggest names in entertainment, and in addition to the sold-out shows playing nightly on resident stages in Chicago and Toronto, the comedy empire has staged productions with a wide range of illustrious creative partners and theatre companies, including the Lyric Opera of Chicago, Hubbard Street Dance Chicago, The John F. Kennedy Center for the Performing Arts, Goodman Theatre, Center Theater Group Los Angeles, Portland Center Stage, Toronto Symphony Orchestra, La Jolla Playhouse, Woolly Mammoth Theatre, and even the Chicago Bulls.
Photos: Frank Ishman and Timothy M. Schmidt.
2 HOUR RUN TIME | 15 MIN INTERMISSION | SEATING 45 MIN PRIOR TO SHOW

Do You Believe in Madness? plays Tuesdays through Saturdays at 8 pm, Fridays and Saturdays at 11 pm, and Sundays at 7 pm in the Mainstage Theater, located at 1616 N. Wells Street, Chicago. Tickets start at $31 and are available at The Second City Box Office (230 W. North Ave, First Floor, Piper's Alley), by phone at 312-337-3992, or online at the website.

As always, Second City's famed improv set after the two-act performances are free to attend and begin approximately 2.5 hours after show curtain times except for Fridays and Saturdays at 8 pm. As the new revue will develop in front of the audience over a ten-week process, the "Third Act" improv set is a thrilling opportunity for audiences to watch and participate in the creation of comedy history at the world's premier sketch comedy and improvisation institution.