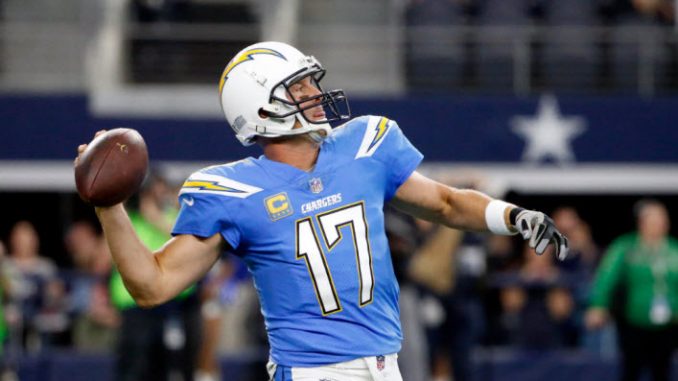 The Los Angeles Chargers headed to Denver on Sunday and fell to the Broncos 23-20 on a last second field goal to fall to 4-8 on the season.
The Chargers rallied to tie the game at 20-20 behind two touchdown passes from Philip Rivers and 99 yards rushing from Melvin Gordon. Brandon McManus kicked his third field goal of the game for the Broncos to provide the win.
For the latest odds and predictions on upcoming NFL and other games, there's several betting sites out there, such as Mobilebet
The Chargers are on the road for a few weeks and don't return to Dignity Health Sports Park until December 15th when they face the Minnesota Vikings. The Chargers have another east coast early start on Sunday December 8th as they travel to Jacksonville to play the Jaguars. Rookie quarterback Gardner Minshew II will start for the Jaguars Sunday as Nick Foles, who was signed in the off-season, goes back to the bench. Phillip Rivers looks to rebound after a few less than stellar weeks and Melvin Gordon looks to improve as he will be looking for a new contract in the off-season.
The big game of the week in the AFC West is without question the Kansas City Chiefs at the New Englad Patriots. Both teams are looking to round into playoff form and this game should tell us a lot about both teams. The Oakland Raiders finally get a home game as they will be hosting the Tennessee Titans and both teams are looking to stay in the playoff hunt. The Denver Broncos head to Houston to take on the Texans. While the Broncos season is over, they can play spoiler as well as getting a look at Drew Lock, who they are hoping is their quarterback of the future.
In addition to plenty of upcoming NFL action, college football championship week is coming up with plenty of big games highlighted by Georgia vs. LSU in the SEC Championship Game. Once that is final, the numerous bowl will be announced and you will have a month of college football games to enjoy. Friday night things will kickoff with Utah trying to stay in the playoff hunt as they face off against Oregon. Saturday is going to be a day full of games all day long.
The upcoming football weekend features these championship games:
Pac-12 Championship Game: Utah vs. Oregon (+6.5, 46)
MAC Championship Game: Miami (Ohio) vs. Central Michigan (-6.5, 54)
Sun Belt Championship Game: Louisiana vs. Appalachian State (-6, 56)
Conference USA Championship Game: UAB at Florida Atlantic (-8, 49.5)
American Athletic Championship Game: Cincinnati at Memphis (-9.5, 57.5)
Mountain West Championship Game: Hawaii at Boise State (-14, 64.5)
SEC Championship Game: LSU vs. Georgia (+7, 55.5)
ACC Championship Game: Virginia vs. Clemson (-28.5, 57)
Big 12 Championship Game: Oklahoma vs. Baylor (+9, 64)
Big Ten Championship Game: Ohio State vs. Wisconsin (+16.5, 56) the winner will be heading to the Rose Bowl