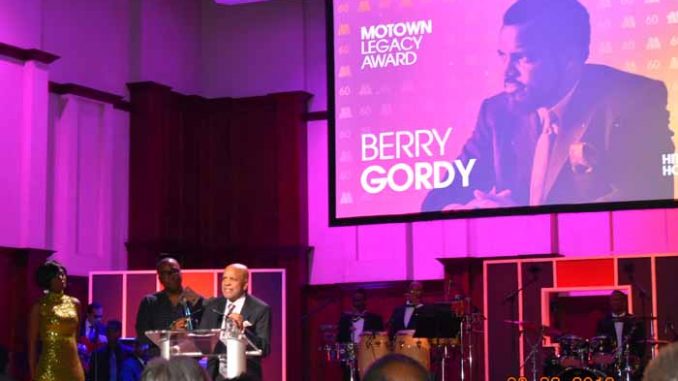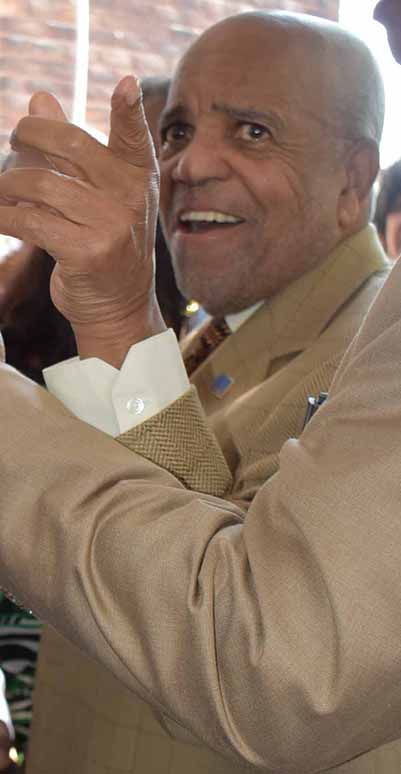 This year marked two momentous events, one 90 years ago, the other 60 years ago, one, a heart-beat, the other, a musical-sound beat that was heard all around the world. That extraordinary heart beat belonged to Berry Gordy, Jr., and the sound beat that had everyone "Dancing In the Streets" was Motown. This entrepreneur, record executive, record producer, songwriter, film and television producer, Broadway Production genius, Mr. Berry Gordy, Jr., will celebrate his 90th birthday on Thanksgiving Day – November 28, 2019.
There have been numerous celebrations (Motown 60: A Grammy Celebration; "Hitsville: The Making of Motown" on Showtime TV; Berry Gordy Square at an Intersection in Los Angeles) all year honoring the 60th Anniversary of the record company Gordy founded and turned into the international empire known as Motown Record Corporation.
I was privileged to witness first hand all the love, excitement, professionalism, classiness, and brilliance that Motown has shared with the world for 60 years.
On a very special weekend, September 20 – 22, 2019 in Detroit, Michigan, there was a celebration in the same city where it all began for Mr. Gordy and his seven siblings and their parents, Mr. Berry Gordy Sr., and Mrs. Bertha Gordy. This family joined together to assist with Berry's Motown fairy tale back in 1959 when life was completely different, while his cousin, Jimmy Carter, age 95, later known as the 39th President of the United States was making his mark in Georgia. Their grandfathers were half-brothers.
This weekend was known as "The Motown 60 Weekend" started on Friday, September 20, commemorating the 60th anniversary of Motown Record Corporation with "The Friends of Fuller Gordy" (Berry's belated eldest brother and professional bowler) Strikefest event featuring bowling, karaoke and dinner at the Thunderbowl Lanes in Allen Park, Michigan.
On Saturday, I stopped by the Motown Museum at Hitsville U.S.A. and watched all the visitors from around the world and the Museum's employees preparing for Sunday's historical event.
Afterward, I drove around Detroit because so many events were taking place. Mr. Gordy and many Detroit natives, who now live in Los Angeles, returned to the city where many of their lives were transformed forever because of Mr. Gordy's vision and God's directions.
I asked Berry's nephew, Robert Gordy Jr., what does he think of this Motown Legacy since he has been there since day one. He replied, "Due to the elaborate and comprehensive complexity of the question, it's too much to narrow down. It's impossible! My answer would have to be "The WHOLE THING!" from even "BEFORE" the beginning until NOW! That's the BEST and ONLY answer I could give you!!"
Also included were Mr. Gordy's International friends who came from around the world.
At the beginning of his Motown reign, he wanted to create music with no racial barriers for everyone to enjoy this universal language of music. This was proof of his success and the Motown music will continue forever!!!
Another highlight for me, personally, was the Greater Grace Temple, the same church where Aretha Franklin, "The Queen of Soul" was eulogized exactly one year ago and where Rosa Parks, "The Mother of the Freedom Movement" was eulogized in October 2005. Greater Grace Temple, under the leadership of Bishop Charles H. Ellis, III and minister of Music, Elder Deerico Loyd were having an "Elevate Music Conference" with many artists as well as the Grammy Stellar and Dove Award Winner, Donald Lawrence. I thoroughly enjoyed hearing him and others.
The big day and night was on Sunday, September 22!!! I was on my way to the Motown Museum where the groundbreaking ceremony for the 50-million-dollar Motown Museum Expansion, which will be "A Bold Future Built On Inspiration". It will include interactive exhibits, a performance art theater, a recording studio, etc.
The Chairwoman and CEO of the Motown Museum is Mrs. Robin R. Terry whose grandmother, Esther Gordy Edward (sister of Berry) created this museum. Throughout this special weekend, Mrs. Terry's pretty smile showed she was so proud to see the success of this weekend.
One story I heard Mr. Berry Gordy tell over the weekend was when it was time to pack up and move Motown from Detroit to Los Angeles in 1972. He said, he was leaving everything behind or throwing items away and his sister, Esther was coming right behind him picking up the items, saving the items and that's how the museum began, when those items became memorabilia.
Now, 60 years later they are going to have more items added and that's why, instead of having one house as a museum, they will have three houses joined together to form this Motown Complex.
The atmosphere around Motown was so exciting. I was talking on my cell phone to my father who introduced me to the Motown Sounds in the 60's when he and my mother used to play all those smooth, great beat songs and it stays with me today, even when I perform Karaoke. I was making my father feel part of my Motown journey, but then I saw someone and I told him I had to go.
It was the beautiful Mrs. Claudette Rogers Robinson, the First Lady of Motown,
because she was the first woman to sign a contract that sang with the Miracles (later known as Smokey Robinson and the Miracles) and gave Motown their first million-selling song, "Shop Around". Also, she received another title, Mrs. William "Smokey" Robinson for 27 years. Mr. Smokey Robinson was the Vice-President at Motown as well as the chief songwriter and producer for the Miracles and many other artists. Smokey, a few months from being 80 years old is still performing concerts to this day.
I was so happy to see the many faces of the Motown family including their children who several were representing their mother or father who are no longer with us.
I discovered several of the artists could not attend this weekend because they were performing, so that was a good thing that they are still performing after 60 years. I was thrilled when I saw Berry Gordy, the Founder of Motown. I felt a lot of pride seeing him. I was really caught, trying to decide between two things. First, I have always been interested in interviewing Otis Williams of the harmony-fancy dance moves – Temptations, because he is the sole surviving member of the original Temptations.
So, when I saw him after the event, he was leaving going one way and Berry Gordy was leaving going the opposite way. I stood in the middle of the aisle and kept looking both ways trying to decide who I should go talk to or take a photo. Finally, I made the decision to go to the Boss Man, Mr. Gordy.
This was really an historical moment watching the Motown family and the groundbreaking ceremony.
After the ceremony, many stayed behind talking, and then a group of us drove by the childhood home of Aretha Franklin and her father, the Rev. C.L. Franklin's Church, New Bethel Baptist Church.
The sun was setting, and I was on my way to the Orchestra Hall where the Motown Museum Hitsville-Honors Awards and Tribute Concert was being held to benefit the renovation of the Motown Museum. There was a red carpet, and then dinner was served for Mr. Gordy and other honorees. I was so excited and could hardly believe that I was in the Motor City celebrating the Motown Sounds and the Motown Family.
Hill Harper, an actor, did a great job as host of this phenomenal show. I loved all the Motown artists that performed – Martha Reeves; The Velvelettes, The Temptations, The Four Tops, Kem, Beth Griffith-Manley; Ne-Yo; Nuclassica; Frederic Yonnet, Doug E. Fresh, Big Sean and Special Appearances by Lee Daniels, Donnie Simpson, Allee Willis, John Platt and Awards given to Berry Gordy, Suzanne De Passe, Debra Lee, Shelly Berger, Paul Riser Sr. and performer Ne-Yo. This night had so many unforgettable moments that I will treasure forever.
But the high point for me was when Mr. Berry Gordy took the stage to tell us his life story and to let the audience know that at his age and at this Motown 60th Anniversary tribute, he was finally retiring from his long journey, and no longer wearing so many entertainment hats. This was Mr. Gordy's night and he enjoyed himself. He said, he felt he had come full circle. By this time, I was right at the stage taking photos and crying at the same time because he was smiling and enjoying this special night. And I was still witnessing History and enjoying myself too!!!
I can always say I was there on the night that the Legendary Motown Founder, Berry Gordy retired from show business and I saw him dancing and not writing, producing and managing as he has done for many decades.
The conclusion of this amazing weekend was the beautiful "Soul In One" Golf Classic where everyone was relaxing, playing golf, eating and laughing. They enjoyed a dinner afterward, but by that time I was flying back to Atlanta.
I am so thankful I had this opportunity to witness history, feel the love that the Motown family, friends, the donors and the city of Detroit displayed while commemorating Motown's 60th Anniversary, the Motown Museum, and acknowledging Mr. Berry Gordy's approaching his 90- year milestone.
We will never forget how Mr. Gordy made his dream become a reality and how he made the dreams of many others' come true, turning them into Superstars and making them a part of this legendary Motown Fairy-tale story. What an amazing expedition for a United States Army Veteran, Boxer, Record Store Owner, Automobile Worker and the Founder of this Motown Empire. Well Done!!!
Make sure you visit the expansion of the Motown Museum known as Hitsville Next in 2020 that will make the future generations always feel connected with Berry Gordy's Motown dream and giving them hope to make their dreams come true.