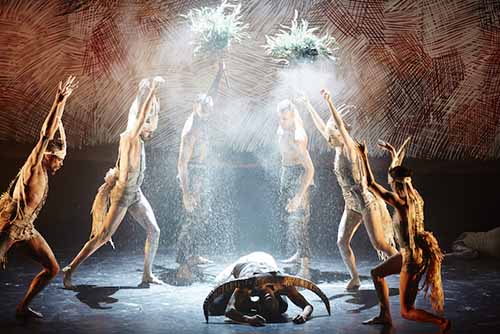 During the week of November 18th, 2019, Bangarra Dance Theatre, Australia, an Aboriginal and Torres Strait Islander organization and Australia's leading contemporary dance company shared their skill and energy with Chicago. This visit resulted in the first-ever partnership between Chicago's Field Museum, and the Joan W. and Irving B. Harris Theater multi-disciplinary performing arts center in Millennium Park.
To begin the week there was a public conversation on November 19, 2019, that featured a panel discussion with Bangarra Artistic Director Stephen Page, company member Elma Kris, and Field Museum Regenstein Curator of Pacific Anthropology John Terrell. Patricia Barretto, Harris Theater President and CEO, moderated the conversation which explored questions around traditional and contemporary storytelling, the rich history of Aboriginal and Torres Strait Islander art making, and the important role of a First Nations contemporary dance company.
The panel began with an introduction by Potawatomi Historian George Godfrey, PhD who spoke about the indigenous population in the Chicagoland area, drawing a parallel between indigenous populations in different locations.
"Bangarra is an extraordinary company, not just because of their powerful dancing and stunning stage design," said Patricia Barretto, "We are committed to reflecting a multitude of voices on the Harris Theater stage – especially those not often seen in a classical performing arts setting – and we are deeply honored to present Bangarra Dance. The company's mission is to share the stories of Aboriginal and Torres Strait Islander peoples around the world, and our partnership with the Field Museum will bring this engagement to an even wider audience."
"The Field Museum believes in celebrating the world's diversity in all its expressions, including performance and dance," said Field Museum president & CEO Richard Lariviere. "We're honored to celebrate Bangarra's unique expression of heritage and help shine a spotlight on the importance of First Nations and indigenous storytelling."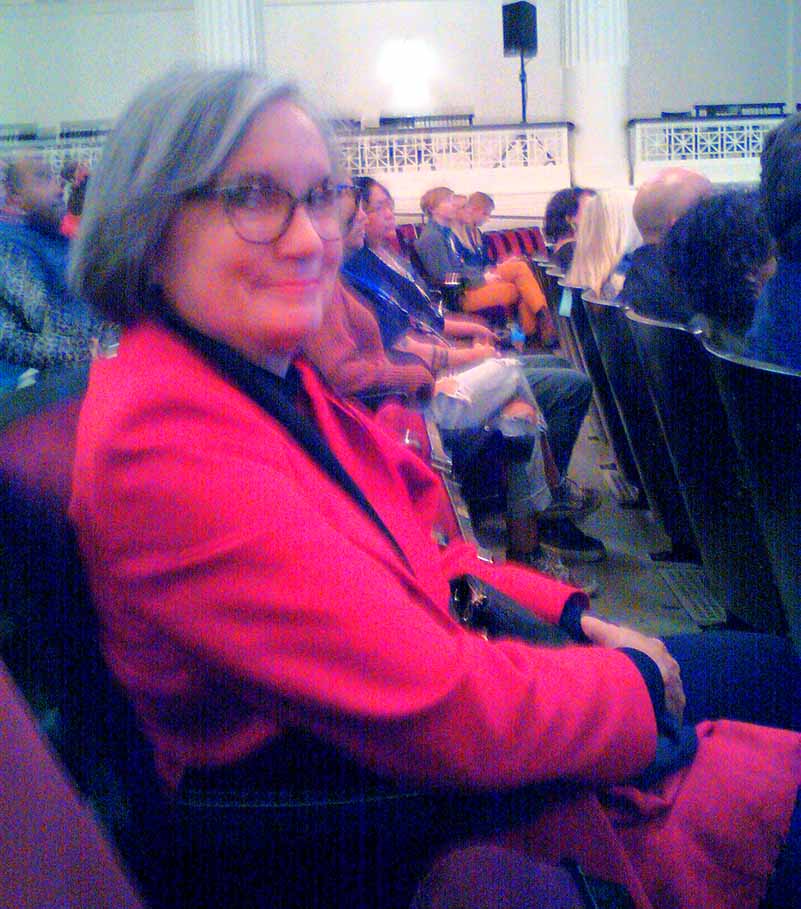 The panel provided an opportunity to learn about the impact of Bangarra Dance, their history and current work. I was seated near Jan Lariviere and as we chatted, she mentioned that one of her friends knew Carole Johnson who a co-founder of Bangarra Dance Theatre. Bangarra Dance Theatre was founded by Carole Johnson (an African-American and Cheryl Stone, a South African woman in 1989. Johnson had toured Australia in 1972 with American choreographer Eleo Pomare and his company. She was asked to present a workshop there, then left and later returned. She saw a parallel between the way New York ghetto youths were able to touch their roots through dance and similar possibilities for the youths from Australia.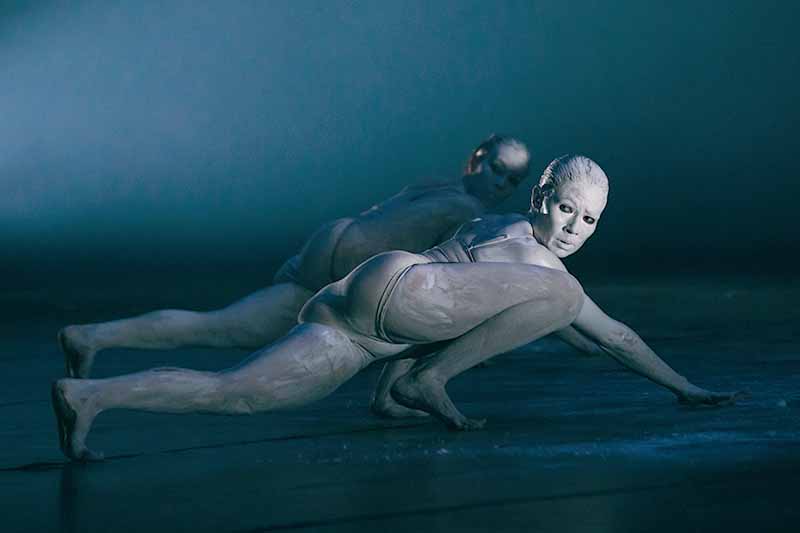 Before the dancers began, information was presented about the Indigenous people in and around Illinois, sharing that many tribes lived, traveled through and traded in an around Illinois. Chicago is a center where many indigenous groups gather and many of their events take place.
Once the performance began, various projections enhanced the performance by clarifying and informing, as in, "Bangarra is the Wiradjuri word meaning 'to make fire'". Information about the dances and their connection to the history of their people were interspersed between dance numbers.
I found the performance unique. The dance scenes flowed from one to the next without breaks and barely the opportunity to applaud. The backdrops and costumes were remarkable. The music, percussive and haunting, often included animal-like sounds.
Spirit was a presentation of the company's best repertoire in a powerful celebration of culture drawing from its 30-year history. Choreography-Stephen Page, Bernadette Walong-Sene; Traditional Choreography and Music-Djakapurra Munyarryun; Music-David Page, Steve Francis; Costumes-Jennifer Irwin; Set Design-Jacob Nash; Lighting-Nick Schlieper, Karen Norris, Joseph Mercurio, Matt Cox.
Stephen Page's Nyapanyapa, (Our land people stories, 2016) where senior dancer Elma Kris performed in the title role for which she received a Helpmann Award nomination for Best Female Dancer in 2016. Choreography –Stephen Page; Music- Steve Francis; Costume Design-Jennifer Irwin; Set Design-Jacob Nash; Lighting Design-Matt Cox; Cultural Consultant-Nyapanyapa Yunupingu.
From Bangarra's website: "Led by Artistic Director Stephen Page, we are currently in our 30th year but our dance technique is forged from over 65,000 years of culture, embodied with contemporary movement. The company's dancers are professionally trained, dynamic artists who represent the pinnacle of Australian dance. Each has a proud Aboriginal and/or Torres Strait Islander background, from various locations across the country."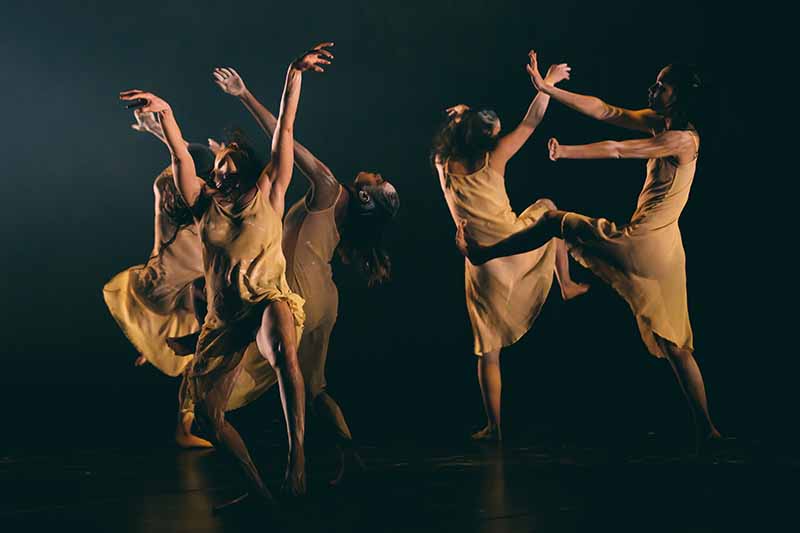 As I left the Harris Theatre after the Bangarra Dance performance on November 23rd, I was energized and thrilled, and reflected to myself that, "Bangarra Dance may be the best dance company I have ever seen."
It was a joy to experience the skill and precision of these dancers. The classical modern dance movement was wrapped in ancient themes, movement and music and a sense of spirituality, all very powerful and beautiful. As the performance ended, the audience rose with enthusiastic and lengthy applause. I can't wait for their return.
Photo credit: Courtesy of the Bangarra Dance Theatre, Australia and Kyle Flubacker, unless otherwise noted.
More about Joan W. and Irving B. Harris Theater multi-disciplinary performing arts center in Millennium Park
About Bangarra
About the Field Museum