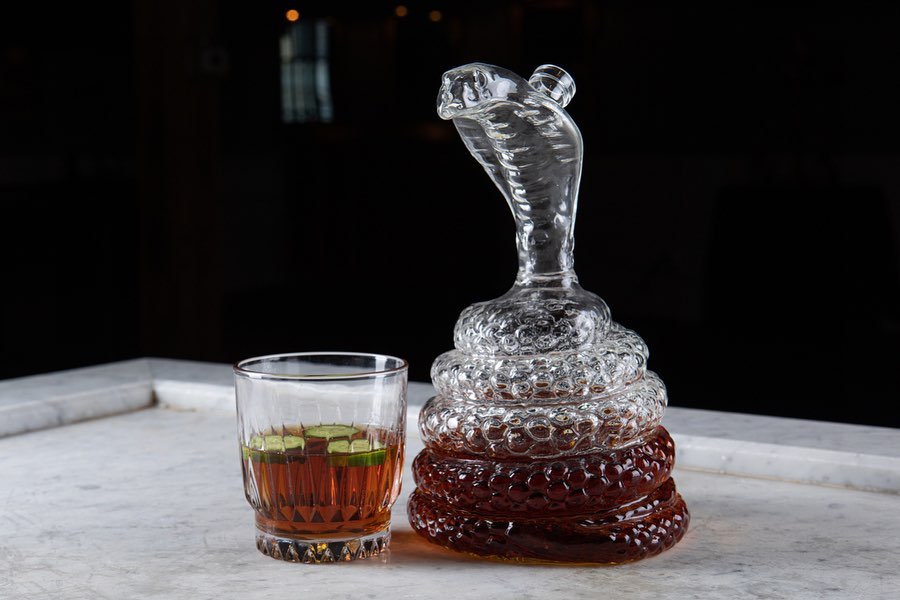 Grand openings really can be anything but grand sometimes. Given that one definition of grand is described as highly ambitious or idealistic, one's expectations can be set a bit too high. Or turn slightly salty that a red carpet did not welcome them in, as someone's date had perfected a pretty comical dance entrance. Jokes aside, rolling out the red carpet for Hubbard Inn's opening night might have been just the right red light to keep the party from overflowing. A way to slow down entry and tame the crowds by having guests strike a little pose before barreling through the massive four-story renovation. Maybe even better, have a host who explains the basic layout of the space. Yet despite normal opening night mishaps, each floor of the happening Hubbard Inn promises a different atmosphere, all unique, and each with its own reason to experience it for yourself. 

First floor decor is warm with soft incandescent brass chandelier orbs flickering across tall ceilings, and a plush, red leather elevator to the side ready to whisk you to any floor lest you brave the black iron staircases. Working your way up is a pretty intense workout in case you thought about forgoing the easy lift. Some nice art work and blue mood lighting make it a little less painful of a hike. If you've been drinking, opt for the handy modern day invention and save yourself a little sweat. Back to the first floor offerings. Large glass doors lead the way to creative cocktails served around an island bar that has a suspended metal coiled frame floating immediately off center to the left of the main entrance. Comfortable green tufted booths line the front window. Red lined booths along the sides with high tops mixed throughout the rest of the first floor, in addition to circular leather bar stools, provide plenty of seating options for dinner. Large leaves interspersed create relaxing foliage. Cocktails include a fantastic for fall option titled "pumpkin painkiller", while the tasty ingredients of "honey pot" and "shot in the dark" are intriguing follow-ups. Draft beer, champagne, wine (glass or by the bottle) lists are also readily available. Dinner plate pickings include a variety of seafood, pasta, meats, and of course, desserts.

Blue Violet, the second floor's new nature inspired addition, feels instantly IG worthy with whimsical greenery covering walls and arches beckoning you under their peaceful vibes. Floral patterns splash and contrast against the white exposed brick walls. Crowds of people, age range varied, dance, mingle and grab a drink at the newly designed cocktail bar where mixologists pump out delicious looking beverages. Date night at Hubbard Inn starts with dinner on the first floor, then drinks on the second as you schmooze it up under all romantic flowery ivy or swing from the chairs that swivel by the windows.

After you've had your fill of both food and libations, hit up the third floor as Masq pumps out DJ tracks as well as live music including a drummer and a cellist. Artwork displayed around the outer edge of this darkly lit European inspired dance club gives off a laid back feeling, complete with lounge chairs to sit back and settle into a smooth groove while listening to tunes and enjoying the company that swirls around, and just maybe getting up and dancing the night away.

Head to Hubbard Inn to get a taste of their revamped look or book reservations and get more details.

Photos Courtesy of Hubbard Inn.