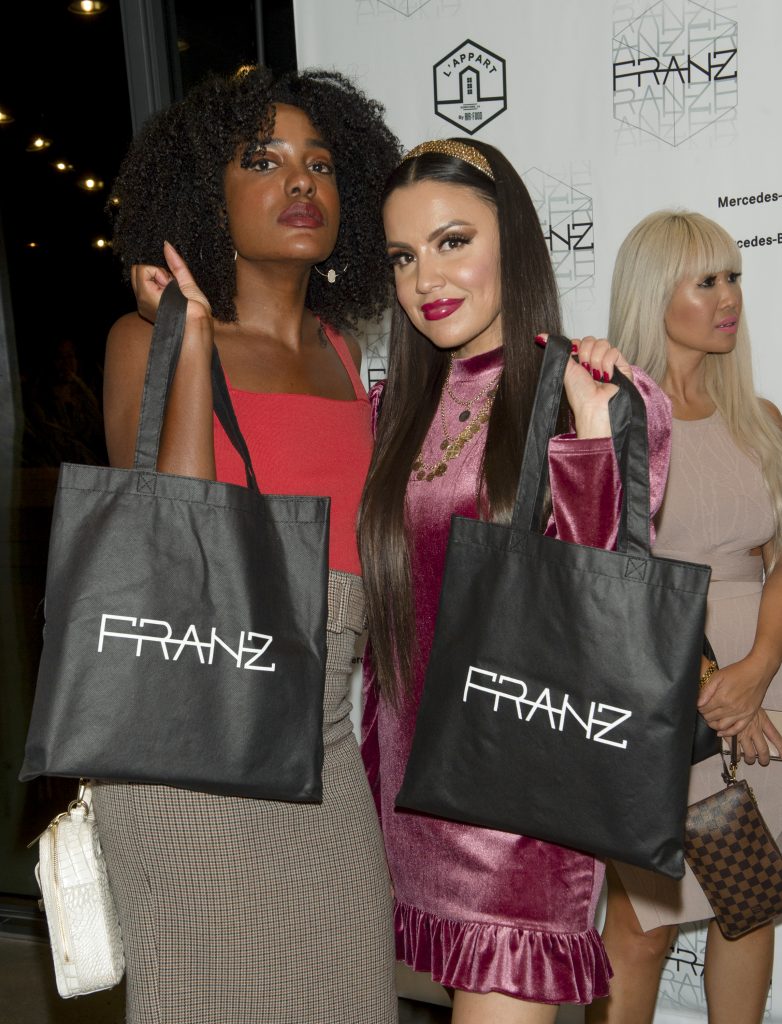 Innovative skincare is everywhere you look, just check out your local Sephora. However, not all skincare lines sit on the brink of technology like Franz Skincare, revolutionizing the business of dermatology for the sake of the consumer. With its serums comparable to Botox injections, the CEO states "After one box + two treatments, people will notice a difference."
Graceful noir suited security lined The Local in Downtown Los Angeles on Friday October 25, 2019 for an evening eclectic gathering of individuals introduced to Franz Skincare, originating out of highly specialized technology from Korean co-founder Ji Hyun Lee. Tissue X is the 'world's first home treatment iontophoresis mask solution with proven efficacy to deliver macro-molecule compounds.' Reverse electrodialysis combined with a microcurrent, hailing to a German chemist who invented the French Diffusion System; the entire collection is utterly staggering with its very specific + to the core ingredients that are naturally found in your body. Being the first to innovate the field, Franz Skincare applies fundamental deeply penetrating sonic vibrations to hyaluronic acid, peptide, vitamin c, oligoluronic acid, ceramne, + liposomal vitamin.
Franz 101 available in 30ml is a favorite among models during Los Angeles Fashion Week, due to its volumizing results that compares to that of Botox – without the needle. The reason the serums + masks utilizing Korean patented technology work so well is that it was a seven year long process in developing this specialized skin treatment; talking with numerous clinical doctors + dermatologists as well as conducting clinical trials – a formulative stage in the development of Franz Skincare botulin age repair eye serum in addition to their Rose Quartz cream which Drew Wilson, Director of Business Development @ Biosensor Labs claims features a light rose fragrance.
And they continued expanding their lines to create their men's skincare line featuring spartan masks for beards and caffeine as it is known to stimulate the cells in men particularly. Available serums in 50ml include Franz Essence Everyday + Franz Essence Everyday Dewy.
Open bar featured chardonnay, Stella Artois, Blue Moon, to accompany Chef Marc Larancini's creative + complimentary hors d'oeuvres: peach cream with feta cheese, trout cream + yuza pearl, rice ball with cheese stuffing, + Grey tar tar, all sanctimoniously delivered by L'APPART by Air Food in Downtown LA.
Chris Hann – @chrishanxoxo – who describes herself as an Instagrammer. When asked to describe her interest in Franz Skincare, Hann stated: "Their technology is a different product I haven't seen before." Also in attendance were many beauty bloggers and experts in the field including Jaclyn, @facialfitnessbyjaclyn – who is going to try the at-home mask. She acutely performs the clinical laborious procedure as a skincare expert for over thirty years. Other notable attendees include Tamara Milicevic – @tamaramiliceviccc Zoe Bright – @zoe.bright Shannon Baker – @shannonbaker Shauna Baker – @shaunabaker Shaka Smith – @shakastrong Hari Tahov – @haritahov Bryan Marcos – @itsbryanmarcos Yvon Lux – @yvonlux + Bailey Taylor – @baileyttaylor.
All photos by Michael Bezjian for Getty Images and Franz Skincare