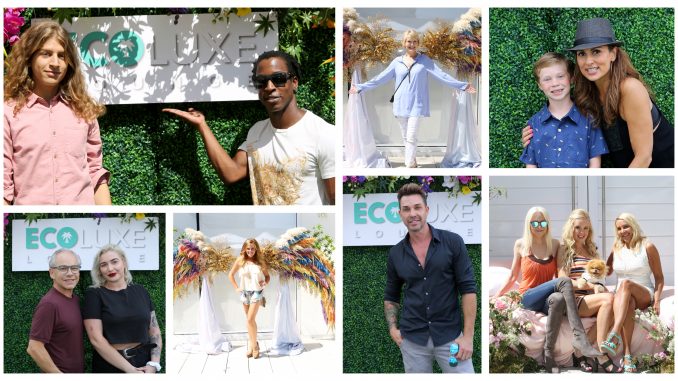 Gifting suites can be amazing or they can be a bunch of stuff no one wants. September 20, 2019 at  Beverly Hilton's Secret Garden was a surprise as most if not all of the companies were organic-based demonstrating a strong desire to help the environment while making great products.
Upon receiving a hemp tote bag, I was not surprised; instead, educated on the type of companies I was about to meet. In fact, near the end of the noon journey, Elephant Cooperation was there to invite everyone to their party bash thrown in support of saving elephants which is coming up. It supports an excellent and often over-looked charity so check out the website Elephant Cooperation Sporting cotton tote bags + elephant stamped glasses, Elephant Cooperation represents a growing trend in companies; inciting charity in the business world with as many as 11,500 companies doing the same.
Virtuous SO Cal Hemp Company have edibles in the face of recent innovations in the field – hemp CBD gummies in sour worm or teddy rock taste buds + truly were the delight of brunch at Beverly Hilton's Secret Garden. They also make pure hemp oil and are featured on Amazon. 
Stopping by the kitchen led to a wonderful meeting of a personal chef, who is available for parties + private dinners not to mention a host of other events where hiring a personal chef is a must. She makes an incredible cookie, such a good Tuscan Oil Blend that I was licking the bottle, honey with strawberry infusion, + a seasoning that covers everything – chicken to beef.
Tripping me out is everyday natural products by Matt Danner + Azmyth Kaminski with their E.N.P. CBD elixir shots for use in coffee or alcoholic beverages. When added to water, you cannot taste the added elixir in the non-flavored + sugar-free version featuring 80mg Hemp CBD. One is supposed to feel a mild sense of relaxation or inner peace. Welcome to the zen form of elixir shots – E.N.P. supplies the product in a variety of flavors, including mushroom, which left an aftertaste but should be perfect with coffee. They also make hemp body lotion, a blend of CBD + ingredients that moisturize while taking advantage of the herbal benefits of mushroom that reverses oxidant damage + protects mitochondrial DNA from damage.
Speaking of herbal remedies, Etana Beauty is selling Aztec Secret, a clay mask that adheres with the help of apple cider vinegar: boasting the world's most powerful facial, the natural calcium bentonite clay is worth the purchase if in the market for the ultimate mask solution. Etana also provides supplements; d3 + k2, probiotic, + Aztec cleanse – which can be taken along with the physical mask regime.
If not into the clay thing, feel free to try cryo-facials. The smoothing cold oxygen treatment from Upgrade Labs is tightening and worth the luxurious facial adventure. Right now, they are offering three experiences from $249 [$525 value] called the Superhuman Starter Stack. They also offer 'RedCharger' + an infrared sauna. With experiences like Reset + Recovery or Brain Power + Cell Energy, cryotherapy by Upgrade Labs poolside at the Beverly Hilton is the best source for nouveau treatments that push the boundary of cellular rejuvenation. Use the code "BEAUTY" to receive 10% of your first experience.
After experiencing cryotherapy, it is time to relax with Ettitude 100% organic bamboo bedding. Handing out pillowcases, sleeping mask, + perfumed sachet; their products are tested for harmful chemicals according to Oeko-Tex Standard 100. Plus, its hypoallergenic, moisture-wicking, thermo-regulation + anti-microbial. The texture is different from cotton, providing a cool, sleek, organic night sleep.
If not here, then Jamaica is the perfect place to relax with Ettitude 100% organic bamboo bedding. The island of a beautiful state, Jamaica also showed up to promote itself with a complimentary guide to Jamaica along with a sample of Xaymaca Coffee Traders Jamaican Blue Mountain coffee. Bold + yet completely natural, Jamaica imports are in high demand as well as addictively good from the first sip. 
Blending in perfectly is Jill Joanna who features all-natural body care + something to carry it in as she as a line of purses designed by herself. The clutch 'The Ali' is one to check out along with her rose oil. It has a strong herbal rose scent; pleasant especially when compared to the competition – who tend to offer a mild, barely-there with nothing to linger. Also pleasant are her lip balm in classic stick or pot.
If clay + cryogenics are not your things, here's one last skin case solution that has a double blade; one side a cookbook "Clean Skin From Within." Otherwise known as the 'Spa Doctor,' Dr. Trevor Cates specializes in a 'Daily Essentials' Skincare Kit created to entail a gentle cleanser, nourishing antioxidant cream, renewing enriched moisturizer finished with an enhancing glow boost. All leave the skin feeling healthy + smooth like silk.  
Also in the business of skin therapy, Regen de Peau II uses pene-fusion technology where 'Science meets Simplicity.' It softens the skin, smelling deliciously like grapefruit, Oli Regen seeks to moisturize with an extremely potent cream that nourishes as it softens.  
J.A.X. [Just Add Jax] complimented bar with brunch served buffet style. Appealing with the fruit with beer sample provided by Elephant Cooperative. Also delighting the conversation attendee style was one of Justin Bieber's bodyguards and Miss Teen California who was amazing with a smile for everyone.