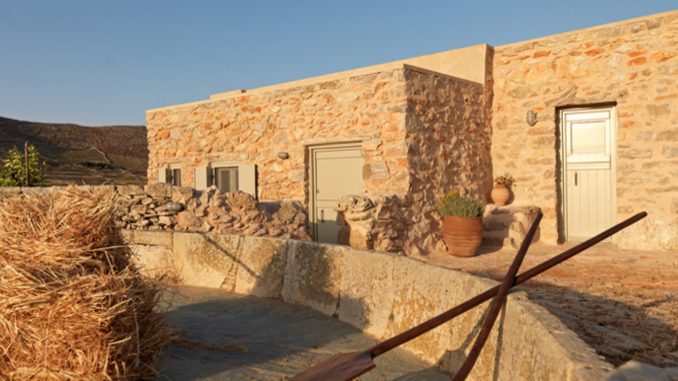 In Folegandros, Themonies are the idiosyncratic agricultural complexes that form independent rural entities. The word itself comes from the ancient greek verb "to collect". The place I visited this time was exactly that, and its name is Themonies Luxury Suites.

My suite used to be the place where the donkey and the sheep rest and it was called "The Shepherds Themonia", as it was the first room they ever renovated. Totally refurbished, without being altered, since the stones and wood where the protagonists at the walls. Minimalism was a key concept. Plus, the architect and the interior designers created it with great respect to the environment, without intervening, unless it was absolutely necessary. To illustrate, if you were to look at the whole building from afar, you could not tell if it was a building or a natural stone hill. Specifically, the owner gave us this secret, that even his neighbors followed, so that the whole area on the island remained like that – pure and almost not altered.

At Themonies Luxury suites, another room was called "Paroustia" meaning the centre of the house. The other one was named "Triferi" after a local variety of a white grape. The next was called "Elelifaskos" which is the way they call Sage in Folegandros. Last but not least, "The Large Themonia" the biggest of them all, 72 sq. meters.
Our view from the hotel was the monastery up the hill across the hotel, that no car could reach, the aegean horizon and part of the main town, Chora of Folegandros. This stone complex of the late 19th century, with its intact "Aloni" forms a contemporary high quality retreat for the discerning traveler. The visitor relaxes in an atmosphere of a "Cycladic Zen". The unpretentious style of the rooms , the delicacies of the welcoming when arriving, the breakfast local tastes prepared with great care for us, made us even more immune to this simple and ancient way of living. Each suite, as I mentioned above is named after a word from the local dialect. Our lovely hosts were there at any single time to offer us their intel about the history of the island and the hotspots we needed to visit while there.
In the afternoons, before we headed to Chora, we had a drink or an afternoon tea at the bar of Themonies, which was called "Agapi". "Arapi" was the best quality wheat on the islands. All around us there were paintings and small sculptures that anyone could buy if interested.
All in all, I could say that this trip was a special trip to our roots, not that long ago …
Photos: Courtesy of the hotel