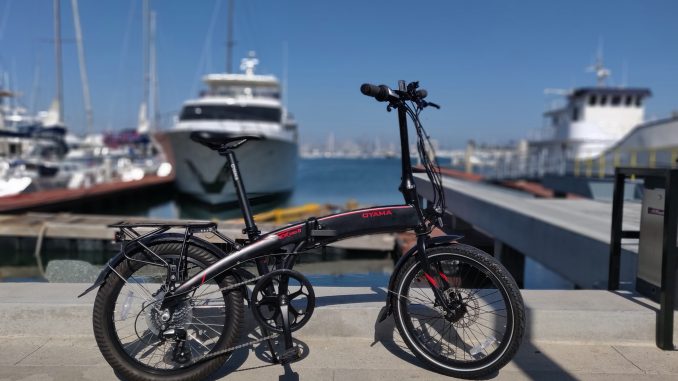 Adult toy, that term has so many connotations, but for the most part it simply means something fun and that for some reason or another could not partake of as a child. If you want something that is 100% "adult toy", while giving you back some of your childhood, meet the OYAMA folding electric bicycle.
The OYAMA CX E8D Series II folding electric bicycle isn't just for adults, but you might want to keep that your little secret. The OYAMA experience is so fun that of course every kid in your neighborhood is going to want to ride it. The pedal assist will have you passing slower cars and you can turn and grin as you pass them while going over 20 miles per hour.
While the OYAMA CX E8D Series II electric bicycle clearly has technology that goes well beyond just pedaling, you really don't need to worry about that. It is so simplistic and well designed that once you get on your OYAMA and start pedaling and navigating the control pad, you will be in control of the speed and much or how little you pedal and you will just be on your way. The charging port and on and off switch is on the side of the bike and once you get going, the control panel is right on the handle bars and is extremely easy to navigate.
When it comes to electric bikes, there are a number of great brands to choose from as well as a size and design of e-bikes that are perfect for anyone.
The design beyond the folding aspect of the OYAMA is simple as well. You literally can be the least handy person in the world and in about one minute and within three movements, your OYAMA will be folded into an easily storable package. The light weight alloy makes the OYAMA so easy to throw in your trunk, take on a train, a boat, it really can accompany you anywhere and gives you perfect transportation wherever you are.
You might wonder how such a high-end and powerful bike can accommodate your travels. Not only can it accommodate your travels, it makes your travels that much better. Taking a train up and down the west coast can be a pleasant and relaxing experience, but when you get to your destination your at the mercy of an uber, lyft or taxi. That is the case for the duration of your stay unless you plan on spending your trip with a few short blocks of your hotel. Pack your OYAMA, take in on the train and wherever you stop you have the freedom to go anywhere your heart desires and you don't have to wait on a ride or pay for one. If you have a boat and you really want to travel and hit some different ports, the OYAMA was made for you. Every new destination, your OYAMA allows you to dock your boat and simply go. When you are ready to set sail again, there is minimal effort to pack up and head out. Finally, if you have a student heading off to college or one that is still at home but needs to get around without a car, OYAMA is the perfect back-to-school gift.
Living on the West Coast the weather can spoil you and the climate lends itself to the OYAMA. Whether you are traveling or just want to run to store, the OYAMA allows you to enjoy the weather and the experience. Riding for hours along the beach or the many bike trails that are all over Southern California makes for a fun and different experience than a typical bike ride. The OYAMA will also make some friends for you in short order as people will not only ask about the experience of riding it, the bike itself is very stylish looking and will make anyone turn their head. The OYAMA CX E8D Series II folding electric bicycle comes in at a very affordable MSRP of $1,999.00.
The OYAMA does not discriminate, you can be an athlete, a student or a mom and you will love the experience of this beautiful electric bike. Once you hop on an OYAMA the smile will never leave your face and it will quickly become part of your everyday life and your car will become less important and less used. The OYAMA is truly the "adult toy" that is so much more than a toy.
For more information, visit: OYAMA
ABOUT OYAMA
Oyama, a Chinese and Taiwanese full-service OEM, ODM manufacturer, that has introduced its own Oyama brand of folding bicycles, electric bicycles and stylish kids models in North America. Over the past few years Oyama has focused on the business of higher end manufacturing and has proudly built bicycles for some of the major award-winning global brands. In 2019, Oyama brings 30 years of experience in innovative development and design to bear on its on branded lineup of folding bicycles, focused on ease of use, fun and the ability to take the bicycle anywhere … Oyama provides an unparalleled riding experience in a small package! For more information and to purchase go to www.oyama.com — the official North American website of Oyama Bicycles.