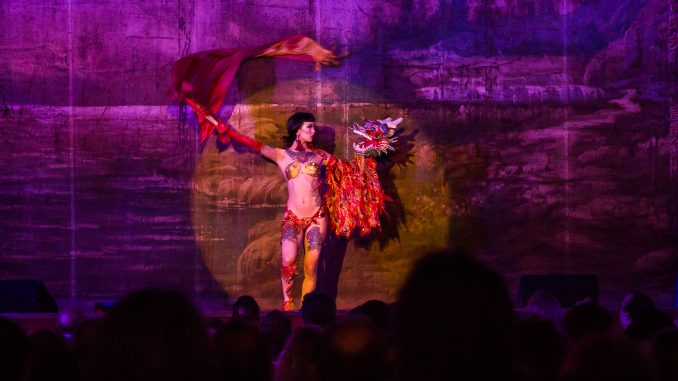 Misfit Cabaret will present `WHIMSEA,' August 9th and 10th at The Hayworth Theater in Los Angeles. Headlined by the sensual and gorgeous Kat Robichaud, this is a show I will not miss! Read on down and you'll see how you can get a Special Ticket Deal, courtesy of  Greg Autry (me) and Splash Mags.  Beware, This Deal is limited for my readers only here in Splash Magazine, and will go fast.
Kat Robichaud's Misfit Cabaret is a splendiferous series of cabaret style variety shows centered on magical music and the amazing vocals of Kat Robichaud. There is a rotating cast of eccentric performers. From burlesque to circus to magic, you never know what you're going to see or what you're getting yourself into! For each new Misfit Cabaret, emcee Kat Robichaud writes two original songs, keeping with the theme of the evening and performs the new songs with her Darling Misfit band. Kat will be premiering "Song for David Bowie" and "The Last Waltz of the Wrights" in the LA shows August 9th and 10th. There will also be a special medley to kick off the evening and welcome in the spirit and saucy past of Misfit Cabaret. There's comedy, romance, and bawdiness around every corner with not a dull moment or dry eye in the house.
Kat Robichaud and Co-Producer Jordan Nathan premiered Misfit Cabaret at a 100 seat Speakeasy in San Francisco ' four years ago. Misfit has grown to a cavalcade of ten shows today, each with their own theme and music. I previously reviewed `Grimm' for Splash Magazine in May, 2018, at the Z Theater in San Francisco.  Two years ago Misfit Cabaret premiered in Seattle, playing too sold out audiences at Hale's Palladium. The 500 seat Alcazar Theater will host future new shows in downtown San Francisco.
Kat Robichaud's Misfit Cabaret premiers in Los Angeles with the most popular of its ten shows `Whimsea,' which I think will be perfect for the summer vibe in LA. Whimsea is a Mermaid/Nautically themed Cabaret, the second show created by Kat and Jordan, in the Misfit Cabaret series. In addition to Kat Robichaud, the scheduled performers will  include songbird Eliza Rickman (Welcome to Night Vale), and Frankie Fictitious (Burlesque Hall of Fame winner of Miss Exotic World 2019, The Reigning Queen of Burlesque), comedy drag queen Carnie Asada, Shadow Circus Creature Theater, a bawdy puppet troupe. Other highlights of the show will include a nautical medley sing-a-long, a mermaid with tourettes, a human blockhead chanteuse, and an underwater ballroom betrayal. I'm told to expect a couple of surprise special guest as well.
Here is a listing of all the shows in the Misfit Cabaret series: 1. Misfit Cabaret- the first one, 2. Whimsea- nautical themed, 3. Wilde Women- Moulin Rouge/ Oscar Wilde themed, 4. Cinephilia- cult film themed, 5. A Very Bloody Misfit Cabaret- 1st original Halloween show, 6. Grimm- fairytale themed, 7. A Very Merry Misfit Cabaret- Christmas/holiday themed, 8. Horror Show- 2nd original Halloween show, 9. Lost in Z Space- Sci Fi themed, and 10. Adventure Show- fortune and glory themed. When you've seen one, you will be hooked. 
The beautiful Hayworth Building is a Spanish Colonial Revival style building which opened in 1926 as the Masque Theater. Now named after Rita Hayworth, it has gone through various incantation and renovations during the years, hosting restaurants and bars (most notable maybe is LA first Tiki Bar) , movie sets, and offices for various film production companies.
The Hayworth building has been a creative and entertainment hub in LA for close to a century. The historic Hayworth Theater is Los Angeles' home for highly curated live entertainment, and comedy events, with top quality acts, as well as production values. Over the past century, Hayworth Theater has shown itself to be both a gem of a space and a conduit for creativity and entertainment. "Dynasty" is honored to be a part of this historic building's legacy. 
TICKETS for WHIMSEA  click on the link. For my Splash Magazine Readers you can get a 50% Discount on your tickets by using the promo code  " splashmags ". So bring a group, but hurry, this wont last.
When: Two nights only.  August 9th and 10th, 2019, shows begin promptly at 8:00 PM
Where: Hayworth Theater, 2511 Wilshire Blvd, Los Angeles, CA 90057    
PARKING: The Hayworth is located in the MacArthur Park area, on Wilshire Boulevard, between Carondelet St. and Coronado St. Depending on other events in the area, parking can sometimes be tricky so I highly recommend using a taxi or ride share service when possible. The best bets for street and metered parking in the neighborhood are on Wilshire Blvd. Carondelet St., Park View St., Coronado St., and 6th St. Be sure to check all signs for parking regulations. There are several parking lots within walking distance. The main lot is located around the corner at 611 S Carondelet Street and is $8. Private lots are priced higher according to the events of the evening.
Connect with me, Greg Autry,  on  Instagram   @gregautry.cga, 
on Facebook  Facebook.com/GregAutryPhoto,  and on Twitter  @CGAGreg 
Photos Courtesy of Misfit Cabaret, used with permission.