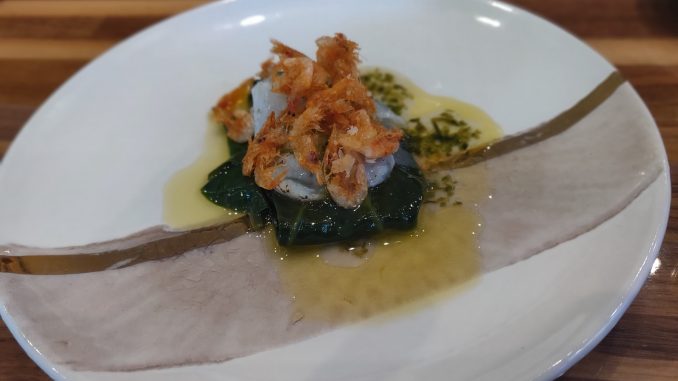 Sushi restaurants in the Los Angeles area are plentiful and the quality is always expected to be nothing less than stellar. Woodland Hills is home to Brother's Sushi that not only brings the freshest fish around to their menu, but they also bring fish that you are not likely to find in any other Sushi restaurant in Los Angeles and each fish is brought to life in flavorful and unique dishes.
Brothers Sushi created a stunningly intimate setting that is striking from the moment you walk in and see the side wall with what looks to be a museum of sushi knives. You really will enjoy sitting anywhere in this restaurant as there is not a bad seat in the house, but sitting at the sushi bar and watching Chef Mark Okuda and his staff work their magic creating sushi is a true treat.
Brothers Sushi sources their fish from numerous sources to ensure what they serve is always fresh and seasonal and some of the sushi is served with fish that is only in season as few as two months. Making each dish even that much better is the fact that they also source most of their vegetables from local farmer's markets. Their is no denying the quality of ingredients in every bite of each dish regardless of what you order.
A wonderful way to begin your dining experience at Brothers Sushi is the very delicate house made black sesame tofu that is paired with Santa Barbara sea urchin that is topped with soy marinated bonito flakes. Serving Japanese Momotaro Tomatoes paired with wild Ono winter and spring fish from Kyushu Japan in a martini glass is not only stunningly beautiful, but also brings the subtle sweetness of the tomatoes and Ono fish together very nicely. The dish comes together with the grape-seed oil based dashi dressing is so good once you are done you must not waste it and you need to tip that martini glass up and drink any of that dressing that remains.
Seeing a chowder on the menu of a sushi restaurant might be a bit surprising, but the Dobin Chowder soup from Brothers Sushi will make all other chowders pale in comparison. The chowder is served in a Japanese teapot and allows you to pour the creamy dashi broth into a sipping bowl. Don't forget about the teapot, as all of that robust flavor also comes from the Shrimp, whitefish and manila clam that is left for you to enjoy once you finish off the broth. This chowder is the gift that keeps on giving.
If you want a once-in-a-year experience, get to Brothers Sushi soon as they currently are serving seasonal Sakura Shrimp, which is only available for a month. The crispy tiny shrimp is served on top of seared Japanese Sea bream and farmers market Indian spinach along with a fresh seaweed gravy dashi. A wonderful contrast in textures and a number of great flavors that play extremely well off of each other. Finally if you want to see tempura done to perfection the King Crab Tempura from Brothers Sushi does just that. The lightly battered yet crispy tempura batter really allows the fresh crab to shine through and the rich creamy citrus sauce is simply good enough to go on any dish.
The menu is almost endless as you can also try squid, Wagyu beef, tuna, trout, perch and more. One of the best aspects of Brothers Sushi is you simply don't know what you might be walking into as they might have something unique for you on any night of the week. They also have a great list of sake including Maboroshi Junmai Ginjo Sake as well as Orion Japanese beer on tap and Japanese sodas.
Woodland Hills might not be on everyone's map, but if you are looking for the best sushi in the Los Angeles area, Brothers Sushi will find its way on to your map. Whether you are right around the corner and five minutes away, or if you are driving from the heart of Los Angeles, the memories of this devastatingly good sushi live throughout the night, the next day and beyond as you relive each and every dish and get ready to start planning your next visit to Brothers Sushi.
For more information, visit: Brothers Sushi