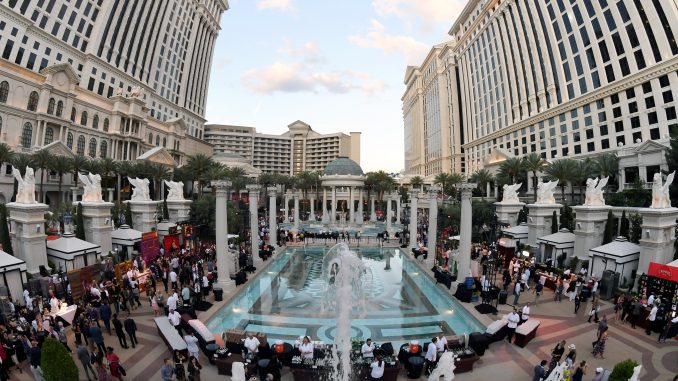 The 13th annual Vegas Uncork'd by Bon Appétit, presented by the Las Vegas Convention and Visitors Authority, kicked things off on May 9th as Chef Bruce Bromberg sabered a magnum of champagne at Boulevard Pool at The Cosmopolitan. That was just the beginning as the overwhelming amount of food, cocktails and chefs took over the strip of Las Vegas in what is the can't-miss food event of the year.
The four days included some of the best chefs in the world hosting intimate events at their restaurants, with larger events that allowed you to indulge with numerous chefs on-hand showcasing their best dishes. It is hard not to begin with The Grand Tasting that took place Friday night at Caesars Palace. The Grand Tasting hosted more than 2,500 food enthusiasts, and not a single one could try every dish as there were just far too many tasty options. The event was truly picturesque, as it took place on the five-acre Garden of the Gods Pool Oasis at Caesars Palace and featured 50 award-winning chefs and more than 100 of the best wines and spirits from around the world. Chefs such as Gordon Ramsey and Guy Savoy were on hand, and this was such an incredible event that you could run into chefs who just wanted to partake in everything, including Chef Roy Ellamar of Harvest at Bellagio.
On Saturday, guests were treated to what has become a foodie favorite every year: the third annual Picnic at The Park. The lineup of chefs was simply jaw-dropping as the list included Jean-Georges Vongerichten; Michael Mina; Masaharu Morimoto; Roy Choi; Bryan and Michael Voltaggio; Susan Feniger; Julian Serrano; Shawn McClain; and MGM Grand executive pastry chef Florent Cheveau. And, Diane Mina presented an incredible a bloody Mary bar featuring her own Diane's Bloody Mary mixes.
There are simply too many great things to mention about Picnic in the Park, but in addition to the creative cocktails, getting to mingle with chefs and the beautiful setting, guests simply could not get enough of the Japanese wagyu Thai beef salad from Jean-Georges Vongerichten and the beef short ribs from Bryan and Michael Voltaggio.
"It's very natural honestly, we have been doing this together for 25 years. We started at the 49ers games at Candlestick, she'd have her bar and I'd have my little kitchen and that's how it all started," Chef Michael Mina, whose wife Diane and him teamed up Picnic in the Park once again. "This is my favorite food event, I've been doing it for 13 years. There is something about being a chef and having a restaurant in Las Vegas, there is a certain type of chef that does really well in Las Vegas. It is chefs who are very social and really understand hospitality. Coming to this every year is almost like a reunion."
There were so many other highlights of Vegas Uncork'd:
• The experience at Gordon Ramsay Pub & Grill inside Caesars Palace treated guests to Gordon Ramsay providing a glimpse into the Ramsay household, and his distinguished career with a selection of his favorite dishes and special family recipes. 
• The always entertaining celebrity chef Susan Feniger and Executive Chef Mike Minor hosted a BBQ party with a Mexican twist at Border Grill, located at Mandalay Bay. Local craft beer went beautifully with mesquite pulled pork tortas, fried chicken tacos, slow-smoked Texas-style brisket, spare ribs, house-smoked tofu with habanero BBQ sauce, impossible sliders and all the fixins'. 

• Caesars Palace was home to all of the incredible flavors created by Michelin-starred chef Guy Savoy as he showcased his most-famed dishes, including: lobster and carrot, seared foie gras, artichoke and black truffle soup and New Zealand lamb. Each plate was served alongside some of the world's finest wines and champagnes. 
• Inside Chica at The Venetian Resort, celebrity chef Lorena Garcia treated moms to a Chica "Mom-mosa" Brunch that offered a selection of flavorful mimosas made with cantaloupe-mint, raspberry-peach and watermelon, grapefruit and ginger juices, in addition to a four-course lunch menu curated by Garcia herself that included: an area trio with rum-cured salmon and cilantro, avocado, pomegranate and cheese, and goat cheese mousse and beet, as well as pork belly eggs benedict, arroz con pollo and plantains foster crepes for dessert.
If you ever wanted to experience the best-of-the-best of the Las Vegas strip, Vegas Uncork'd by Bon Appétit is the event to give you that experience. From all of the amazing MGM properties, to the Wynn, The Cosmopolitan and the Venetian, you are not going to find this many chefs in this many breathtaking settings where you can actually have an intimate experience that otherwise can rarely find. And, this event, with four, full, non-stop days, is simply unparalleled.
For more information, visit: Vegas Uncork'd