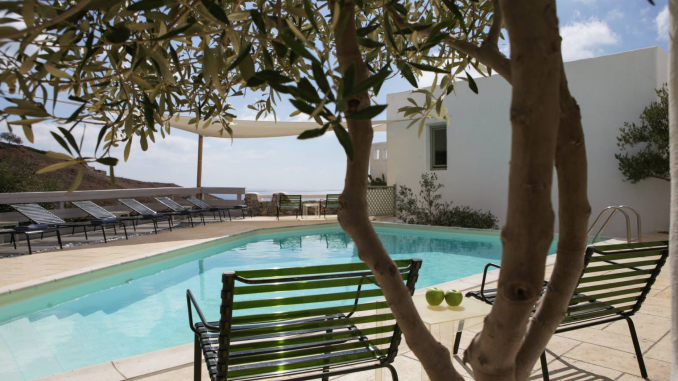 One of the many islands in the Aegean Sea is the island of the "Gates" or "Pyles", as the Ancient Greeks used to call them. Its special morphology and particularly the many coves surrounding its shoreline, gave "Pylaia" or "Astypalaia" its contemporary name. Therefore, Pylaia Boutique Hotel & Spa, the amazing hotel we visited this time, is named after that!
We arrived in Astypalaia at night and got picked up by their quaint little bus that was waiting for us at the port. When we reached the hotel, a welcoming drink was offered so that we enjoy a quick panoramic night view over the Aegean Sea and the bays of Aichyli, Agios Konstantinos, Papou and Tzanaki. You see, Pylaia Boutique Hotel & Spa is built on a slope, only 200 meters from the central square, where the preserved nine windmills are arranged on the hilltop and dominate the landscape.
Our welcoming basket was full of fresh fruit and some homemade crackers that are being baked locally, the famous "Iliana' crackers. The next day, when we woke up, we came across an impeccable view. Poems and novels could be written here. The deep blue of the Aegean Sea was in full accordance with the white color of the hotel! The narrow stone paved alleys with their wide stairs, olive oil trees and flowers, white-washed walls, it's all here! Within the hotel, there are 27 rooms and suites, all located in different levels so that your privacy is kept at all times. Two swimming pools and state of the art furniture are scattered around.
Breakfast is oh-my-god! Tasty homemade delicacies, fresh marmalade, cookies, eggs from free range chickens and more are exactly what you need when you wake up at all times. The personnel is so kind, discreet and helpful that you don't even feel they are there.
The rooms are designed with simplicity and elegance! The Cycladic white tones are in full accordance with the grey and olive hues, creating a harmony that you need when on holidays.
A must try is the lunch and dinner, since it is carefully cooked with organic products and absolute attention to every single tasteful detail.
When in Astypalaia it is nice to visit Akti, a magical restaurant built on a cliff, with small private tables on some nature-made, small, private balconies. Many wedding proposals take place there. Don't forget to go by the boutique of Pylaia Hotel and Aerino boutique in Chora, to buy your Greek designers pieces and walk around to enjoy the islands' energy and have a very relaxing Spa at the special premises if the hotel! Last but not least, walk up the local pathways to the castle to get a 360 view of the whole island – just don't go when the sun is at its full forte cause its a bit of an uphill walk.
Pylaia Hotel
Photos: Courtesy of the hotel