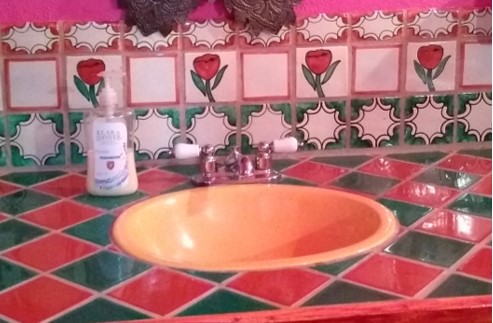 Stephanie Colburn
WHERE OLD TRUCKS BECOME ART

Cravings manifest themselves in wondrous ways. Some folks admit there can never be too much chocolate in their lives. For my husband Bill and I, there can never be too much Taos, New Mexico. Last week we spent six nights on the road traveling to and fro for four days in Taos.
DAY ONE
We drive into town on Route 64 from Cimarron and head straight to Michael's Kitchen to see if they have any almond bear claws left. Alas, the last one was headed out the door as we arrived, but we are now great fans of their raspberry-filled empanadas.
Next stop is our favorite destination for green chile stew and craft beer at Eske's Brew Pub and Eatery only to find the pub is shuttered. Forever. According to our sources lounging on the patio, Chef Wanda is planning to open a food truck soon on the north side of town. We'll find her next trip. Shrimp tacos and a vegetarian burrito smothered in red and green chile sauces at Orlando's New Mexican Café proved once again to be a worthy substitute.
Before sunset, we turn west at the Old Blinking Light intersection to head eight miles to the Rio Grande Gorge Bridge, a steel deck truss bridge spanning 1,272 feet and rising 650 feet above the river. The view is always powerful.
APPROACHING THE RIO GRANDE GORGE BRIDGE AT SUNSET
DAY TWO
Walking around the historic Taos Plaza, in and out remembered shops, we stop to buy hats at Taos Mountain Outfitters to cover ears as well as heads. Only one day at an elevation of 7,000 feet and my nose bursts with sunburn. A customer explains it's because Taos is so much closer to the sun, but I know there is significantly less of the earth's atmosphere blocking sunlight here than at our home elevation of 600 feet. I'm delighted with my new hat. I buy sunblock.
We head north on Route 68 to the Farmhouse Café for our first organic farm-to-table experience in town. My Garden Benedict with avocado and grilled asparagus atop the most beautiful fresh eggs and homemade muffin is splendid. Bill orders Red Chile Bison Stew accompanied by a colorful salad. The food is so delicious we vow to return for another meal before leaving town.
On the search for Mexican Talavera tiles, we head south on Route 68 to Ranchos de Taos and the family owned and operated Vargas Tile Company. With the gracious help of a family member, we quickly find the handmade, hand-painted tiles we want amid thousands in their giant showroom.
Next stop south is Pilar. We turn west onto Route 570, then drive north eight miles to the Taos Junction Bridge over the Rio Grande. During previous visits we spent many an hour sitting in camp chairs on the beach listening to the river lap its way downcanyon, watching high-spirited rafters float gaily past us, reading our favorite books. Today our beach is flooded, the river perilously broken into rapids and eddies. No relaxing near the river today. Never mind. It's always a good day for us when we're in Taos.
TAOS JUNCTION BRIDGE AND A FLOODED RIO GRANDE
DAY THREE

We return to Michael's Kitchen for almond bear claws and try to eat them slowly as we enjoy the local conversations surrounding us in the front room.
Driving south on Route 68 again, we head for the Black Mesa Winery & Tasting Room in Velarde. Their wines have been favorites of ours for years. Behind the counter we find the wine maker himself. After 27 years as a sommelier at the Taos Inn, he decided to make his own. His grapes come from Deming, New Mexico. We ask about a red wine named Coyote as we don't see any in the room. He explains it was bottled yesterday and calls for someone in the warehouse to walk over a case. He tastes it and pours us each an ounce. We concur the wine is a good vintage and buy a few bottles. He encourages us to let the wine settle down for a month or two after our drive home.
BLACK MESA WINERY & TASTING ROOM

Back in Taos we visit Op.Cit Books, once the site of the bookstore Moby Dickens just off the Plaza on Bent Street. The eclectic collection of new, used and remaindered books offers many possibilities. We purchase a hardcover poetry book by Billy Collins and a previously unpublished first novel by Arthur Conan Doyle. I ask about Anne Hillerman's newest book, The Tale Teller, but the shop is out of copies. She is scheduled for an author appearance a few days hence.
DAY FOUR
Taos Pueblo calls to us. It's been decades since we visited one hot summer day. Then the river was dry. Today the Rio Pueblo de Taos threatens to flood its banks piled with bags of sand. The tribe is happy because water means life. Considered one of the most continuously inhabited communities in the world, the pueblo now has only five families living there year-round. Tribal artisans create and sell their crafts on the ground floors of adobe buildings facing the multi-storied northern structure.

TAOS PUEBLO
We stop at House of Water Crow and meet the artist, Carpio Bernal. Bill admires one of his handmade canes inlaid with turquoise and we strike a deal. Carpio quickly becomes a friend and invites us into the next room where the largest double-skinned drum we've ever seen resides. He asks us to disappear behind it while he plays and sings. Man and drum then speak like thunder resonating infinity and eternity and sing together a native song all our bodies understand. Thank you, Carpio. Thank you, Taos!
CARPIO BERNAL – HOUSE OF WATER CROW
All photos courtesy of Stephanie Colburn