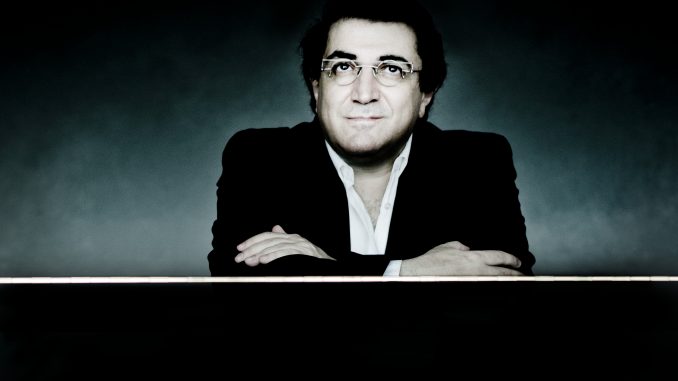 The 46th annual Bach Week Festival concerts continued on April 28, 2019 with a program entitled Virtuoso Soloists at Nichols Concert Hall, 1490 Chicago Ave. in Evanston. This third event of the Festival, an eagerly awaited series that has delighted audiences since its inception in 1974, showcased world-famous pianist Sergei Babayan and stellar Chicago Symphony Orchestra flautist
 Jennifer Gunn. 
The concert also featured Laura Park and Rebecca Benjamin, violins; the Music Institute of Chicago Academy (MIC) Orchestra conducted     by
 James Setapen; and the Bach Week Festival Orchestra led by Music Director/Conductor
 Richard Webster.  
The concert was remarkable for the palpable joy of the performers, the supportive approach taken by the master musicians to the students, the clarity and fullness of the music and the outstanding performance of the principals. 
1) J. S. Bach Ouverture No. 2 in B Minor, BWV 1067, 1738-39
Bach's Orchestral Suites are a series of short pieces in various dance forms preceded by an introductory section composed in the style of a French overture, and are thus sometimes referred to as "Ouvertures" or "French Suites". The precise occasion or purpose for which Bach composed the second of these suites is not known and scholars believe that fact is likely to remain a mystery.
Jennifer Gunn, making frequent eye contact with Maestro Webster, his graceful movements almost balletic in nature, demonstrated a purity of tone throughout that was alluring and deeply moving. The lively dances and bright clear sound of the solo flute opened the concert with the sense of a happy court celebration.
2) J. S. Bach Concerto for Two Violins in D minor, BWV 1043, 1720
 BWV 1043 is one of Bach's most popular works. The MIC students took their seats, each paired with a Festival Orchestra Principal, James Setapen palpably proudly conducting. The 2 featured violin students, Laura Park and Rebecca Benjamin, on their feet in front of the assembled musicians, seemed awash in the glorious sounds.
The first movement Vivace, densely contrapuntal, unfolded in a constant swirl of contrary lines. The Largo that followed was an extended centerpiece, a lyrically lovely duet between the two violins. The final Allegro came to an almost brusque conclusion, with the soloists at times bowing together in flowing parallel harmonies.
After the intermission, Armenian-American pianist Sergei Babayan swept the concert away. Aptly and often described as a "genius", Babayan is the winner of numerous international competitions. He frequently appears as a soloist with internationally renowned orchestras and has collaborated with numerous illustrious conductors and other artists. In 1996, he founded the Sergei Babayan International Piano Academy at the Cleveland Institute of Music where he is also an Artist-in-Residence.
Although his programming often includes Romantic composers such as Rachmaninoff, and modern works by composers such as Witold Lutoslawski, György Ligeti, Carl Vine and Arvo Pärt, he is also recognized for his prominent interpretations of Johann Sebastian Bach. 
In July 2018, Babayan signed an exclusive recording contract with Deutsche Grammophon.
3 & 4) Jean-Phillippe Rameau Pièces de clavecin, 1724; Suite in A minor from Nouvelles suites de pieces de clavecin, 1726-1727
Rameau, an exact contemporary of Bach, is known for compositions filled with style, life and coherence. This memorable rendition, with Babayan characteristically playing sans score and with his eyes closed, was vastly entertaining, filled with wit and flair, and with a flawless virtuosic skill and counterpoint. The superb pianist produced a kaleidoscopic effect of carillon tones highlighting the musical wizardry of Rameau's varied musical effects. The feeling overall was one of intimacy and drama, leaving a lasting impression of triumphant joy.
5) J. S. Bach Keyboard Concerto No. 3 in D Major, BWV 1054, 1729-1741
 The score for this 16-minute piece included a string ensemble, here comprised of the Bach Week festival Orchestra and musicians from the MIC Academy Orchestra under the versatile baton of OCM Richard Webster with Sergei Babayan, solo, clearly out in front like a Baroque Jazzmaster or lead guitarist! 
The D-major Concerto's first movement Allegro opened with a jubilant fanfare, and segued beautifully into the complex and serene middle movement Adagio e sempre piano chaconne before returning to the animated final Allegro. Between the affirming passages for the solo piano, the main subject- originally introduced in the lower strings- recurs regularly. Thus, throughout this entrancing performance there was a continuous sense of balancing and trading off, resulting in a polished and satisfying conclusion.
After the repeated cries of "Bravo!" amid a prolonged standing ovation, the effects of the music still resonating, I had the opportunity to talk with Sergei Babayan. Responding to the reverent emotions produced by his performance, I simply asked this great artist, "What are you feeling inside while you are playing?"
Babayan responded with a natural outpouring that was as genuine and heartfelt as his storied technique:
 "I feel a connection with the composer through the notes, and I become a vessel or a channel for healing and happiness. It has to be the mission of every solo recitalist to make the audience feel a direct link to the crafter of the music. We have to open a light on the work, to become part of it. No one performer can ever master all the music of Bach, or even a fraction of it, but to elucidate any of it is almost liturgical."
Surrendering my access to Babayan to the long line of those waiting to speak with him, I made my bemused way out into the concert hall, a former chapel, where I encountered Maestro Webster, himself a lauded composer as well as an expert on choral music. Webster spontaneously exclaimed, "This was a holy and sacred afternoon of music". Indeed, it was.
The last concert of this year's Bach Week Festival is tonight, Friday, May 3, 2019 at Anderson Chapel, North Park University, 3225 W. Foster Avenue, Chicago, at 7:30 p.m. 
Tickets can be purchased online at www.bachweek.org or by phone, 800-838-3006. For general festival information, phone 847-269-9050 or email in**@ba******.org.