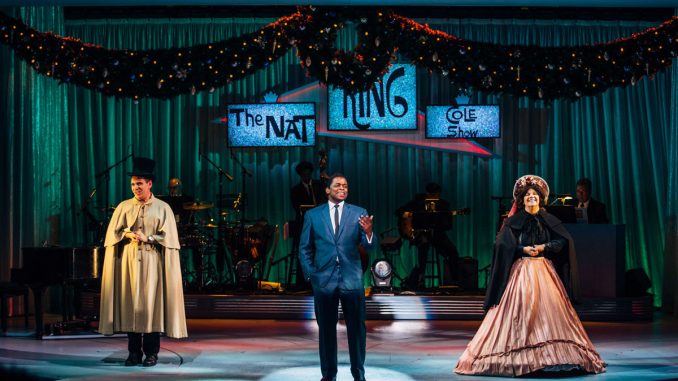 Center Stage With…
Lady Beverly Cohn – Editor-at-Large Worldwide
Under the superb, masterful direction of Patricia McGregor, Dulé Hill, renders an extraordinary portrayal of one of America's most famous entertainers. This story, written by Colman Domingo and McGregor is not what you might think it is. What it is not is a cheerful trip down the memory lane of Cole's remarkable career where you will be reminded of his velvet throated rendition of such iconic favorites as "Mona Lisa," "Nature Boy," "Route 66," "Straighten Up and Fly Right," "Stardust," and, of course, "Unforgettable," which would be a good adjective for this production. On the contrary, while you will hear most of his hit songs, Hill's haunting performance takes us into the dark corners of his Cole's fame, which had two faces – his weekly show on NBC Television, which was the only show with a black man as the star, contrasted to the behind the scenes humiliation he had to endure to please the network and the somewhat racist sponsors. In order to satisfy both entities, Cole submitted to having white powder splashed over his face to look less black. Not only did this national singing treasure have to tolerate the "white face" procedure, there were many times throughout his career that he had to enter and leave by the back door of the very same venue in which he was performing. Before going on camera, the camouflaging powder was applied by cheerful make-up artist Candy, played with good humor by Mary-Pat Green, who also knows how todeliver a song. With a cigarette dangling out of her mouth, she would try to lessen the blow with wisecracks and coddling.
This is a pivotal night for Cole, as it's the official end of his half-hour prime time television spot, which had been on air for thirteen months. Instead, the network decided to switch his program to Saturday afternoon, which would be the death knell for the show. The producer, played by Byran Dobson is nervous because Peggy Lee, played Ruby Lewis, who also plays Betty Hutton, hasn't shown up yet. Cole quips, "I've been known to carry a song on my own." As this great singer gets ready for his final appearance, the stage manager, efficiently played by Brandon Ruiter, is busy getting the set ready. He does a lighting and sound check and in short order it becomes clear that the audience will be treated as the studio audience who are being primed to respond to the "Applause" sign that lights up at the appropriate time. His good friend Sammy Davis Jr., played by the amazingly talented singer and tap dancer Daniel J. Watts, who gives an over-the-top characterization. His job that evening is to warm up the audience before the program begins and to be a sympathetic ear for his friend. He clowns around and does some excellent impersonations, including the famous Marlon Brando mumble. The program is now live and Cole becomes his professional, public image self – the easy going, friendly singer.
Hill's characterization as the "King," captures the very essence of this legendary singer, mastering the tone, cadence, and distinct phrasing for which he was known. Under the tutelage of the late Gregory Hines, his tap dancing skills are awesome and he and Sammy tear up the stage more than once in spirited routines. Now remember, this is 1957 and commercials were live. The sponsor was Rheingold Beer and a racist commercial is performed. One of the more offensive commercials he had to endure was for "Lights Out Cigarettes, "Made for the urban consumer." Despite his internationally successful career, Cole does not escape the wrath of the KKK, who burn a cross on his front lawn.
Since this is the last night of his show, in addition to Peggy Lee and Betty Hutton, Cole also invited Eartha Kitt, reincarnated by sexy Gisela Adisa who also plays a young Natalie Cole. Cole and Hutton sing a fun duet, "Anything You Can Do," followed by Hutton's solo – "I Wish I Didn't Love You." What would be shocking today, the stage manager holds up a sign, which almost looks like a measuring stick, indicating the proper racial distance between each other they had to adhere to. The action moves back and forth between the studio and Cole's dressing room, nicely designed by Clint Ramos and Ryan Howell, with a moody lighting design by Alan C. Edwards. Seated at his dressing table, Cole is furious about what the network is doing to him. Sammy agrees commenting, "Madison Avenue is afraid of the dark." Now we move from naturalism to the surreal as the ghost of the singer's mother, Perlina, appears. Played by powerhouse Zonya Love, who fills the stage with her booming, legit voice, she reminds her son of how much she loves him. Mom reminisces about how she started him on piano lessons because he was getting beaten up all the time, and how he met a young Billy Preston (Connor Amacio Matthews.) Back in the studio, Eartha Kitt finally shows up and does an over exaggerated rendition of "Santa Baby."
Throughout this last show, the anger inside of Cole begins to ooze out and his mind is in chaos. Encouraged by Davis who tells his friend, "Your silence is strangling you," he begins to write a very emotional interpretation of "I'm Gonna Sit Right Down and Write Myself a Letter." His delivery ranges from angrily screaming out the lyrics to reflect his feelings, to a tender ballad, which becomes a manifesto for expressing his deep seeded disgust of the treatment of blacks. This is a highly explosive, dramatic moment as the pent up anger finds an avenue of expression. An astounding tap-dance sequence ensues between he and Davis, which is truly a showstopper. Lest you think there are no laughs, well let me assure you there are and they are embodied in the Christmas sequence in the manger where baby Jesus is Davis and we hear "The Christmas Song." It is about here that the ensemble sings the empowering "Lift Every Voice and Sing," the official black National Anthem during which people who know this, stand as a sign of respect. There is some light at the end of the tunnel when Cole's manager (Bryan Dobson) tells him he is being considered for another show but all they needed was a sponsor. Cole takes a stand making it clear that the days of having white powder splashed on his face are over.
Dulé's searing characterization of the painful lows of this famous singer's life is intertwined with his excellent renditions of Cole's iconic musical songbook. Between he and the rest of the company, we get to hear other familiar selections from hisfamous repertoire including, "Caroling, Caroling," "Orange Colored Sky, "Blueberry Hill," and "Me and My Shadow."
Perhaps after seeing McGregor's tightly directedproduction, your personal lights will be turned on. Maybe you will decide to become an activist to try to counter these turbulent times in which we are living and in some not so subtle ways, mirror the great Nat "King" Cole's personal struggle with racism so many decades ago. But for now, "Smile," "The Party's Over."
"Lights Out: Nat "King Cole"
Gil Cates Theater at The Geffen Playhouse
10866 Le Conte Avenue
Los Angeles, CA 90024
Playwright: Colman Domingo and Patricia McGregor
Director: Patricia McGregor
Set Design: Clint Ramos & Ryan Howell
Costume Design: Katherine O'Neill
Sound Design: Alex Hawthorn
Music Supervision, Arrangements & Orchestrations:
John McDaniel
Tuesday-Friday: 8:00 pm
Saturdays: 3:00 pm & 8:00 pm
Sunday: 2:00 pm: & 7:00 pm
Closing: Sunday, March 24, 2019
Tickets $30-$120
310.208.5454 or