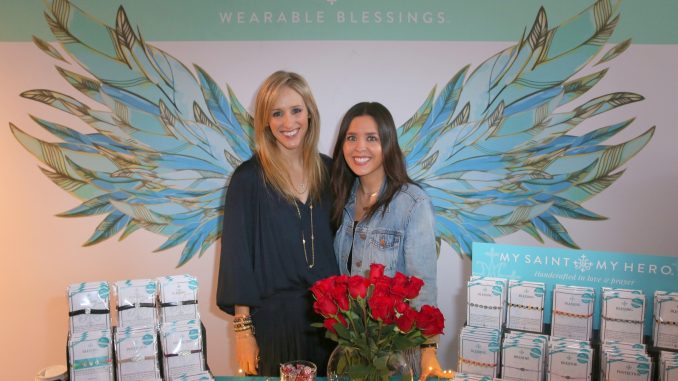 There's no business like show business… and when it's Oscar time, there are no parties like Oscar parties!  Included in this festive party season are the pre-Oscar gifting suites, and Doris Bergman's 11th Annual Valentine Romance Oscar Style Party was one of the most happening! Held February 21st at the Fig and Olive in West Hollywood, the eatery welcomed a myriad of Oscar Nominated actors, former Oscar winners, VIPs and celebrities who had the opportunity to mix, mingle, eat and greet with each other as they checked out all kinds of fashion for him and her, new products in beauty, skin and hair care, dazzling jewelry collections, French perfumes, gourmet cuisine, unique spirits, delectable treats, and much more!
One of the hosting sponsors for the event was Jonathan Sweet of Building for the Stars. This is a new reality show where well known celebrities will get the opportunity to have fabulous furniture custom-crafted for them. Their designs are amazing – I can't wait to become a star, so I can get Jonathan to design an entertainment center for me!
If you like wine, you'll want to know about BuyWine.com, the presenting sponsor that offered samples of Abiouness. I was thrilled to learn thisis a female-owned winery, and a sampling of their Pinot Noir, Sangiovese, and Amrita confirmed that women know how to create the best of the best!  Alma, the owner of Buywine.com was a gracious hostess, and visiting her website, you can learn about all kinds of wines and their history.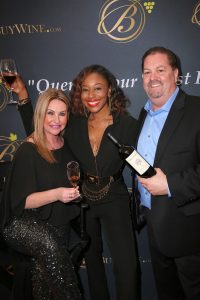 Alma from Buywine.com shares some Abiouness!
Spa Girl Cocktails offered sublime samples of their two signature drinks. They are low-calorie premium vodka martinis with natural flavors. Pear Martini has the essence of pear and Spa Martini, a hint of cucumber. These special spirits would be a perfect choice for a party or just a great afternoon, sipping with your gal pals.
Another jewel of the event was presenting sponsor, Precious Vodka.  Their bottles are diamond-shaped and have gems at the top, so you'll not only enjoy drinking the delicious smooth vodka; you'll also have a stunning bottle to display – it's great for gifting to friends for any occasion.
Speaking of jewels and gems, celebs could be seen gathering around several jewelry displays. Twisted Silver's Deborah Mitchell offered an alluring collection of necklaces, earrings, and bracelets made from up-cycled, reclaimed, and repurposed materials. Her designs are unique and special, and sure to get attention whether you're out on the town or on a casual daytime jaunt. 
Debra Mitchell adorns beautiful guests with chic Twisted Silver jewelry!
My Saint My Hero is jewelry that comes with blessings. They had an eye-catching backdrop of angel wings, and gifted handwoven bracelets to the visiting guests.
Zirconmania & Diamond Veneer had dazzling rings, bracelets and necklaces that look like diamonds, but are more economical.  I got a bracelet that receives compliments wherever I go from people thinking I'm a diamond-studded kind of gal. They are right, of course, since I'm the author of How to Live Like a MILLIONAIRE When You're a Million Short.  I can attest this jewelry looks radiant whatever your financial status!
You not only want to look good – you want to smell good – and French perfume will help you do that.  La Cristallerie des Parfum had an incredible selection of fragrances, each available for testing and presented with its own beautiful unique bottle.  It was hard to choose which one I wanted the most, but the Aeria Amethystus won me over because of its lavender bottle and delightful scent.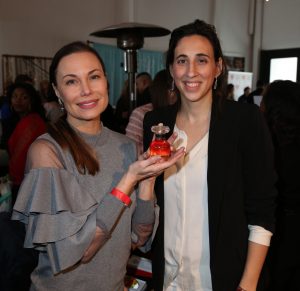 Before spraying your parfum, you'll want to soak in a luxurious bath and several companies offered bath bombs and skin care products.  Sugar Me Life had bath bombs and soaps shaped like sprinkle-covered donuts and cupcakes. Not only do they look luscious – but they don't have any calories!
Lasio Hair Care gifted cool travel kits with keratin-infused Hypersilk hair products for gorgeous hair on the run.  Beauty Kitchen by Heather Mariana featured a skin care line and offered guests an assortment of samples.
Author, health & wellness coach Kathlyn Heim shared information on her soon-to-be-released book, The Rule of Nines. The book offers a 9-step plan to guide people in adopting behavioral changes necessary to succeed in personal goal achievement.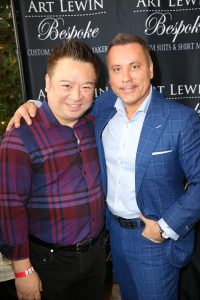 For men who want to look successful and stylish all the time, Art Lewin Bespoke is the go-to guy with stores in Los Angeles, Orange County, Scottsdale, and soon in Las Vegas.  Since 1989, he has catered to the world's most prominent corporate professionals, Hollywood super stars and other industry titans. Guests were gifted with an assortment of Mario Masotti ties.
Fashion icon Sue Wong gifted lovely scarves as well as showing off a selection of her magnificent beaded gowns.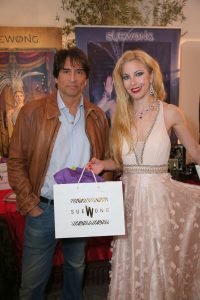 Wherever you go, whether it's an Oscar party, a coffee shop, or an afternoon hike, these days you'll be taking your smart phone. God forbid you drop it and smash the screen – it's a small fortune to get it fixed. Not anymore. LiquidNano was on site offering their Ultimate Screen Protection, which is extremely scratch & shatter resistant and improves screen strength to 9 H hardness. What's more, this easy wipe-on-protective coating comes with a Screen Replacement Warranty of from $150 – $350.  It's especially good for millennials who don't like to use cases that cover up their high-end phones; with LiquidNano they're still protected from unforeseen drops.
As you can imagine, it was a super day, enjoyed by everyone. Some of the star-sightings included fabulous actor & former Oscar nominee Bruce Dern, award-winning actors, Esai Morales and Christopher McDonald, Kheng Hua Tan ("Star of 2019 Golden Globe nominated Film "Crazy Rich Asians"), Lydia Cornell, Maria Conchita Alonso, Joe Cortese, Michael Campion ("Fuller House"), Rex Lee ("Young & Hungry"), Teilor Grubbs ("Hawaii Five-O"), Hollywood icon Tristan Rogers, Comedian Judy Tenuta, Vincent Spano ("Alive"), award-winning actor William McNamara ("Copycat"), Ryan Ochoa ("Pair of Kings"),and Donovan Carter & Kris D. Lofton (HBO's "Ballers").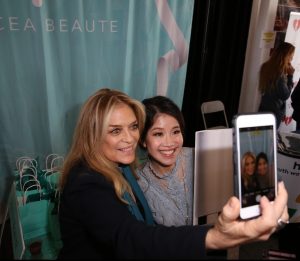 Other VIPs included Chris Browning (BOSCH), Diedre Hall (Hollywood Icon/"Days of Our Lives"), Jackson Dunn, (Star of Sony Pictures "Brightburn"), Jon Mack ("Pandora's Box), Jenni Farley ("Jersey Shore Family Vacation"), Candace Rice ("Floribama Shore"), and Elena Samodanova ("Dancing With The Stars/"So You Think You Can Dance").
In the spirit of giving back, guests & sponsors gave donations for young adults (ages 13-18) for a Post-Holiday Gift Drive benefitting "Wednesday's Child"— a weekly segment airing on KTTV FOX 11 News, Los Angeles, with Anchor Christine Devine. "Wednesday's Child" highlights 'harder to place' children in the LA County foster care system who are in need of adoptive families. 
Additional gifts and services were provided by Quantum Rejuvenation, Milena's Boutique, CURTIS & Co. Timepieces, Free Bird Remedies, Beauty Kitchen, S&G THESIGN, Timmy Woods Designer Handbags, Hint Water, Rock Your Hair, Olecea Beaute, Montecristo Cigars, Junkless Granola Bars, Chapstick, Canteen Wine, Kam Shield, Canteen Wine, Dragon Island Spice Co., Vita Coco, Author Scott Kelley, "We All Die Young," and VIP Gift Bags provided by BELLA MAGAZINE.
All Photos courtesty of Doris Bergman.