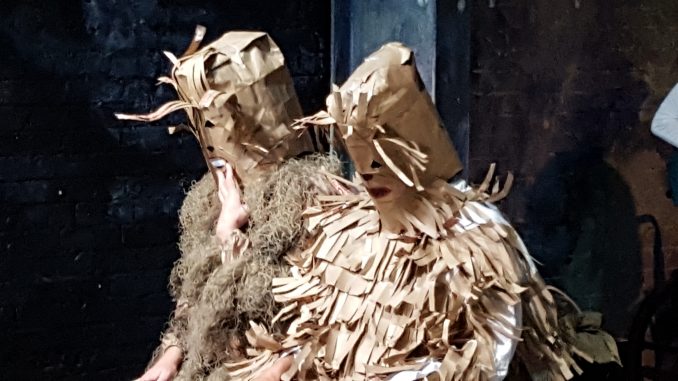 A world premiere comedy, SPECIAL commemorates the fortieth anniversary of the worst variety show in television history, "The Star Wars Holiday Special." Authored by Andrew Osborne and directed by Kerr Lordygan, SPECIAL gives the audience a behind-the-scenes peek at what possibly transpired to create this spectacular 1978 TV lemon.
One of the most popular motion pictures of its era, "Star Wars" had amassed a fan base of millions. What better way to draw a huge audience than to present song and dance inspired by the monumental hit as the perfect holiday family show? CBS network certainly thought so, and so the tale began. What could possibly go wrong? Playwright Andrew Osborne takes off with his imaginative answer to that question.
Maybe famed Star Wars creator George Lucas was lukewarm about the project? Perhaps participation by stars Carrie Fisher and Harrison Ford was less-than-enthusiastic? Where exactly in the grand scheme of "Star Wars" did a temperamental Bea Arthur fit? And what about Harvey Korman, Art Carney, and a holographic version of Jefferson Starship and Diahann Carrol? Playwright Andrew Osborne clearly has a very creative and funny fix on the events that led up to a television program which was never seen again, holiday or not. Even "Love Boat" pulled better Nielsen numbers that the Star Wars special.
Since holidays like Thanksgiving and Christmas don't exist in space, SPECIAL recounts the celebration of the Wookie holiday Life Day from the perspective of the Chewbacca family. Tricky, since Chewie and co. don't really speak English – making the dialog a bit chancy. Could the best part of the show turn out to be the animated additions to the cartoon cast? Overall, this fiasco should definitely appeal to all the cinema and television aficionados out there.
The multiple cast members (thankfully identified as they first appear by name and function on the back wall) are portrayed by six actors who jump from character to character with the aid of lots of energy and individualized props like wigs and masks. A yeoman's job is done by Jennifer Hugus, Paris Benjamin, Marty Yu, Alex Elliott-Funk, and Lance Guest – with the special addition of director Kerr Lordygan taking over the role of Rich Lohmann, who missed the show to witness instead the world premiere of his baby in the obstetrics ward.
Although the constant shifts of character sometimes proved confusing, the frequent changes also kept the story moving along at a frantic pace. While SPECIAL may not be the definitive answer to the question raised by everybody involved in the TV bomb, it certainly offered some amusing possibilities.
SPECIAL runs through January 13, 2019, with performances at 8 p.m. on Thursdays through Saturdays and at 5 p.m. on Sundays (New Year's Eve Monday 12/31 at 8 p.m.; no performance on Sunday 12/16). The Theatre of NOTE is located at 1517 N. Cahuenga Blvd., Hollywood, CA 90028. Tickets are $20 (Thursday and Sunday), $25 (Friday and Saturday), and $35 (New Year's Eve). For information and reservations, call 800-838-3006 or go online.