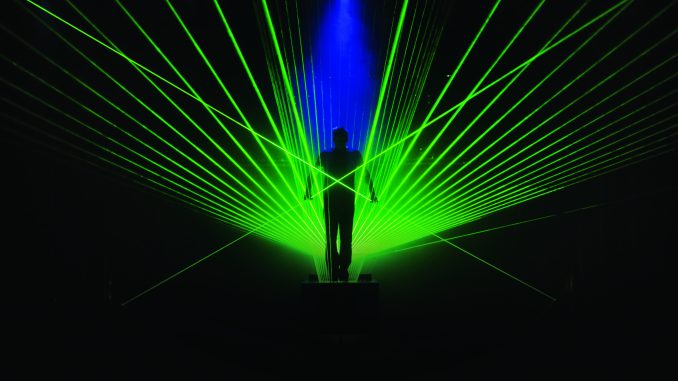 Starvox Touring, Inc. is presenting British magician Jamie Allan's iMagician, a show combining trickery and illusion with technology, for its U.S. premiere opening in Chicago at the Harris Theater, 205 E. Randolph for a limited one-week engagement Dec. 22, 2018 – December 30, 2018.
As the United Kingdom's original "technology magician", the affable Allan and his team have incorporated classic magic with cutting edge wizardry in their unique theatrical experience, set to a range of intriguing music, making use of high-powered laser beams, digital tablets, social media interwoven with standard conventional magic.

What's more, Allan gives the audience an ongoing history lesson in the development of onstage magic, mentioning those great artists who had influenced his own career, utilizing a box crafted from Harry Houdini's famous cabinet in one trick. He also pays homage to another man who had been an inspiration, Steve Jobs, playing a looped tape of Jobs' voice while repeatedly manipulating the pieces of a puzzle, ingeniously fitting them into position.
One promised highlight of the Chicago engagement, "The Laser Levitation", an illusion in which the performers flew over the stage, supported only by laser beams, failed to materialize due to the illness of an assistant. Other illusions included a variation on sawing a woman in half in which the woman's body appeared in staggered pieces on various levels and a card trick using a blank deck in which the chosen card reveals itself in writing instead of in symbols.
For the younger members of the audience, who are used to working with technology on an ongoing basis, and used to watching their entertainment on screens of various sizes, the show appeared to be engrossing. However, for this reviewer, used to watching magicians performing close-up, it was difficult to see from the gallery what was so "magical" about split-screens, laser-beams, and synchronization between Ipads. However, the show was well-choreographed, and the age-old stage magicians' invitation to audience members to join him on stage and participate provided a nice bridge between the special effects and the artist.
Allan has toured the U.K. for three years with iMagician, which opened at the Garrick Theatre in London's West End in 2015.Holding the accolade of being the most televised British illusionist of the last decade, Allan first showcased his iMagic on ITV's 'This Morning' in 1995 when he was just a teenager. Allan has since performed his signature iPad illusion "Digital Art" live on the BBC One Show, 'Grand Cabaret Du Monde', 'BBC Breakfast', 'The Slammer' and 'Penn and Teller: Fool Us'. He has also been seen as a star mentor on ITV1 in the prime time show 'Get Your Act Together', has appeared as the special guest star on 'Michael McIntyre's Big Show', and was a winner of ITV prime time show 'The Next Great Magician'.
All photos courtesy of Margie Korshak, Inc.