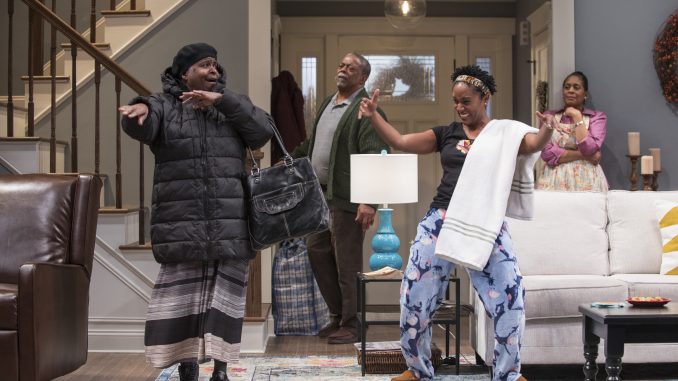 Familiar by Danai Gurira, originally commissioned by Yale Repertory Theatre, is now in production at Steppenwolf's Downstairs Theatre, 1650 N. Halsted, Chicago, through January 13, 2019. Strategically directed by Danya Taymor, the cast includes featured ensemble members Celeste M. Cooper and Ora Jones, as well as Cheryl Lynn Bruce, Erik Hellman, Lanise Antoine Shelley, Luigi Sottile, Jacqueline Williams and Cedric Young in a laughter-filled 2 hour 10 minute (including intermission) production filled with great acting and insights into the meaning of family, legacy, and cultural authenticity.
The action takes place midwinter 2011 in the comfortable middle class 2-story home of the Chinyaramwira family parents, Marvelous and Donald, in a suburb of Minneapolis. Mom and dad are from Zimbabwe; she is fully acculturated and a Christian while he longs for his country of origin. The play opens as they, along with their younger daughter, Nyasha, a struggling artist/feng shue aficionado, and Margaret, mom's younger sister, await the homecoming of elder daughter Tendi, a 30-something lawyer, who is preparing for her imminent wedding to Chris (who is white). The engaged couple soon shows up with mom's older sister, Anne, newly arrived from Zimbabwe; they advise Tendi's astonished parents that Anne will be leading a "bride price" (Roora) ceremony before the wedding.
The play focuses on the different traditions, old family resentments and secrets, generational and intergenerational conflicts, all amid a lot of physical comedy and some really impressive language mastery; inside the complex sentence structures, dialect and translation flowed fluently. There was also a humorous "French farce" aspect to the play; a deal of up-and-down stairs, in-and-out-of-doorways shenanigans, coupled with a rapid-fire delivery provided action and a leavening by humor of some of the more intense confrontations.
In fact, part of the "fun" with which the play is drenched has interfamilial wealth and status differences as well as cultural coyness at its center: Both Nyasha and Chris' younger brother, Brad, brilliantly portrayed with rueful self-deprecation by Luigi Sottile, are mocked and self-abased for being less successful than their sexually clueless older sibs. Anne fleeces the white brothers wallets, while silencing their voices. Mom lords it over her sisters for finishing her advanced degree, getting tenure, and marrying well.
In the midst of laughter, anger repeatedly erupts. Conversely, in the midst of outraged accusations, the desire for authenticity asserts itself. The play is well conceived and well executed, as the characters grow into and beyond their roles, transforming from the conventional, through the unexpected, and into something collectively greater: a family.
Thanks to the Familiar production team including: Scenic Designer Kristen Robinson, who created just the type of home most Americans dream of owning; Costume Designer Ntokozo Fuzunina Kunene, who gave us believable American garb and wonderful African costumes; Lighting Designer Marcus Doshi who made the production clear and easy on the eyes; Composer Somi and Sound Designer/Musical Director Justin Ellington for fine aural ambience and a taste of the mbira; Company Voice and Text Coach Gigi Buffington and Dialect Coach Michelle Lopez-Rios for clear and melodious delivery, even in interpolated English/Shona; and Intimacy Consultant Sasha Smith for that strip scene.
For information and tickets, go to www.steppenwolf.org
All photos by Michael Brosilow