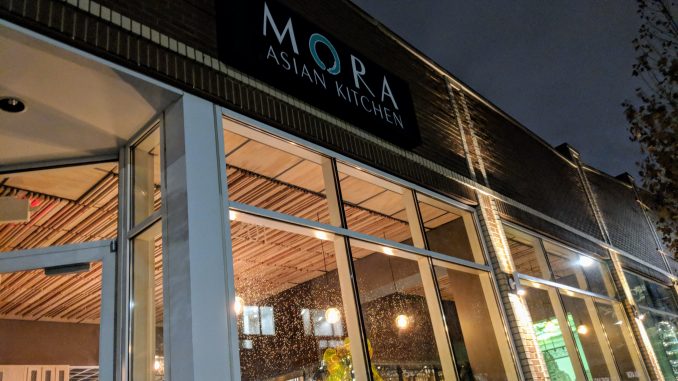 Nestled just at the outskirts of the city, in the plentiful tree lined, quiet, multicultural Oak Park neighborhood, MORA Asian Kitchen juts out of the corner on Harrison and Lombard with its tall, transparent windows beckoning you to come inside.  The trendy restaurant's convivial owner Jason Morales shared details on fan favorites and Filipino inspired dishes and provided an enlightening tour of the newest location which opened two months ago.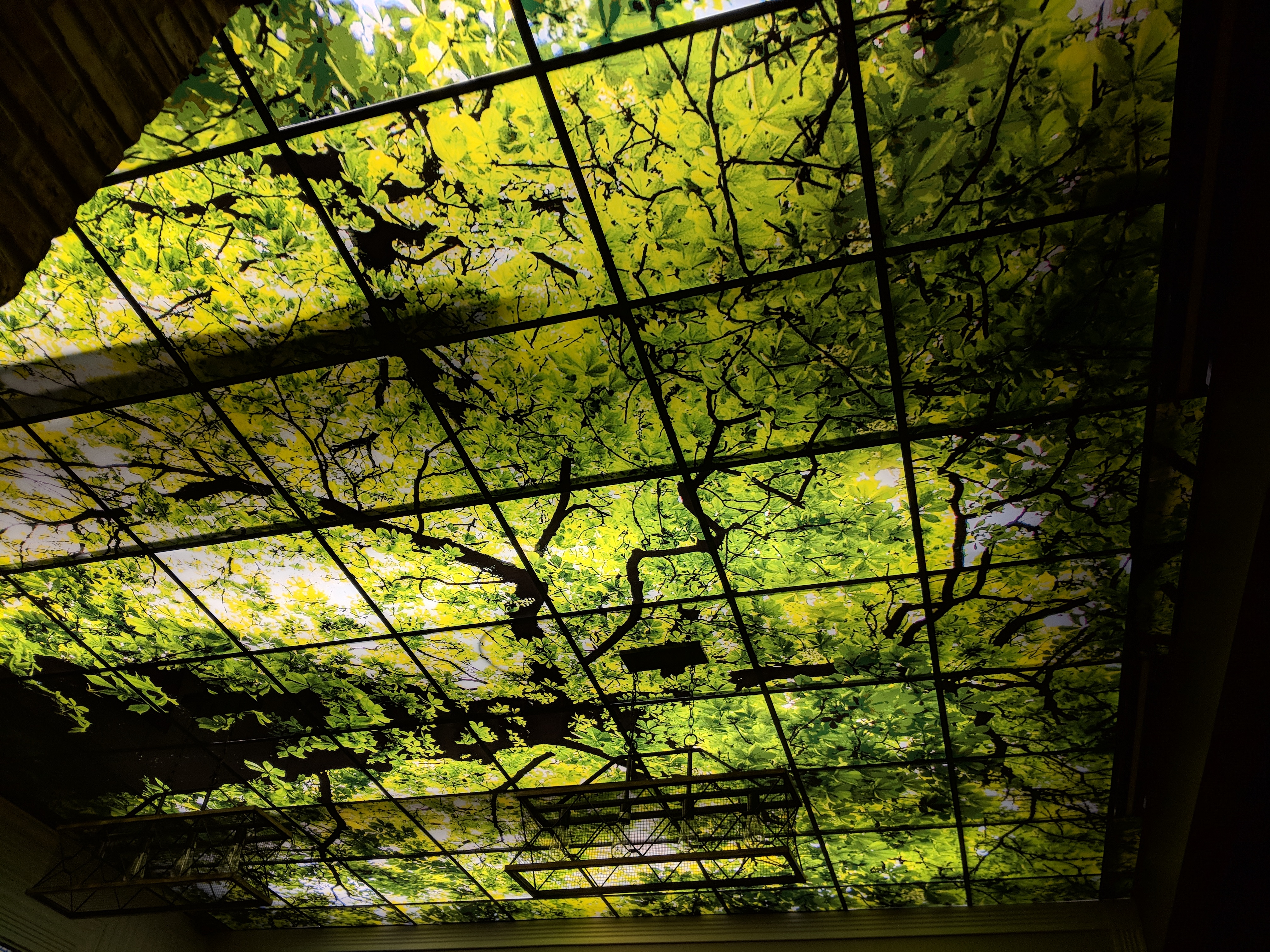 Stepping into the cozy entrance, the open concept space creates room and action views of the bustling kitchen. Woodwork details added to the modern and simple yet elegant decor.  Long, black, metal beams comprise a frame along the side of the wall in the dining room with beautiful innovative plexiglass ceiling that features relaxing green imagery. The black beams are meant to hold locks- similar to the Paris bridges, showcasing love opposite a wall that displays an iconic image of the largest religious relic in Cambodia. Surprisingly the customized wooden cabinetry, which serves as both a decorative and functional piece providing room for storage, was handmade in the owner's own woodworking shop. This family friendly place also hosts events, most notably at it's flagship Bolingbrook location.  
The newest menu boasts tapas style items inspired by the desire for more variety in meal options and a less pricey dinner bill. The Asian fusion menu was created by the owner's brother, an executive chef at Sunda.  Mr. Morales wanted items on the menu to have a "modern twist to each one, make it fun". The current head chef even came out of retirement to run the kitchen and whip up delectable meals.  Mr. Morales defines the culinary team as "hardcore" and he's right, they do nail all the intoxicating flavors and spices known in Asian dishes. Recalling tastes of sweet chili sauce, subtle hints of garlic, spicy, soft, tender seafood and meat… there's plenty of tastes for everyone from crunchy brussels sprouts and crispy kale salads to tangy, tasty treats like freshly sliced salmon in a sweet miso sauce. The bold and flavorful ingredients, which are locally sourced, add to the rich flavor of the bountiful menu.
Here's a perfect date night menu curated for an enjoyable and scrumptious dinner:
Start your meal with a smooth aperitif, the hana lychee sake, which 'goes down like apple juice!'
Salad
Crunchy Brussels Sprout and Kale salad
Brussels sprouts, kale, carrots, jalepeños, cabbage, chilies, onions, fried shallots, & sweet chili sauce
Beef salad
Cured beef tenderloin served with watercress salad in a lime, red wine, onion vinaigrette
Entree
Basil chicken
Wok seared chicken breast with mushroom medley, Thai basil, jalapeno chili sauce served with rice
Sushi
Hammer Roll
Spicy tuna, salmon, avocado, cucumber, spicy mayo, unagi sauce, fried jalepeños, bourbon sugar
Lil Piggy
Crab, jalapeño, asparagus, avocado, sweet chili, crispies, pickled onions, bacon jam
Dessert
Fruit Roll Up
a creative twist on sushi for dessert with mango, green and red grapes, topped with plump, sweet juicy blueberries, drizzled with white and black chocolate shavings
Cocktails
Zodiac
Tito's Vodka, Elderflower liquor, strawberry mango puree, lemon juice and lemongrass syrup.
If you're feeling adventurous, take a shot of the uni shooter, which includes sake, a quail egg, sea urchin, green onion and a little spiciness!
The vibe at MORA Asian Kitchen Oak Park is relaxing as a steady stream of patrons enjoy and share steaming delicious food. The recommended prime seats have views that catch the action at the kitchen. Go to the Plainfield location for a blast from the past in an 1880s firehouse turned police station turned Asian fusion restaurant. Bolingbrook is where the party is at with salsa nights on Friday boasting crowds of up to 400 people! It's even had a luau that closed down the streets and finished off 6 full pigs. That's a lot of pork! Yum! Hurry to try out this anodyne to your hunger and discover what Asian fusion is all about where you'll receive superb service,  with attentive and detailed information regarding each dish. Help yourself to an enticing melt in your mouth Asian smorgasbord you won't regret.
Photos courtesy of Yvonne Pulido
For more information and reservations visit: moraasiankitchen
Treat yourself to a delicious meal at any of Mora Asian Kitchen's three convenient locations:
201 Harrison Street                      
Oak Park, IL — 60304
(708) 613-4546
627 East Boughton Rd, Ste 115
Bolingbrook, IL — 60440
(630) 410-8043
24108 W Lockport Street
Plainfield, IL — 60544
(815) 782-5340