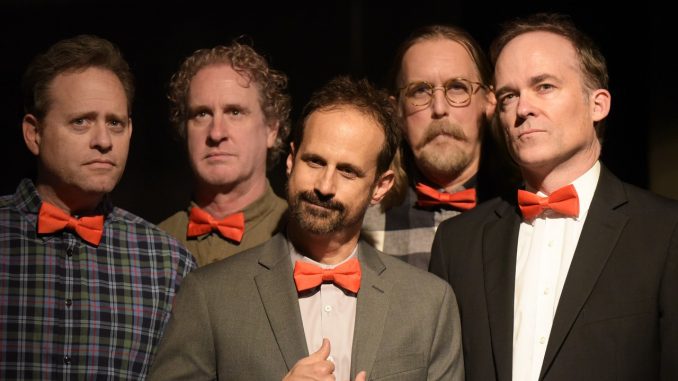 "It's the world's greatest rock band…you've never heard of." This is how the audience is introduced to a story about what happens when people with a dream never realize it. The five disillusioned musicians are portrayed by the five members of a Los Angeles based rock group called "The Four Postmen." Talk about dreams… Featuring electric and acoustic guitars, keyboards, drums, bass, and an emphasis on three-part vocal harmony, these talented five are in the zone with energy and a keen sense of theater.
MIDDLE8 tells the tale of a fictitious Kansas City rock group who decide on middle-age rebirth. Written and directed by Stefan Marks (who also acts in the piece), MIDDLE8 enters the show biz fray at the point where the five hopefuls are in their 40's, never having made their mark in youth. Adam (Matt Kaminsky) gets the band back together to take one last shot at fame. Is it too late to reach stardom all these years later?
Assisting Stefan Marks in both drama and musicology, the production showcases a multi-talented cast: Ken Weiler (Lee), Matt Kaminsky (Adam), Brett Pearsons (Bobby), and Geoff Dunbar (Killian). Of course, the buddies would need a little feminine company, offered by Cassidy (Brittany Joyner) and Defloria (Jules Dameron). Silence and sound come into focus when one of the musicians falls hard for a deaf lady. Some of the most powerful moments in the play reveal a stumbling but determined bunch of fellas trying to get into signing while turning their hand motions into a "musical round" reminiscent of "Row Your Boat."
MIDDLE8 is a buddy story, a narrative about men who share, squabble, and sing – and even do some dancing as a happy hip-hop crew. It's an account about youth, dreams, and hopes – and how we can't really let go of the things that matter. But, then, life has a way of happening. It's also about laughter and love, regardless of age or barriers. Perhaps a bit long and at times repetitive, MIDDLE8 still manages to make its point. Dreams may change over time, but friendship lasts forever.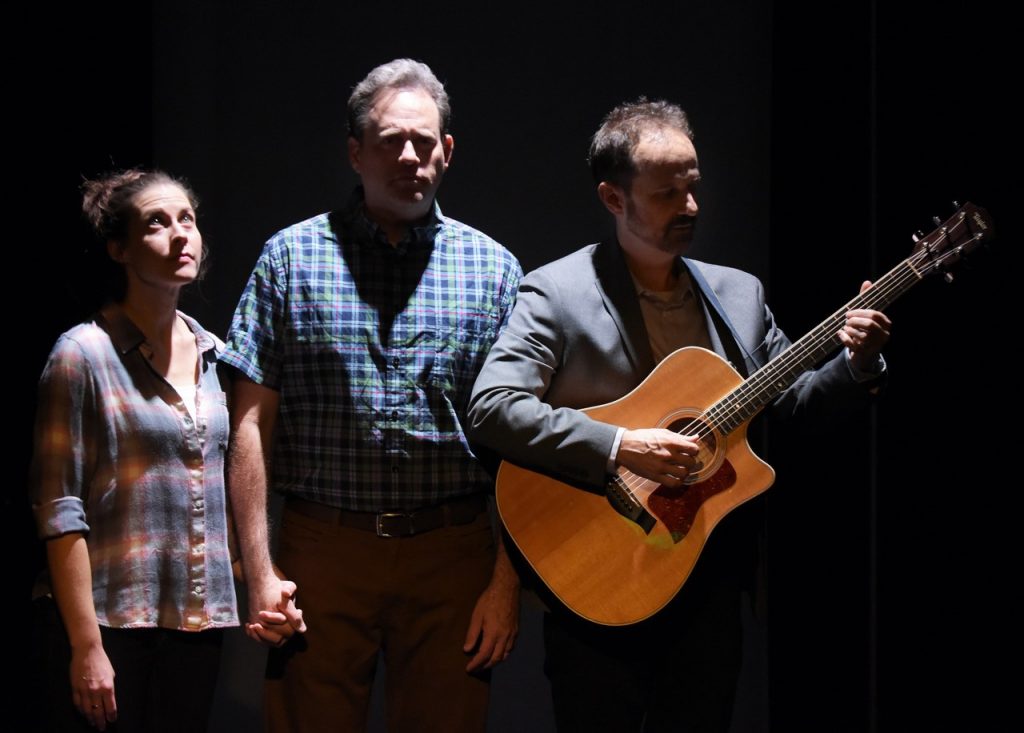 MIDDLE8 benefits from a great production crew, including Mark Svastics (lighting and technical direction), Mark Svastics and Stefan Marks (set design), Stephen Epstein (video production and board op), Ron Wood (sound and QLAB programmer), and Paul Higgins (costumes) – all of them sharing the same vibe. MIDDLE8's special contribution to the theater must remain its music and the talented people who make this an unforgettable evening.
MIDDLE8 runs December 15, 2018, with performances at 8 p.m. on Fridays and Saturdays and two additional matinee performances on Saturday, 12/8 and 12/15, at 3 p.m. The Stella Adler Theatre is located at 6773 Hollywood Blvd., Hollywood, CA 90028. Tickets are $25. For information and reservations, call 213-323-618-0952 or go mi*****@ya***.com">online.