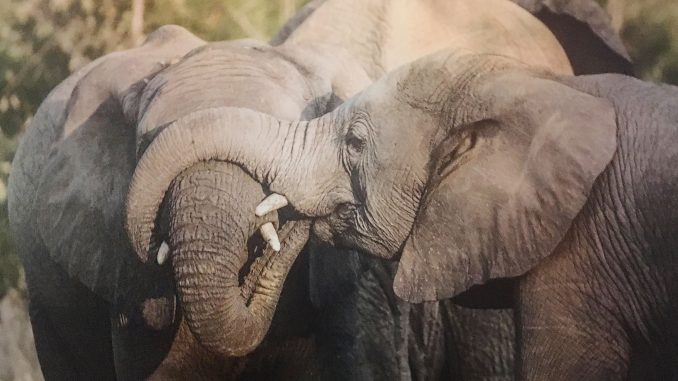 Over 90% of the world's rhinos have been poached in the past 40 years for their horns as a result of false health claims. Large quantities of rhino horn are comparable to a dose of baby aspirin in its ability to reduce pain and fever. Thanks to the efforts of organizations like Wild Aid spreading information about the brutal mutilation of rare animals and the false science behind it, prices of rhino horn sales have dropped by around 70% and Vietnam has banned its sales.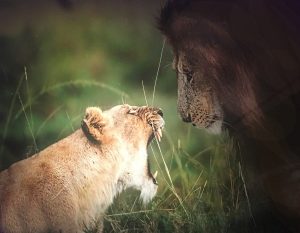 As the first speaker at the Wild Aid fundraiser at the Beverly Wilshire Hotel Josh Duhamel explained, "this is truly an organization that is making a giant dent in the execution and slaughter of these beautiful rare animals. I think what they are doing is stopping the killing by stopping the need. Though Wild Aid has made incredible progress by stopping the slaughter of animals all over the world poaching still remains a serious problem"
Wild Aid's heartfelt tagline is "When the Buying Stops the Killing Can Too". The fundraising gala entitled "An Evening in China" had human Cirque performers as roaming the room (decorated in lanterns) dressed as wild animals on stilts. Sponsored by Bently Heritage Estate Distillery the night was to clarify where the world is at in terms of poaching and extinction of these beautiful, rare animals and what needs are crucial to making a dent in the useless executions where profits from illegal wildlife trade endangers many species to extinction within our lifetime.
Actress Danai Gurira who stars in the television series Walking Dead and the movie Black Panther was presented with the Wildlife Champion Award for her efforts in the cause. She spoke of her personal experiences. "They were always majestic to me. I got to spend time with the astounding wildlife of my nation for the first time in the 2nd grade just outside of Zimbabwe when we went to the lion and cheetah park where I saw animals I had only seen on TV." After spending much time at various national parks over the years across Zimbabwe and South Africa, she recently saw something she had never seen on any safari in the past, "I saw babies, they came up to us so very close, competent and free. Forever as long as I can remember these animals have had their lives threatened by poaching. Growing up we knew of the massive problem since the 1970s that 60% had been cleared out. And it is urgent. What I find so special and effective about Wild Aid's work is that it directly addresses the core of the issue. What poaching is to begin with: beliefs, values that must be challenged to drive down the demand. I am relatively new to this movement…it's deeply important to me, vital in fact that little boys and girls from my primary school, and many others across my country, the region and the continent now and in the generations to come get to enjoy the majestic creatures that we have been entrusted to protect."
An estimated $10 to $20 billion is made each year on illegal wildlife trafficking making it the fourth most lucrative global crime after drugs, human trafficking and arms. Trophy hunting creates about $200 million in annual revenue with deceitful claims that it gives back to the local communities but that fact is greatly underestimated as not more than 3% of the hunting fees reach those local communities.
Wild Aid's efforts through pro bono local advertising are trying to reach hundreds of millions of people with their message about animals that are disappearing and altering our ecosystem adversely. Roughly 33,000 elephants a year are killed for their ivory to make carvings, trinkets and home wall trophies. The wild tiger population is down from a population of 100,000 in the 1900s to an estimated 3,800 today as they are being hunted for their skins and bones which have absolutely no beneficial health effects. Manta rays have been killed for their gill rakers, causing some populations to collapse. Shark finning, is used to create shark fin soup, where fins are cut off and the shark is dumped back into sea to die in a tortuous pain, bleeding to death or drowning at the bottom of the ocean. Shark fin soup, a delicacy for the wealthy, purports health benefits and thicker soup viscosity. Approximately 73 million sharks a year are used for this soup but the word is spreading and China promises to stop serving this soup by 2020.
Since the year 2000 more than 1 million pangolins have been trafficked for their meat and scales and are now facing complete extinction. Over the years Chinese medicine values it as curing a variety of ills such as excessive nervousness, hysterical crying in children, women possessed by devils, malarial fever, deafness, and more recent claims of improving lactation and blood flow. In reality, pangolin scales are made of keratin, like rhino horn and our fingernails and scientifically have no health benefits whatsoever.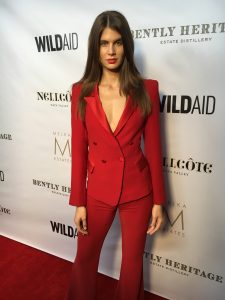 Wild Aid CEO Peter Knights spoke saying "We need front line protection and scientific monitoring.   We need internal corporations to combat illegal smuggling but none of this will stop the trade if we can't reduce the driving force the demand. It's not traditional conservation but it's the only solution that could make a huge impact."
The silent auction cocktail hour preceded a 3-course vegan dinner by Master Chef Martin Yan of Yan Can Cook. Auction items included rare trips like gorilla trekking in Africa, private Galapagos journeys and swimming with sharks in Mexico. Large framed photographs of elephants, tigers, and rhinos in their natural habitat by multiple wildlife photographers adorned one area.
The charitable evening brought out celebrities, including Josh Duhamel, Michael Cudlitz, Kevin Olusola, Bo Derek, Maggie Q, Dylan McDermott, Eli Roth, Jasper Pääkkönen, Diane Warren, ending with a performance by 16-time Grammy award winner David Foster and friends Pia Toscano and Shelea.
Sibling Rivalry by Marshall Lally Photography (Elephants) and other images as captioned
Other photos courtesy of Patricia Meisels