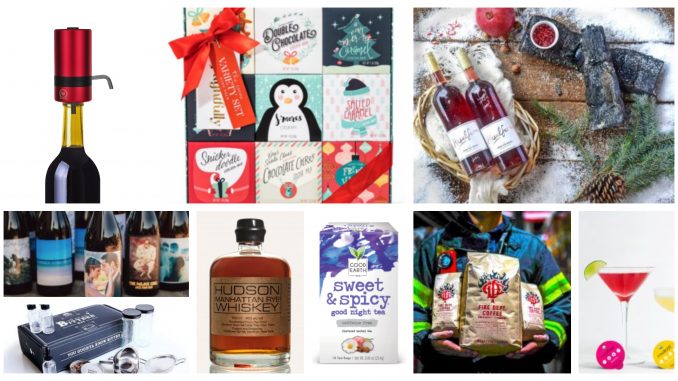 All items listed from most to least expensive.
Flor De Caña 25 Years
Flor De Caña's fuel is adventure – so much so that it ages its rum at the base of an active volcano in Nicaragua. After 125 years and 5 familiar generations, the brand perfected rum centuries ago, now it has the daring to explore. A dark, elegant amber hue paves the way for an enchanting aroma of vanilla, wood, and dark cocoa. Sticky-sweet and cut by fruity, nutty, and caramel notes, this buttery-finished rum won 2017 Best Rum of the Year at the International Rum Conference in Madrid. Its dark amber color adding a touch of elegance, this aged icon proves to be the multi-award-winning jewel of the trade.
$154.99  Buy now!
Bouchaine Vineyards 2016 Swan Clone Estate Pinot Noir Holiday Gift Pack
The Bouchaine Vineyards 2016 Swan Clone Estate Pinot Noir holiday package includes one-750ml bottle of Bouchaine Swan Clone Pinot Noir, two Simon Pearce napkin rings engraved with the Bouchaine logo paired with two 20"x20" white linen napkins, each embroidered with a white swan image. Gift boxed at $150 plus shipping.
The Bouchaine Vineyards 2016 Swan Clone Estate Pinot Noir exhibits lovely floral notes, fresh picked berries, and strawberry preserves on the nose with bright cherry and raspberry flavors balanced with layers of cinnamon and a touch of cocoa. This wine is a limited production (398 cases) and was recently awarded 92 points from the Wine Spectator.  (Offer available only where allowed by law. Age Requirements exist. Order by Dec 6 for holiday delivery)
$150  Buy now!
uKeg
The uKeg is a mini-keg that keeps beer fresh and carbonated for two weeks or more. This pressurized growler comes in half-gallon or gallon sizes and is available in four different finishes. 
On the go or at home, the uKeg allows your beer to stay cold and fresh and ready to serve. A durable, double-wall, vacuum-insulated, stainless-steel vessel partners with a CO2 regulator cap, a customizable tap handle and gauge to make the uKeg's unique benefits possible. Cheers! (Includes two CO2 cartridges.)
$149-$250  Buy now!

Montelobos Mezcal Tobala
Launching this December. A unique and authentic product of Mexico, Mezcal is one the fastest growing spirits in the U.S. The agave utilized (Agave potatorum, commonly known as Tobalá), is carefully transformed to obtain what co-creator and world's foremost agave expert, Dr. Iván Saldaña, considers to be an "ultra-pure expression of Tobalá flavors," offering a deep insight into this highly coveted agave variety. While nearly all commercially available Tobalás are made using wild agave, Montelobos Tobalá is unique in its utilization of only sustainably produced Tobalá, cultivated from seed in Puebla, Mexico.
$99.99  Buy now!

White Marble Cocktail Kit
With all the hosting and toasting that comes with the holiday season, our new Cocktail Kit is the perfect gift for any aspiring mixologist – or the perfect present for yourself. Measure and mix your drink of choice using our stainless steel jigger and shaker, then serve in our dinner party ready Tumblers. They are able to keep drinks cooler or hotter for longer. These food grade, stainless steel accouterments deliver on S'well's skilled design and performance for accurate measuring and easy serving.
$95  Buy now!

WAERATOR W2 Instant 1-Button Electric Wine Aerator
The WAERATOR W2 electric wine aerator is a great high-tech gift idea for the wine lover that will  keep on giving, bottle after bottle of their favorite (up to 250 bottles per battery replacement). 
The WAERATOR capable of dispensing and aerating 60.9 to 67.6 ounces per minute and uses air to instantly soften natural tannins that create bitterness in order to draw out every bottle's true qualities. And it seals the bottle, so there's no need to re-cork.
$79.99  Buy now!
Casa Noble Joven
Casa Noble Joven is the first of its kind, bottled at cask strength—102 proof—then briefly aged, making it an ideal tequila for sipping or in a craft cocktail. This is the perfect gift for the tequila aficionado in your life or anyone looking for a cool new addition to their bar cart.
$69.99  Buy now!
64oz Yellow Gold Roamer
Designed specifically to keep carbonated beverages fresh and bubbly for up to 24 hours, beer enthusiast are sure to make this their go to growler, while coffee connoisseurs will love that it keeps their brew of choice piping hot for up to 12. The 64oz size makes it perfect for sharing on the go and elevates the outdoor hydration experience. It also features an ergonomic handle and base ledge for easy carrying and pouring in addition to a condensation free exterior.
$60  Buy now!
Craft Your Own Bitters Kit
Can't resist a perfectly-mixed cocktail? Create your own bitters with this fail-proof kit. Add to seltzer to make 'mocktails,' or use as meat marinades, salad dressing, in lieu of extracts in desserts, and more. The perfect gift for foodies.
$59.99  Buy now!
Hudson Whiskey Manhattan Rye
Hudson Whiskey's story is the stuff of American Dreams. Starting out as the little family-distillery-that could, Hudson Whiskey has become an iconic American Whiskey since its first bottles were shipped in 2006. Manhattan Rye is made of New York Rye, with all grains sourced within 60 miles of the distillery, this is the closest to a pre-prohibition-style New York whiskey out there. With tasting notes of a vibrantly bold, spicy and backwoods rustic with a smidgen of honey and coconut. The spirit recently won a 97/100 at the coveted Ultimate Spirits Competition and is available at wine purveyors nationwide.
$49.99  Buy now!
Immigrant Pinot Noir by Maysara Winery
Wine with benefits! The Momtazi Family of Maysara Winery in McMinnville, Oregon is giving back to a cause, that's close to their hearts, with Immigrant Pinot Noir ($45). The limited-edition 2015 Pinot Noir is made using estate-grown fruit from the McMinnville AVA. 33% of proceeds are given to Refugee & Immigrant programs servicing permanent residency, family-based visas, low-cost immigration counseling and much more.
Maysara Winery, which translates to "house of wine," is a nod to the Momtazi's Persian heritage. Owner Moe Momtazi left an alcohol-free Iran with his wife, Flora, during the height of the revolution, to bring his love and understanding for good wine to America and to start a new life for his family in the foothills of the Willamette Valley. In 1997 the family purchased 496 of the now 560 acres of an abandoned wheat farm just south of their home. Maysara Winery is deeply rooted in cultural traditions, respect for the surrounding land, and a commitment to biodynamic farming and winemaking practices.
$45.00  Buy now!
RUFFINO x Sweet Saba Prosecco Straws
RUFFINO Wine has partnered with candy couture artist, Maayan Zilberman of Sweet Saba to create Prosecco-infused straws perfect for any holiday party. This limited-edition collection of prosecco-infused straws are inspired by Ruffino Prosecco's tasting notes of elderflower and peach, with the third inspired by bubbles and celebration. These straws will take Prosecco sips to the next level and are the perfect elevated gift for anyone! Available exclusively at Bergdorf Goodman.
$45 for 3 straws  Buy now!

Monkey Shoulder Whisky
With an eye-catching bottle, intriguing name and a mischievous attitude, Monkey Shoulder has created a stir as the Scotch that leaps out from the whisky crowd. A 100 percent malt whisky, this top-notch quality Scotch is made from a selection of Speyside single malts married to create an exceptional flavor. Refreshingly approachable and tailormade for mixing, Monkey Shoulder's commitment to the unconventional is bringing great Scotch to a new generation. Monkey Shoulder is an 86 proof (43% ABV) Scotch Whisky with notes of vanilla, spice, and zesty orange.
$32.99  Buy now!

Redemption Rye Whiskey
There's a refined elegance to gift giving, and flavor-forward Redemption Rye Whiskey fits the bill as the perfect gift for both connoisseurs or the whiskey-curious on your list this holiday season. A classic American spirit in its pre-prohibition heyday, rye is in the midst of a resurgent comeback in cocktail culture. Rye's versatility lends itself to be sipped—neat or on ice—or within many cocktails, both classic and inventive.
Redemption Rye includes a grain content of 95 percent rye, making for a beautifully flavored rye spice with light floral and citrus notes. 
$29.99  Buy now!

Blendtique
Ready to Design Your Custom Wine. Follow these Simple Steps to bring your Custom Recipe and unique Label to life.
$29.95  Buy now!
Cork Pops VinOstream
VinOstream is the fastest and easiest way to aerate and dispense wine! Features include:  Soft Rubber Stopper Creates Air-Tight Seal, Dispenser that draws up and filters wine into the glass, exposing the liquid to air to achieve fine aeration for softened flavors and enhanced aromas. Fits most red and white wine bottles. Includes 2 cartridges.
$28  Buy now!

Leaner Creamer
If you are looking for a great way to add flavor to your coffee, Leaner Creamer is the world's first natural powdered creamer. Each bottle (280 grams/9.87 ounces) is non-dairy (less than .05% lactose-free milk derivative), gluten-free and sugar-free (zero grams of sugar per serving). Just in time for the holidays, the have released their very flavorful Peppermint Mocha creamer. They have several great flavors that are wonderful anytime of the year including: creamy caramel, hazelnut and french vanilla.
$12-$25  Buy now!
RAFT Syrups and Bitters
RAFT, a premium line of artisan craft cocktail ingredients handmade in Portland, Oregon, is offering their handcraft bitters and syrups to help party hosts craft delicious cocktails, punches and even baked goods in time for the holiday season! Each set makes 6-7 drinks, includes a recipe card and two bottles: one (1) 100ml syrup and one (1) 50ml bitters for $25. These kits also make an excellent stocking stuffer or hostess gift!  The RAFT Cranberry Five Spice syrup is available for a limited time only, and can be used to make delectable cocktails like the Cranberry Aperitif and the Cranberry Spice Punch that can be made either alcoholic or non-alcoholic and is ideal for any winter holiday parties!
Backyard Collins Kit – Featuring The Bitter Housewife Cardamom Bitters and RAFT Botanicals Citrus Rosemary Syrup. Smokey Old Fashioned Kit – A rich, smoky twist on the classic with RAFT Botanicals Smoked Tea Vanilla Syrup and The Bitter Housewife Bull Run Barrel Aged Bitters. Cranberry Spice Kit – This kit features The Bitter Housewife Orange Bitters and RAFT Cranberry Five Spice Syrup and works equally well with vodka, rum, whiskey or even sparkling wine.  Whiskey Ginger Smash Kit – This kit contains the Bitter Housewife Orange Bitters and RAFT Botanicals Lemon Ginger Syrup. The recipe card calls for a splash of cranberry juice but goes just as well with apple cider, pear juice, or even pomegranate for a refreshing taste of fall.
$25.00  Buy now!
Global Cocktail Mixers Gift Set
Salud! Gān-bēi! Prost! L'chaim! Cheers! Every culture has its own way of toasting to health and good times. This gift set includes 7 of our favorite internationally-inspired cocktail mixers to say "cheers" wherever and whoever you are. Thoughtfully designed to celebrate diverse cultures, this set makes a beautiful and unique gift for women, men, family members, coworkers, housewarmings, birthdays, office gift exchanges, and the holidays!
What's In This Gift Set: Appletini Cocktail Mixer. Blue Hawaiian Cocktail Mixer. Margarita Cocktail Mixer. Mojito Cocktail Mixer. Peach Bellini Cocktail Mixer. Singapore Sling Cocktail Mixer. Tropical Painkiller Cocktail Mixer. 
$24.99  Buy now!

Holiday Cocoa Variety Gift Set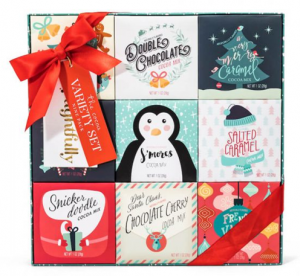 During the holidays, everyone deserves to feel like a kid again. Nothing brings us back to childhood like a cup of hot cocoa topped with way too many marshmallows. Share a cup of sweet nostalgia with someone you care about with our holiday hot cocoa variety gift set. Includes 9 decadent flavors like Gingerbread, Salted Caramel, Peppermint Mocha, and more—all enclosed in festive containers and wrapped up with a classic red bow. Thoughtfully designed to make us feel like a kid again, it makes a perfect stocking stuffer or gift for the holidays. 
What's In This Gift Set: Gingerbread Cookie Cocoa Mix. Double Chocolate Cocoa Mix. A Very Merry Caramel Cocoa Mix. Peppermint Mocha Cocoa Mix. S'mores Cocoa Mix. Salted Caramel Cocoa Mix. Snickerdoodle Cocoa Mix. Chocolate Cherry Cocoa Mix. French Vanilla Cocoa Mix. 
$24.99  Buy now!
Aperitif
Santé! The apéritif is back. Forget the crass cocktail – the chic apéritif is the choice of the discerning drinker. From the Latin aperire ('to open'), an apéritif not only kick-starts the palate but is the most delightful way to begin an evening. More and more people are falling for the charms of this light, refreshing, and aromatic way of drinking, and bars dedicated to apéritifs are opening around the world. 
Characterized by their dryness, freshness, and bitter flavors, many apéritifs are also low in alcohol, making them a perfect choice for health-conscious barflies. In Apéritif, acclaimed drinks writer Kate Hawkings romps through the history of how these drinks came into being across the great drinking nations of Europe and beyond. And after a look at the science of why these drinks work so well as appetizers, she peruses anything and everything that can be considered as an apéritif: what it is, what to look for, and how best to drink it. From amaro to gin, through spritzes to Campari and Lillet, and with suggested recipes or serving suggestions for each kind of booze, Apéritif encourages you to sit back, sip, and anticipate the pleasures that the evening holds.
$22.99  Buy now!
Hazelfern Cellars 2017 Winter Rosé
It's no secret that Rosé claims the summertime sunshine, but Bryan and Laura Laing of Newberg, Oregon's Hazelfern Cellars wondered…why should rosé only be a summer wine? In 2015 they debuted their first "Winter Rosé", and it's been a huge hit every season since! Hazelfern Cellars 2017 Winter Rosé will be released in November, just in time to pair with Holiday meals and parties.
Because of its acidity and texture, rosé is a fantastic wine to pair with food. Laura specifically made Winter Rosé to pair with rich and hearty holiday meals – it is delicious with roasted and savory meats like turkey, and the acidity makes it a great pairing with winter veggies like squash and root vegetables.
$22.00  Buy now!
Empower Cosmopolitan Martini
Empower Cosmopolitan Martini, by Empower Cocktails contains Sweet Potato Vodka, locally-sourced from a family-owned farm in Northern California, as well as triple sec, cooling white cranberry and zesty lime. It is best-served refrigerated; all you need to enjoy it is a martini glass and your favorite garnish. The drink is 25 proof and contains only 80 calories per 3 ounces.
$21.99  Buy now!

Pickle Juice
Pickles have been considered a health food for centuries. FACT: Cleopatra credited pickles as contributing to her health and legendary beauty, and Julius Caesar is also said to have fed them to his troops to boost their strength! So what's the big Dill? Even for the most avid pickle fan, downing a glass of briny pickle juice may sound like a step too far – but you might want to think twice before you toss it away.
Pickle Juice shows you how to use homemade or store-bought pickle juice to great effect with over 40 innovative recipes for cocktails and health drinks. Florence Cherruault starts off by showcasing a variety of easy pickle juice recipes that can be incorporated into exciting and inventive tipples. Take the spicy Pickled Bloody Mary, the best cure for any hangover, or beat away those January blues with a tasty and nourishing Hot Spiked Cider. As well as cocktails you'll also find recipes for detoxing smoothies, flavored vinegars, shrubs, batched cocktails, and more!
$19.99  Buy now!

Tequila Mi Campo
A 100% Blue Weber agave tequila that blends Mexican heritage and contemporary ideas, Tequila Mi CAMPO delivers an exceptionally smooth taste in two expressions: Mi CAMPO Blanco and Mi CAMPO Reposado. Mi Campo Blanco delivers fresh aromas of coconut, almonds, sweet orange, and green apples over hints of smooth vanilla while the Mi Campo Reposado is on the opposite side of the spectrum. The Reposado delivers warm hints of cinnamon, clove, vanilla with hints of chocolate and banana. Both tequilas are sure to be nice additions to your beverage collection.
$19.99  Buy now!
S'ip by S'well
Inspiring colorful with whimsical prints, our S'ip by S'well line comes in three sizes, 10oz, 15oz, and 23oz so everyone in your family can find their perfect bottle. The 10oz feeatures a colorful cap holder and fits easily in lunch boxes, while the 15oz and 23oz are perfect for keeping older ages hydrated. All sizes keep liquids hot or cold for longer.
$19.99  Buy now!
Drink More Fizz
This new book by leading wine writer, Jonathan Ray, teaches you everything there is to know about bubbly by covering the 100 best types, and explaining the key facts and fun stories that make them so special.
There are so many sparkling wines from all over the world that there's something out there to suit every budget, taste and occasion. Wines featured in this delightfully fun book include types of Champagne, prosecco, cava, crémant, the dazzling rare and precious sparkling ice wine, and everything in between. With characteristic humor and accessibility, Jonathan takes you through the stories and qualities behind the wines and producers, and even gives recipes for some extra-special Champagne cocktails. There is also information about the right kind of glass, the varying sweetness of Champagne, and both a glossary of terms and a wine map are included.
$19.99  Buy now!

Cork Pops VinOair
Designed with ingenuity to aerate your wine easily and conveniently. On-bottle aerator creates the perfect pour, eliminating drips while aerating and oxidizing wine for premium quality and flavor! Dual venturi chamber pulls twice the vacuum as other leading aerators for more enhanced aromas and flavor. Sleek and compact design for effortless portability.
$19  Buy now!

Sailor Jerry Spiced Rum x Harley-Davidson
Sailor Jerry Spiced Rum was created to honor Norman "Sailor Jerry" Collins, a Navy vet who built his rep inking soldiers and sailors in WWII-era Honolulu. Crafted in the traditional Navy way by William Grant & Sons, Sailor Jerry Spiced Rum is bold and smooth, with hints of caramel and vanilla. Just like the man who inspired it, this 92 proof rum speaks for itself and holds itself to the traditional values and standards of craftsmanship that Norman Collins espoused. Made in America and blended with spices including ginger, cinnamon, clove and vanilla, Sailor Jerry Spiced Rum is an exceptionally smooth drink with an ABV of 46%. From the liquid itself to the packaging, every detail of Sailor Jerry Spiced Rum stays true to the vision of Norman "Sailor Jerry" Collins.
$14.99  Buy now!

Santevia
Santevia's water filtration system works to produce naturally alkalized water by infusing it with essential minerals. It improves the quality of your drinking water while making it healthier and better for your immune system.
$12.99-$200.00  Buy now!
Backdraft Espresso
Sometimes you need your coffee with a little extra kick. A little bolder brew to help you power through those long hours or late nights on the job. Backdraft Espresso by Fire Department Coffee is just for you.
Use as an espresso or simply drip-brew your Backdraft Espresso the way you would any other cup of coffee. You'll fill your mug with a dark espresso that sends rich aromas into the air and gives you the bold fuel you need with a delicious taste to match.
$12.99  Buy now!
Groundwork Coffee
Groundwork Coffee Co. has several ongoing special projects aimed at making social changes in the coffee supply chain, like investing in communities and empowering female coffee growers in disadvantaged regions."AMUCC" is a Fair Trade certified association of women in Cauca empowering female coffee producers as they step up to fill that vacuum and bring about positive social change. Groundwork Coffee's partners fell in love with AMUCC's coffee beans and the amazing community of women behind it and have built an ongoing partnership with the all-female coffee growers where Groundwork: – Supports the development of their organic program. – Offers additional incentives in the form of cash awards to growers who produce exceptional coffees. – Sets up a unique, self-managed, micro-loan fund to support the female farmers in cash flow and capital improvements. – Facilitates financial literacy programs to help empower the women to successfully budget and manage their own money and debt. 
$11.99-$16.95  Buy now!
uKeg Infuser
Infuse your favorite beer with flavors in the uKeg to create your own cask-conditioning. Fresh hops, dry hops, wood chips, fruits and/or spices are all tasty finishing flavors. The Infuser attaches to the bottom of any uKeg cartridge sleeve for easy removal. The Infuser can also be used to infuse cocktails or other craft beverages.
$10  Buy now!
Omission Ultimate Light Golden Ale
Omission Ultimate Light Golden Ale is smooth, easy drinking and full of flavor. Citrusy hops and a clean finish leave you wanting more. With only 5 carbs and 99 calories, you can have another without feeling full. Like all Omission beers, Omission Ultimate Light Golden Ale is crafted to remove gluten. Our newest beer, Omission Ultimate Light launched in early 2017.
$8.99—$9.99 for 6pk  Buy now!
mixallogy
, a premium organic powdered cocktail mixer company, includes a collection of three classic cocktail offerings – the Margarita, the Cosmopolitan and the Lemon Sour. Each mixallogy mixer is made from USDA certified organic whole fruits, contains less than 10 grams of organic cane sugar per serving, and has no chemicals, artificial flavoring or preservatives whatsoever.
Developed in collaboration with noted bartenders, these hassle-free mixers make enjoying one's favorite cocktail with organic ingredients simpler than ever. There is no longer the need to muddle or slice – instead follow these easy steps to make a great tasting cocktail: 1. Pour your mixallogy cocktail mixer of choice into an empty shaker 2. Add your preferred spirit (each mixallogy shot-pod serves as a measuring cup) 3. Add water (use mixallogy shot-pod as measuring cup) 4. Add ice 5. Shake (or stir), pour into a glass and enjoy
$8.99  Buy now!

Pipeline Porter
Pipeline Porter is a smooth beer with an earthy complexity. Its dark chocolate color, rich roasted malt flavor, and smooth Kona coffee finish is sure to take the edge off when the waves are high and the wind is blowing.
$7.99 – $9.99  Buy now!

Just the Wine
Just the Wine uses a process similar to that used in the winemaking process to adjust the levels of free sulfites to the desired concentration. Just the Wine drops combine with the free sulfites in your glass, without changing the taste, so you can enjoy your wine sulfate-free.
$5.95 – $27.00  Buy now!
RUFFINO 187 mL Prosecco
The recently launched RUFFINO Wines 187mL Prosecco bottles are the perfect size for holiday travel and make the ultimate adult stocking stuffer. The bottles also make a fun addition to your holiday tablescape.
$4.99  Buy now!

Sweet & Spicy Good Night Tea
For those that need a little extra relaxation in their life, Good Earth's good night tea will help take away the holiday chaos that often keeps you up at night. The brand's master blenders use top notch chamomile blended with exotic dragon fruit and spicy cinnamon (which can be enjoyed hot or cold) to provide a soft, soothing cup of relaxation to help you doze off to a great night's sleep.
$4.49  Buy now!

*All images courtesy of respective companies. – Splash Magazines is not paid for this content.