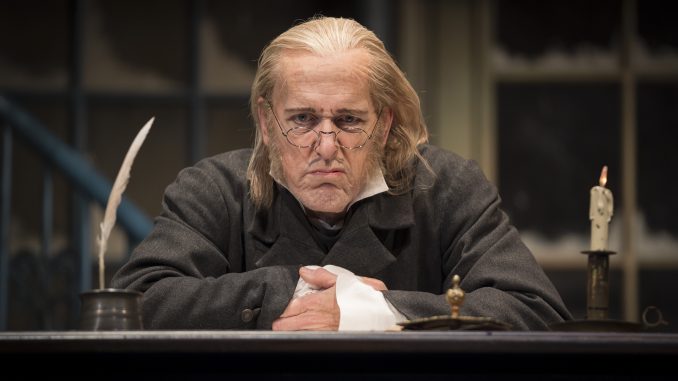 Goodman Theatre's classic presentation of Charles Dickens' iconic novella A Christmas Carol, adapted by Tom Creamer, is not simply a fine rendition of the heartwarming story of meanie/miser Ebenezer Scrooge's discovery of kindness, compassion and redemption— it's a must-see Chicago holiday tradition enjoyed by 1.5 million theatergoers for over four decades, now playing through December 30. 2018 at 170 N. Dearborn, Chicago. 
Like every production at Goodman Theatre, this one is superbly stage set, in this case by Todd Rosenthal with fanciful yet functional large-scale models of Victorian homes, street scenes, and the moneybags counting house of Scrooge and Marley. The transformative lighting design by Keith Parham took us convincingly from day to night. The true-to-type knowledgeable casting by Adam Belcuore gives us a cast that met the imagination's recall and yet was thoroughly diverse. The many unique characters on the busy stage, on various height levels, were thoroughly well displayed thanks to stage managers Alden Vasquez and Jonathan Nook. The whole extraordinary collection of personalities that were crafted and whimsically named by the genius imagination of Dickens, were brought into being by the fine actors and astutely directed with a big helping of humour by Henry Wishcamper.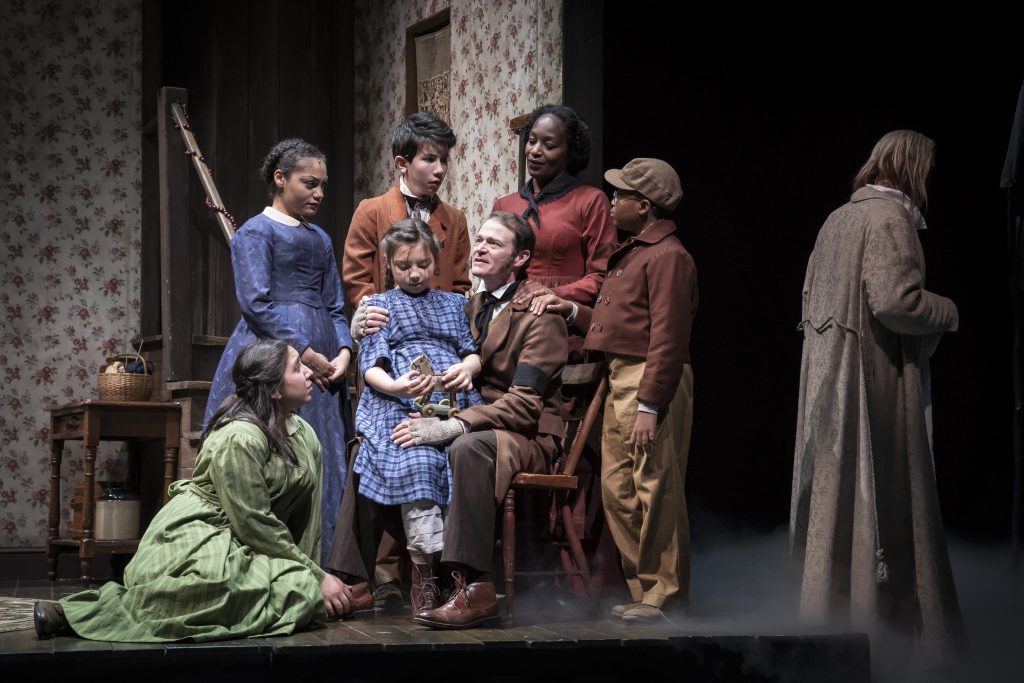 There is an underlying loveableness to the production, as much as it's an extravaganza of original live music by Andrew Hansen, with crystal clear sound design by Richard Woodbury. Clad in adorably nostalgic costumes by Heidi Sue Mcmath, traversing the upper reaches of the stage in aerial acrobatics by ZFX, Inc., actors and musicians created an entire London world of haves and have-nots. The essential facts/ nuances of the story, so profoundly representational of the morals of the holiday season, and so relevant to our lives today, are as follows:
A Christmas Carol tells the tale of Ebenezer Scrooge, a frustrated, unhappy whiny skinflint who finds fault with everyone and everything, and is played to a fare-the-well with obvious relish, and a sneering smarminess succeeded by a touching rejuvenation by Larry Yando. The story begins on Christmas Eve, when we learn that Scrooge's partner Jacob Marley died seven years ago.
Bob Cratchit, Scrooge's long-suffering and infinitely decent clerk, played with a natural dignity by Thomas J. Cox, is toiling away in the counting-house while Scrooge keeps an eye on him to check that poor Cratchit is not using logs for a fire to keep warm.  Scrooge's niece Frida, played with a serious simplicity by Ali Burch, visits to gift him and to invite him over for Christmas dinner; naturally, Scrooge declines the invitation because he hates Christmas. We begin to wonder what has happened to this man, and the superbly talented cast soon gives us an insight into the crotchety tyrant's life.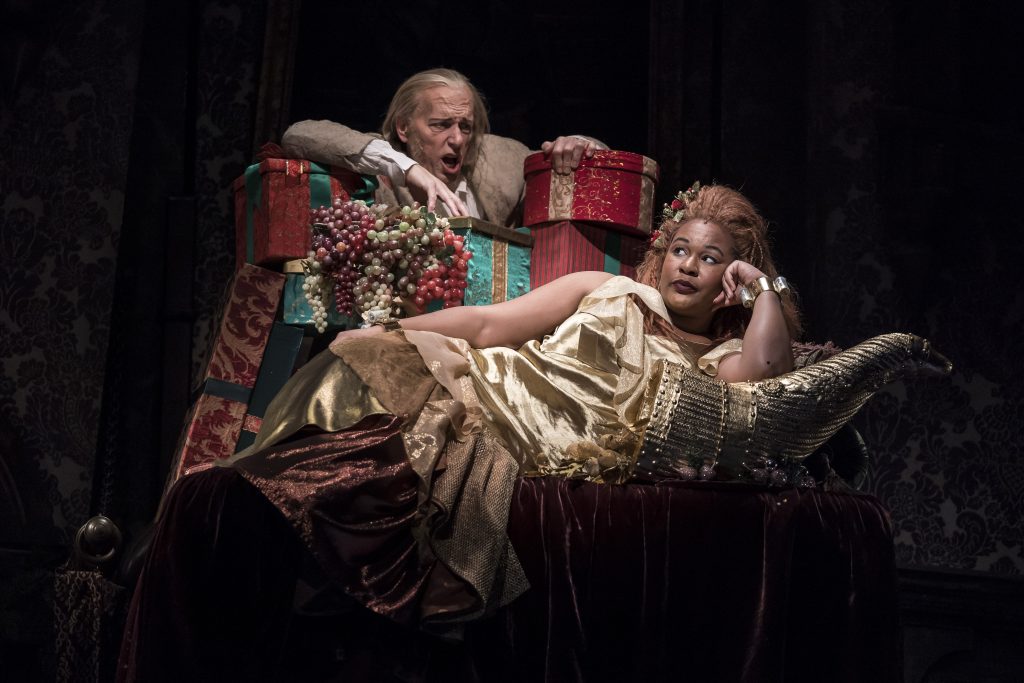 Back at the office, Scrooge expresses his resentment at having to pay Cratchit to take off work on Christmas day. Next a couple of volunteers arrive asking for donations to feed the hungry and poor arrive and Scrooge cruelly sends them away empty handed with very hard words. As the petty despot is about to enter his eerie old house, the door-knocker is frighteningly transformed momentarily into the ghostly face of his dead business partner, Marley. A wary, scared Scrooge dispatches his housekeeper without a cent and locks himself in his room. A clamorous ringing bell is replaced by the universally recognized clanking sound of dragging chains; these ominous noises herald the ghost of Jacob Marley bursting through the cellar door.
The dead man's apparition has come to warn Scooge to change his ways before ending up like Marley; he's been wandering around, unable to rest in peace because he was not charitable when he was alive. With many a groan and dire prognostication if Scrooge fails to pay attention and repent, the skeptical and wary pinchpenny hears from Marley that he is about to be visited by three ghosts. Marley, played by Kareem Bandealy– also our narrator- is filled with a sententious gravity mixed with grisly fun.
Enter the first ghost, the spirit of Christmas Past; gleefully played by Molly Brennan in a manner reminiscent of a worldly-wise Tinkerbell, she descends from the ceiling in a harlequin's tutu. On a tour of his past, we learn that Scrooge was not always a mean, unhappy man; he used to enjoy Christmas, and liked and respected others. He had a very difficult childhood and was often alone. He also once had a fiancé, Belle, played with an unbeatable sense of self-worth by Sadieh Rifai, whom he loved and vowed to marry, but Scrooge became devoted to money and lost her affection. As this first ghost escorts Scrooge back in time to a vision of his lost sister, the lost beloved boss' family and his lost fiancé, the transformation of Scrooge begins. His empathy, long-buried, begins to surface as he is reminded that he was once poor, once loved, once happy and how he lost that love and happiness himself in his endless quest to pile up riches.
The second ghost that arrives is the Ghost of Christmas Present, stunningly portrayed with voluptuous abandon by Jasmine Bracey, possessed of a rapturous voice and an imposing presence as she scatters stars and commands awe. Scrooge  follows her willingly. He becomes a witness to his poor niece's undeniable contentment with her husband and friends and to the abundant laughter in their lives. He also observes Bob Cratchit with his family, grateful for their few earthly goods, secure in the abundance of each other's devotion. Mrs. Cratchit, in an incandescently human performance by Lily Mojekwu, is the glue that cements their lives. Scrooge is overcome by the vision of Tiny Tim, played by Paris Strickland, who stole the show with her pronounced, cautious limp and sweet declaiming, "A Merry Christmas to us all; God bless us, every one!"  Both families have even toasted the disliked Scrooge- what a comeuppance!
The third and last apparition is the Ghost of Christmas Future. At the hands of this towering spectre, played with droll yet meaningful silence by Breon Arzell, a mortified Scrooge sees the scene after his own recent death. No one is mourning him; all anybody in his life now cares about is getting some of his possessions; the sparrows have come home to roost!
With each ghostly encounter, Scrooge has changed; he visibly becomes a more charitable, merciful, and humane person, so by the end of the visitation, a repentant Scrooge begs for a second chance, which he is given. We rejoice in watching Scrooge change his ways: he scatters largesse, buying a gigantic turkey for the Cratchit family. He goes gleefully to Frida's for Christmas dinner, and when he runs into one of the fundraisers whom he formerly chased from his office, he promises to make a large donation. He even tips stray errand boys and his housekeeper! Most importantly, he is, himself, transformed, crying aloud "I'm not the man I was"!
In the current politically fraught times, when it seems so very clear that monsters of miserliness have built up fortunes at the expense of others and their own humanity, when it is fashionable to talk only of one's rights without embracing one's responsibilities, it's especially important to emphasize that wealth doesn't equal happiness, and that we can all change for the better.
For information and tickets to A Christmas Carol, go to www.goodmantheatre.org
All photos by Liz Lauren