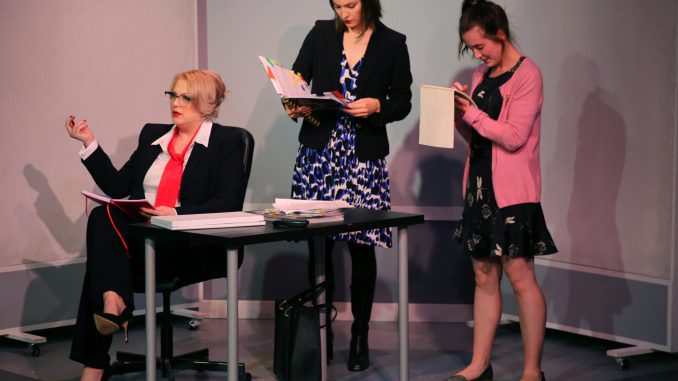 Charles Dickens never foresaw 2018; but, if he had; he would certainly have loved the Group Rep's modern treatment of his tale. Doug Haverty (book) and Bruce Kimmel (music and lyrics) have made some fascinating updates, including converting Scrooge into a career woman named Carol, bringing a television shopping network into the action, and adding song and dance to the holiday staple. The talented Kimmel also did double duty as director of this big spectacular on a small stage.
It's the day before Christmas, and Carol (Hartley Powers) is having a tough time getting her staff to focus. Carol is a driven, Type A perfectionist who can't understand how anyone could be distracted by something as trivial as a holiday. Even her hopeful boyfriend Blake (John Schroeder) must sit in the waiting room, bouquet clutched in his hand, hoping for an audience. Her harried assistant Blythe (Savannah Schoenecker) has other worries as her daughter Trina (Peyton Kirkner) goes in and out of hospitals because of her weak heart. But wait! There just happens to be a message which her former partner Joelle (Janet Wood), now deceased, left for her. And so Christmas past, present, and future flood Carol's perception in true Dickens style. As Christmas day approaches, Carol learns what it means to care about other people.
A CAROL CHRISTMAS is a clever reworking of the Dickens classic, turning most of the major characters into females and bringing the story into the twenty first century. In addition, very clever lyrics move the saga along to its anticipated conclusion. Kudos to musical director Richard Allen's well-orchestrated tunes and Austin Quan's crystal clear sound. Even if the production might be improved by one or two fewer songs, A CAROL CHRISTMAS still accomplishes its goals – and then some.
Tesshi Nakagawa's convertible set allows for lots of scene changes with minimal effort, while Sabrina Beattie's lighting, Kay Cole's choreography, and Morgan Gannes' costumes make this musical a fun take on a 200-year-old classic. And let's not forget the other professionals who made this production happen. Not only were most of the key roles now the province of female actors – but many of the production crew were also female. A CAROL CHRISTMAS is truly diverse in the best sense of the word.
A CAROL CHRISTMAS is definitely kid friendly – but also will prove appealing to adults. Young carolers Celine June Bautista, Ellie Birdwell, Andrew Grigorian, Chihiro Kato, and Momoka Kato add that special something that makes the holidays sparkle. If you long for a show that will delve into the meaning of Christmas, while also offering lots of entertainment, amusement, and enjoyment, then A CAROL CHRISTIMAS will fill the bill.
A CAROL CHRISTMAS runs through December 30, 2018, with performances at 8 p.m. on Fridays and Saturdays and at 2 p.m. on Sundays. The Lonny Chapman Theatre is located at 10900 Burbank Blvd., North Hollywood, CA 91601. Tickets are $25 (seniors/students $20; 10+ groups $15). For information and reservations, call 818-763-5990 or go online.