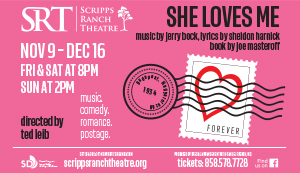 By Kathy Carpenter
Scripps Ranch Theatre Presents – She Loves Me– A classic Old Fashioned Romance- Entrancing, and fun, for us romantic souls who believe in destiny and happily ever afters.
Booky by Joe Masteroff. Music by Allan Salkin, lyrics by Sheldon Harnick. Directed by Ted Leib. Musical
director Terry O'Donnell.
The Musical is version three of the play., written in 1937 by Miklos Laszlo, an Hungarian playwright., called Parfumerie. "In 1940 it became a James Stewart- Margaret Sullavan film.called "The Shop Around The Corner,". In 1949 It became a Judy Garland – Van Johnson Musical, In The Good Old Summertime." Then it 1998 they brought the story back as one of the classics in the romance writers field, "You Got Mail," with Tom Hanks and Meg Ryan. Those of us her remember the movie love it.
She Loves Me, premiered on Broadway, in 1963, and was only so, so. Revived in 2016 and became the first Broadway show to be live streamed.
The story,takes place in 1934, in a European city, and  involves two shop clerks, who barely tolerate each other, whom unbeknownst to one another are the pen pal they have secretly fallen in love with through lonely-heart ads.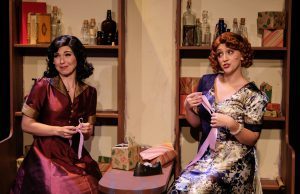 The set, designed by N.Dixon Fish, an elegant looking mobile woman's shop, selling perfumes and lotions, that could be moved in and out. The costume by Dawn Fuller Korinek, Wig design, ( yes that's an actual job), by Kat Senior -Scott, and whoever did make-up, I mention these because it was amazing. The women in this show really fit the time period. You would never know they are from today.
Community theatre does not do musicals often mostly be cause of the space. But personally I wish they would do more. Especially ones like tike this. While I was watching the show It reminded me of old Doris Day movies. Silly little stories but ah so romantic.
14 members in the cast, that;s huge for Scripps. small community theatre Which meant another person doing a great jot,Marc Caro-Wilcox, who did the choreography, and played ib the ensemble.Luke Monday, had the lead of hero, Georg Nowack. Monday reminded me of Bob Saget, tall, lanky, kind of serious. Taylor Magee, plays Amalia Balash, the heroine, not someone you would probably match up, but that's what made the show work. My favorite was Tara Sampson, who plays Ilona. another shop clerk. She is fistulous. So in character, a perfect choice, I couldn't imagine anyone else doing it better. Danny Campbell does a masterful job as the shop one Maraczek. We round out the shop clerks with Tanner Vidos, and Joseph Grienenberger.Josh Bradford, delivers his role as delivery boy nicely. As in any musical the ensemble make the play. At least there would be no play without them. In this case they played all the shoppers, sang, danced, and all other characters needed. Sometimes I think the ensemble are the most talented of all. The ensemble included Steve Lawrence, Andrew Paiva, Krista Wilford, Marc Caro-Willcox, Eden Young, Cassie Bleher, and Kailey O'Donnell. Wilcox and Young also gave us a tango.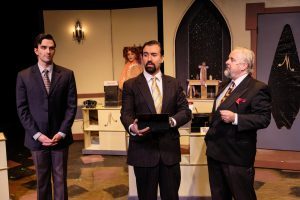 The last thing you need for a successful musical is great music. In this case provided by just two musicians.Terry O' Donnell, conductor and pianist, and Grant Clarkson, Bass.
One more thing She Loves Me has to offer is a holiday spirit. Although, the show traverses through many season, Which Leib did an awesome job with. The romantic ending takes place during the Christmas season. The perfect romance to kickstart your Holidays.
She Loves Me
November 9 – December 16, 2018
Scripps Ranch Theater
Legler Benbough Theatre
Alliant International University
Box Office 858.578.7728
Dancing Lessons

by Mark St. Germain
January 25 to February 24, 2019