Located in the heart of Milwaukee, the Hilton Milwaukee City Center offers a combination of Milwaukee's charming old-world fashion combined with modern-day amenities, along with more surprising and unique touches, including Millie, the Canine Concierge.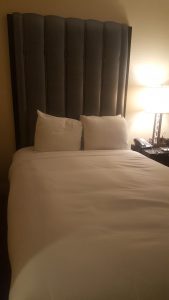 Its dazzingly appointed lobby and Monarch Room, a drawing-room styled common area with plush chairs, date back nearly 100 years, but for those of us disinclined to sacrifice the comforts of the 2000s for a little glitz and glamour, never fear: a brisk walk from the lobby will have you in line at the hotel's Starbucks in less than five minutes. Along with the aforementioned java purveyor, there's three restaurants onsite as well: the celebrated Milwaukee Chophouse, a top-rated seafood and steak dinnertime option; the breakfast-geared Hilton Cafe, offering both buffet and menu options; and last, but not least, celebrating Milwaukee's well-known history with beer brewing, the Miller Time Pub & Grill.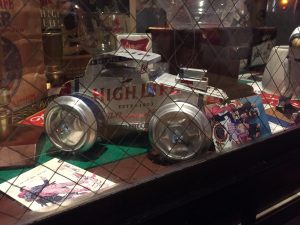 As our server, Sam, shared with us, the Miller Time Pub & Grill is no mere brew-and-burger stop for weary travelers–though, to be sure, it is also that; I had a well-executed grilled cheese and a cider from their surprisingly diverse tap offerings–but is also a destination for local sports fans to take in the beloved Wisconsin professional and collegiate sports teams. While we were visiting, the Packers were on every screen in the place, and the bar was as full as it could be with a crowd ranging from families to bar regulars. It was a terrific way to experience the restaurant, chock full of Miller and sporting memorabilia. Not only is a fun place to take in a game, it's a part of giving back to the community this holiday season: from December 7th to the 9th, patrons can donate a lightly used or brand-new sweater to those in need this holiday season. For every sweater donated, patrons will receive a free Miller beer on tap (maximum of five per patron). The Miller Time is also hosting a Nightmare Before Christmas party on Friday, December 14th. Locals and visitors alike can enjoy the classic movie on TVs throughout the pub, while enjoying themed cocktails. Costumes are highly encouraged.
The Hilton, itself, has comfy rooms with terrific views towards the lakefront area and is decked with all the amenities you need: coffeemaker, tv, room service menu, and multiple outlets for all your electronics. The beds are Hilton's own brand of mattress, the Serenity, which feels much like a pillow-top and despite my room being adjoined to another, there was no hint of noise next door.
The hotel's location also makes for a well-appointed home base to experience Milwaukee's unique shopping opportunities. Head one direction, and it's only a 15-minute walk from the Milwaukee Public Market, which houses local vendors like Anodyne Coffee, Kehr's Candies, and Brew City Brand Apparel (where you can buy the cheesehead in your life a Call me Old Fashioned tee or sweatshirt); head another, and you're 15 minutes from the Milwaukee Rep and Pabst Theater, currently showing wonderful holiday-themed entertainment.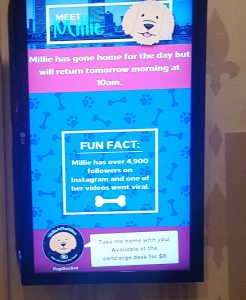 And for those taking a day trip from Chicago or the surrounding area and loathe to leave their furry friend behind, the Hilton Milwaukee City Center is pet friendly… so friendly that in 2017, they introduced Millie, the Canine Concierge, to their team. Millie was not "on duty" during my visit, but I did see her work station and her swag (she has her own stuffed animal and her mug is featured on, among other items, pop sockets). You can learn more about Millie via her adorable Instagram.
To book your stay this holiday season, or 2019 and beyond, visit http://www.hiltonmilwaukee.com/.