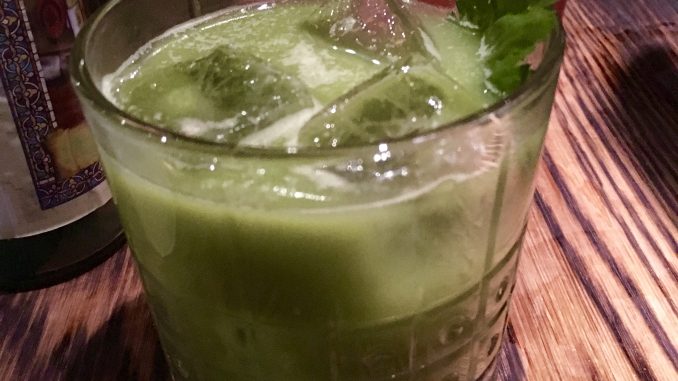 Celebrated Chicago chef, Rick Bayless, has done it again with the opening of his sixth culinary Chicago venture, Bar Sótano. Along with the Frontera Group's beverage director (and their daughter) Lanie Bayless, the mezcal late night speakeasy is agave-focused, with special detail on agave cocktails and modern Mexican bar food.
The cocktail menu, which is inspired by traditional Mexico's markets, is punctuated by uniquely crafted mezcal and tequila drinks, all developed by Frontera spirits director, Lanie Bayless, and bar manager, Roger Landes. Health-promoting herbs marry in a homemade vermouth, and other fresh ingredients such as sugar cane, chiles, and various fruits, whose flavors and textures play off each other. The flavors of aromatic tacos al pastor even make an appearance in libation form. The Sótano team travelled to Ejutla, Oaxaca, to blend a one-of-a-kind mezcal from barril and espadin agaves, to take these cocktails to a new level. If you are not a fan of mezcal, the bar also offers a selection of Mexican wines and Mexican craft beer.
Chef Rishi Manoj Kumar, a veteran of Topolobampo, developed a menu of modern Mexican bar food that includes charcutería and snacks (homemade suckling pig ham and panela cheese, pickled pigs feet spread, tlayudas, Oaxacan roasted peanuts), sweet-and-spicy Yucatán fried chicken, Ensenada mussels cooked with garlic and Baja wine, fresh and broiled oysters and a cooked-to-order arroz (think: paella with the flavors of Mexican chorizo and Gulf shrimp).
"Bar Sótano's lifeline is the vibrant markets of Mexico, where fruit stalls, healthy herb stands and chile vendors swirl in a symphony for the senses. The craftsmanship of those who keep these Mexican flavors alive – including those who craft dozens of agave varieties into distillates – is unlike any in the world. Bar Sótano will reflect this side of Mexico's exhilarating culture," Rick Bayless said.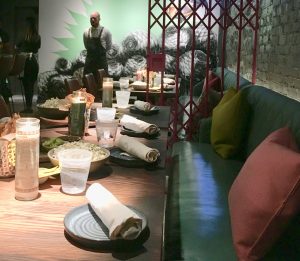 Bar Sótano is located in the basement of Frontera Grill (443 North Clark) in the hot nightlife neighborhood of River North. To access the bar, I took a century-old freight elevator located in the alley behind Frontera Grill. I attended a media dinner at the bar for a spectacular sneak peak, before it opened to the public, while the official opening occurred on November 15th, 2018.
The bar itself is a long, narrow and intimate space with upside down umbrella lamps scattered on the ceiling, a 50-seat bar, and chairs covered with cushy pillows. A beautifully painted mural by artist Juan de la Mora, consists of a green background with bales of hay with a rooster standing on top which covers the back wall. The entire space has pops of bright colors with various shades of pastels, and old 18th century brick walls.
Once seated, our media group was greeted by Rick Bayless himself and his daughter, Lanie. They were very nice, down to earth individuals. (Mr. Bayless has been one of my culinary idols for years). They both described to us the concept behind the inspiration behind Bar Sótano, including an introduction to the dishes, as well as how the cocktails are paired with the food would be sampled that evening.
We tried everything from guacamole to spicy nuts to salsa to exotic passion fruit salted popcorn to roasted crickets (the ladder I avoided). There was also a marvelous charcuterie plate served with prickly pear ginger chutney, crispy corn tiayudas from Oaxaca, spicy prickled vegetables, and homemade fresh panela cheese. The media group was also provided with samples of Bayless' latest dishes including Sótano Ceviche (albacore, tomato, olive, serrano, cilantro, toasted sesame, Sotol), broiled Baja palpal oysters (pasilla chile crema, toasted panko, micro shiso), and Yucatan fire fried chicken (crispy chicken thigh nuggets with mango habanero glaze).
Being a vegetarian, I was only able to sample certain dishes, but the one dish that really stood out to me was the roasted vegetables with homemade almond mole. The smoky, spiced mole was sweet and flavorful, versus traditional mole that is usually prepared with spicy chilies.
The two dessert dishes were also phenomenal. We ate donas con chocolate (fried-to-order fritters, Mexican chocolate hot fudge with mezcal whipped cream) and natillia de tequila (rich custard infused with anejo tequila and plantains "foster" Mexican vanilla ice cream). Both desserts were a chocoholic's dream-perfect for my sweet tooth as well!
All of the dishes we sampled were paired with unusual, creative and playful mezcal cocktails. The cocktail menu is divided into four categories: The Fruit Stand, Botanica, Chile Stall and Fonda. I was amazed at how different they all were, yet individual, with palate popping flavors and spices, paired and based on the inspired fruits and ingredients. Cocktails that stood out for me included the guava rum with Paranubes Oaxacan sugarcane rum, Few bourbon, guava, crème de banana, fresh lime, Angostura, El Sótano with Sótano mezcal, green chartreuse, fresh sugarcane and lime, Poleo Negroni with Sótano mezcal, housemade mexican herb vermouth, and Campari.
I also enjoyed grapefruit jalapeno with jalapeno infused tequila Ocho Plata, fresh grapefruit and lime, and a dash of Herbsaint (Chile stall, flavor and spice), and the "Guacamole" with Wahaka espadin mezcal, avocado, spicy tomatillo syrup and lime (Fonda, provocative inspirations). The orange Padilla cocktail was amazing with El Tesoro Anejo tequila, Ramazoti, dry Curacao, toasted pasilla chile, and orange bitters.
Though I did not care for the taste of the mango cocktail with mezcal, the method of preparation was clever-just like Mexican street markets- were served in a baggie with a straw.
It was an truly an honor to meet Rick Bayless and to be one of the first to experience a sneak peak of his new Bar Sótano. It was just as amazing as I had expected, from the interiors to the cocktails to the food. While the cocktails and the food dishes are still in an experimentation phase, I believe that this new venture is off to a great start!
Photos: Jennifer Lunz
Bar Sótano currently offers a limited amount of reservations that will soon be made available by calling 312-391-5857, emailing in**@ba*******.com, or by using the Reserve app.
Hours: 4pm-12am, Tuesday-Thursday; 4pm-2am, Friday & Saturday; Closed Sunday & Monday