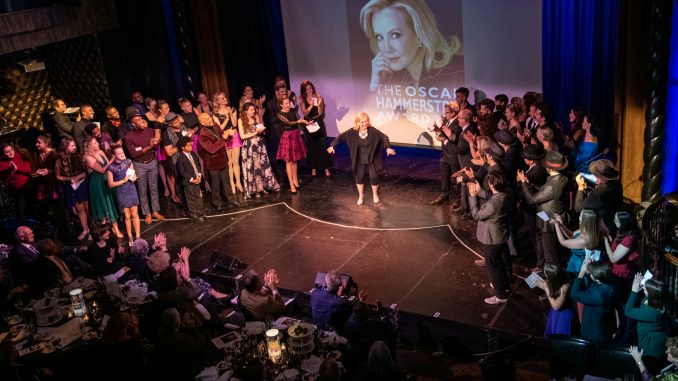 At center stage sat the incomparable Susan Stroman. Surrounded by Broadway royalty, Stro received the York Theatre Company's 27th Oscar Hammerstein Award, honoring the five-time Tony Award-winner for Lifetime Achievement in Musical Theatre. Monday night, November 12, 2018, the Edison Ballroom in New York City, was illuminated by the shining talent of those who spoke and performed in the Gala celebration.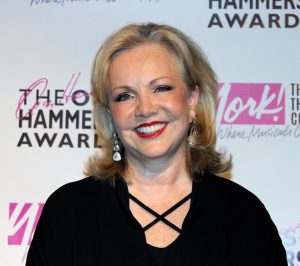 Hosted by Tony Award-winner, Matthew Broderick, (The Producers), the tribute included a company of 60 sharing their anecdotes and admiration for the multi-talented musical theatre director/choreographer. It was most exciting to see recreations of Ms. Stroman's uniquely memorable numbers from incredible hits like Crazy for You, Oklahoma!, Contact, And the World Goes 'Round, Show Boat, Bullets Over Broadway, Steel Pier, Scottsboro Boys and The Producers.
I watched the show from the balcony that offered a birds eye view of the sumptuous tables. Candles shed light on a sea of adoring faces, spotlighting the beautiful Susan Stroman. The event mirrored all she has created, alive with music and dance, both on stage and off. The bar, upstairs, became a Green Room. Chorus girls in leotards and tap shoes, their faces aglow with greasepaint warmed up before they went on. They danced to Places, as actors pulled out crib sheets to privately rehearse and go over their lines. The backstage world was one that also belonged to Ms. Stroman, for she came up through the ranks as a performer. A standout in the chorus because dance, for Susan Stroman, was not just a talent. It was a calling.
"I had all the time in the world," she once told the composing team of Richard Maltby and David Shire when they asked about her 13 year-old self to help inspire a song they were writing for the musical, Big. "I was invincible," said Ms. Stroman. "And I was dancing all the time." Lit from within, she emanates joy. It was said her laugh is like crack, and Ms. Stroman's love of life and musical theatre is evident in her every move and expression. And self-expression.
This writer had the unusual experience to sublet Ms. Stroman's Upper West Side apartment some years ago, when Stro's life and career had accelerated, after winning a Tony for her exciting and inventive choreography for Broadway's Crazy for You. I recall the huge Mylar mirror and portrait of Marilyn Monroe, the first things I saw after being greeted by Ms. Stroman's wonderfully warm and welcoming smile. She showed me the copper pots and pans hanging in the kitchen, and explained how they were used to invent one of the numbers, choreographed right in the living room where you could stomp about, the apartment on the ground floor, over the basement's boiler.
That was many years, many shows and many awards ago. Fortunately for us, it's not stopping anytime soon. Stro continues to go strong – reworking, reinventing and reimagining the American Musical Theatre.
2018 Founders Award Honoree: Betty Cooper Wallerstein. Notable Guest Performers: Sierra Boggess, Nick Cordero, Terrence Mann, Debra Monk, Brad Oscar, Laura Osnes, Bryonha Marie Parham, Tiler Peck, Kaley Ann Voorhees, John Weidman, Tony Yazbeck, Karen Ziemba. Special Guests: Lynn Ahrens, Stephen Flaherty, John Kander, William Ivey Long, Richard Maltby, Jr., David Shire, David Thompson. Gala Direct: Michael Unger. Gala Music Director: Andy Einhorn. York Theatre Company Producing Artistic Director: James Morgan. Executive Director: Evans Haile. Chairman of the Board: David McCoy. Board President: Joan Ross Sorkin.
The Oscar Hammerstein Award is presented at an annual gala that benefits The York Theatre Company, and is presented with the endorsement of the Rodgers & Hammerstein Organization and the Hammerstein Family. The York Theatre Company Founders' Award recognizes individuals who have made a significant impact on the sustainability of the Company, and of the arts.
The York Theater Company, now in its 49th year, is the only company in New York, and one of the few in the world, whose two-fold mission is to produce new musical works and rediscover musical gems from the past. The York's credits include more than 70 fully staged productions, more than 100 Mufti semi-staged readings, 35 cast albums, and commercial transfers that include the Broadway productions of Sweeney Todd (1989-90), and Souvenir (2005-2006).