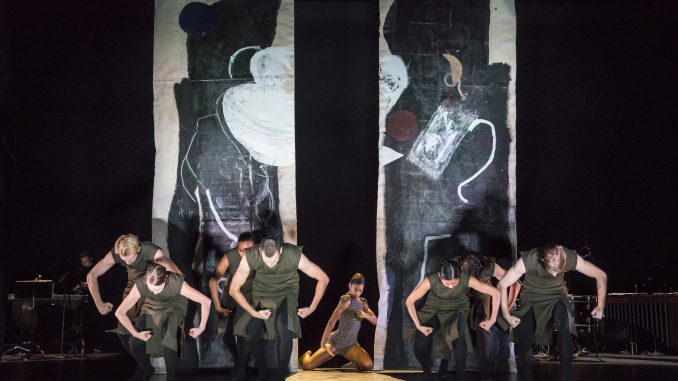 Hubbard Street Dance Chicago presented a strong and stirring modern collaboration of music, choreography, spoken word, dance, and percussive performance at its Season 41 Fall Series opener on September 27th, 2018. The program is to be repeated September 29th and 30th at the Harris Theater for Music and Dance, 205 East Randolph Street, Chicago.
This double World Premiere of dance featured live music on stage a by 2016 Grammy-award winning Chicago-based musical marvels Third Coast Percussion, who are incidentally ensemble-in-residence at Notre Dame University. The 4 virtuoso rhythmists (Sean Connors, Robert Dillon, Peter Martin and David Skidmore) interacted with each other, multiple instruments and trays of tuned objects during the entire evening's engagement including starring in an orchestral interlude called Perfectly Voiceless in-between the 2 dance works.
All the music was composed by British pop icon Devonté Hynes (aka Blood Orange), arranged/interpreted by Third Coast Percussion, and it was all of a piece- ethereal, sonic- spacey, throbbing and intensely cerebral; in a word, mesmerizing.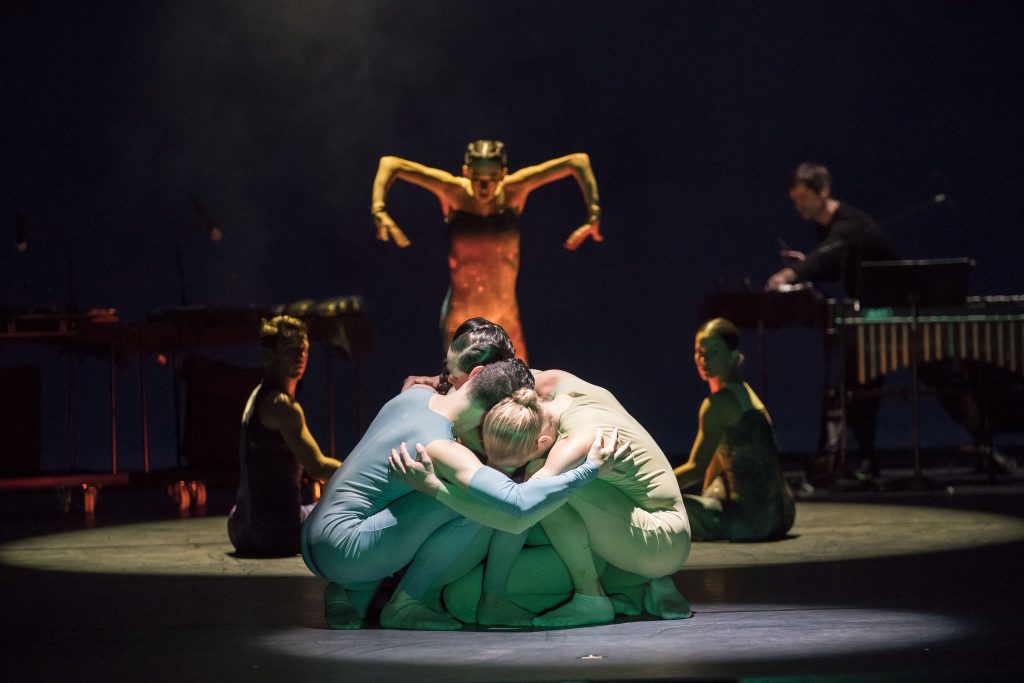 The new dances in premiere were choreographed by Emma Portner and Lil Buck/Jon Boogz, the latter known as "Movement Art Is." The program this Fall is a joint exhibition of their mission to meld art forms and highlight social issues.
 The "Movement Art Is" piece, up first, entitled There Was Nothing, is a hyper-hip creation myth. Set around a campfire, performed to a voice-over recitation of original poetry written and intoned by spoken word artist Robin Sanders, it found the dancers popping, jooking and robotically elegantly über-break dancing. A wonderfully clever and sophisticated dance, it served as a showpiece for the choreographers' ultra-modern integrated interplay of body dynamics.
The Portner piece, entitled For All Its Fury, was a long performance, connected by images of mushrooms incorporated on the backdrop, in riveting featured dancer Rena Butler's dappled costume and in the largely unrecognizable intoned words of the poem Mushrooms by Sylvia Plath. The choreographer also employed certain rather prosaic props- a bottle, a cane, that were, like the fungus artwork, largely unnecessary. The point here is that there was no need for extraneous "unifiers"; the movement and in particular, the music were universal enough to tie together the combinations.
There was a lot happening on stage. In both pieces, the dancers were grouped in various ways, in several sets of costumes including- in the Portner piece- what looked like elastic bandage connecting threads. Through it all, the sinuous and technically stunning Hubbard Street dancers proved that, once again, there are no movements too complex, too "out-there" for them to execute with finesse. While Portner's choreography has an improvisational spirit, it is very technically complicated and it takes a lot of risks. To tether a group of dancers together and have them slither across a stage behind gigantic draped banners is to be very sure of one's vision, or very young- Portner is both.
In fact, the positioning of Third Coast Percussion on stage was nothing less than a stroke of genius, as they were at once collaborators, scene-stealers, part of the scenery, part of the action. The dances seemed to be visualizations of the music. If the stated emphasis of this program was to incorporate new ideas with socially responsible ideals, the diverse nature of the creators, performers, and palettes certainly went a long way toward achieving that goal.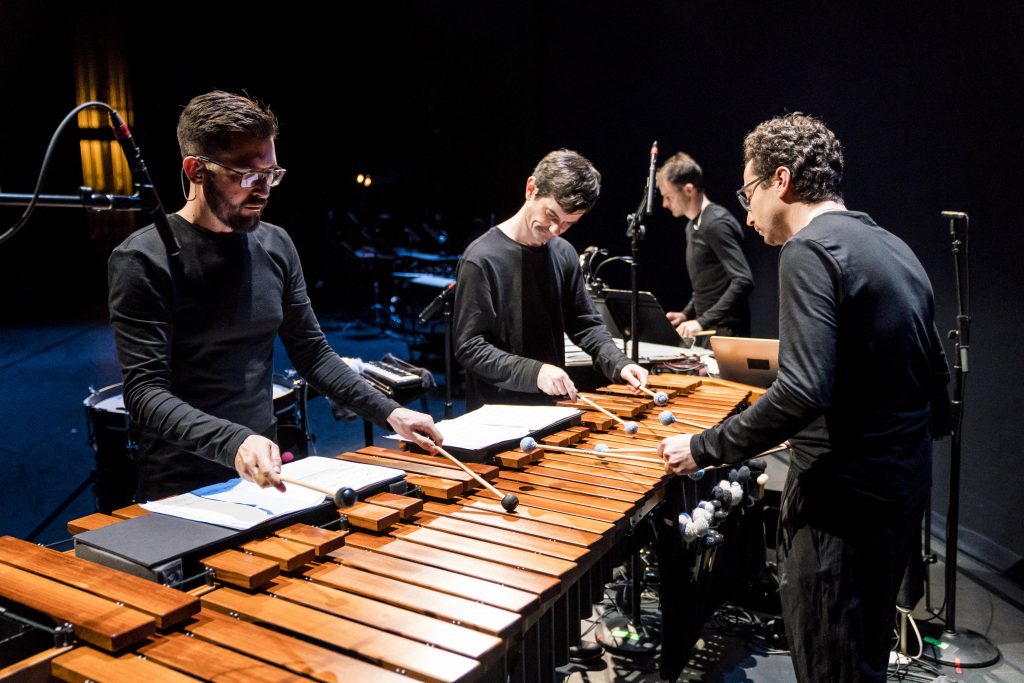 Kudos is very much due to the fantastic, spot-on spotlights and strobes of lighting designer Jim French and the organically clever costumes of Hogan McLaughlin.
For information and tickets to all the great programs of Hubbard Street Dance Chicago, go to the hubbardstreetdance website
All photos by Todd Rosenberg