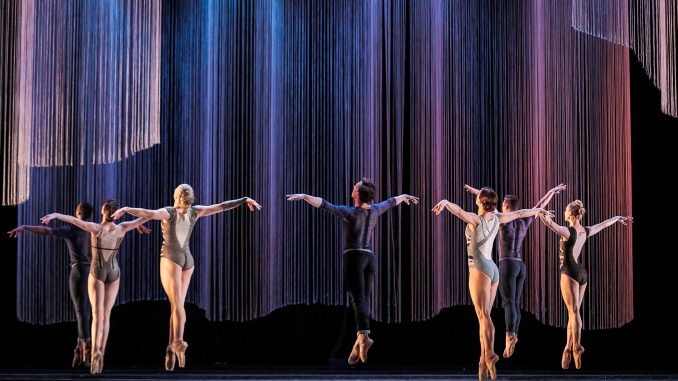 Smuin's Contemporary American Ballet concludes its 24th season with an extraordinary performance of Dance Series 02. I had the pleasure of attending this show on May 12, 2018 at the Lesher Center for Arts in Walnut Creek. It was a perfect Saturday afternoon and a great show to enjoy with my mother right before Mother's day. There are so many great details about this amazing composition that it is almost difficult to choose were to begin. After 20 years, Smuin continues to push the boundaries of contemporary ballet and adds new flavor to dance routines that remain engaging, surprising, and entertaining to audiences. The company merges classical ballet and modern day dance with powerful storytelling all through the beautiful art of ballet.  Dance Series 02 had such great diversity throughout its entire choreography. The show opened with Falling Up choreographed by Amy Seiwert. Amy is an established dancer of Smuin and worked with her mentor Michael Smuin for 8 of her 9 years as a dancer at Smuin, so she definitely knows what to bring to the table when it comes to representing Smuin. I thought Falling Up was an excellent choice to open up the show because it attributed such respect for classical ballet.  All the dancers were so profound in their unique style  and performed such elegance and grace to Falling Up.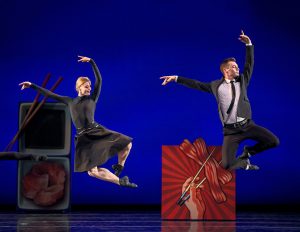 I think one of the most anticipated parts of the show was the world premiere of "If I Were A Sushi Roll" choreographed by the internationally renowned Val Caniparoli. I want to say that everything was intact about this series. The choreography, music, scenic design, costume design, and lighting. The range of versatility of this series was very exciting! The segment made me feel like I was watching Dancing with Stars Live! If I Were A Sushi Roll consisted of six invigorating segments such as Describe You, Sick of Fish, Coffee Expert, Her First Confession, Nowheresville, Dog and Frog, Printer in the Morning, Don't I Know You From Somewhere, and Small Spaces. Each series had such a creative blend of storytelling incorporated by dance movements reflecting love, humor, dramatization, and engaging props. IF I Were A Sushi Roll began with Describe You and instantly captivated everyone in the audience. It was a great transition to go from the classical ballet in Falling Up and just diving into the upbeat and live contemporary ballet of Describe You.  Each segment continued to deliver and I loved the profound storytelling in each performance. I was also a fan of the fierce clothing. Another segment that I was drawn to was Her First Confession, this is a story about a women who cheats on her lover and it ends possibly with a tragedy. I really enjoyed this piece because it illustrated the detail that went into each of the segments of If I Were A Sushi Roll. For example, Her First Confession was so powerful because of the dance movements, music, and lighting yet it was so easy to follow because of the in-depth performance given by the dancers. I truly enjoyed each segment of Val Caniparoli's work and look forward to attending more of his compositions.
Smuin's 24th season couldn't have closed better than with Oasis, choreographed by the accomplished Helen Pickett. The great piece combined classical and contemporary ballet and fused everything perfectly. Helen has created over 40 ballets globally since 2005 and continues to be one of the best experts in her field. Ballet has come such a long way from traditional dance, that Smuin Contemporary American Ballet remains extremely innovative in showcasing the evolution of ballet and it has been a real treat to experience it. All the talented dancers did such a wonderful performance and the entire team at Smuin is a leader in producing quality, versatile, and stylish work of  the beautiful performance art of ballet.
For more information please visit: smuinballet website