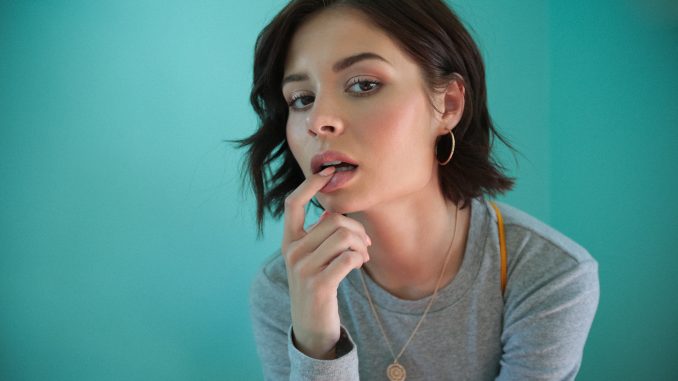 I had a fun time seeing Nina Nesbitt perform at Beat Kitchen on Friday night. Although a well-known bar in Roscoe Village, I had never gone inside. I did not know that concerts and comedy were hosted there as well.
Walking in on that cold, rainy Friday, I thought Beat Kitchen had a cool, laid back, feel to it.  As I sat in a small booth near the back waiting for a friend, I saw a swinging door that lead to the performance space. It was an intimate space with no seating but is nice in order to feel like you are close enough to not only hear but see the artist.
I was not familiar Nina Nesbitt except for a few details of how she writes and produces her own music. How her most recent 3 releases have racked up over 45 million combined streams to date. And how she can count Chloe Grace Moretz and Taylor Swift as fans. Those details sounded exciting and on the path to more splendor.
Before Nina Nesbitt came on stage, Whitney Worez performed. Nina came on shortly after and performed a variety of older and more recent songs. For some of the songs she played along on a guitar or keyboard. I liked "Noserings and Shoestrings", "The Apple Tree", "Mr. C.", "Empire", and  "Chewing Gum" which was a crowd favorite and which Nina said "was for all the single people here tonight" .Following was "The Best You Had " and she performed "A Case of You" which was Joni Mitchell cover. She noted that she learned the song over a course of 20 hours on a tour bus from Denver to Houston. I thought it was impressive. She followed with more songs such as "Ontario" and "Loyal to Me" which she described as 90's R&B.  "Is It Really Me Your Missing" was my favorite song from the set and one that will be on the upcoming album. She said that song changed everything for her. After having been dropped from a label, it made her want to sing again. The concert ended with a rendition of "Somebody Special" which is her current single.
http://https://www.youtube.com/watch?v=1sJHx2s4Pp4
Nina Nesbitt is very talented. I liked that I got to hear her in a small space. The only problem with being in a small space  was that there was group of people who were being pretty chatty amongst themselves right by me. I thought it was distracting and unfortunate for anyone who wanted to hear the music and performance. However Nina's performance was stronger than their side conversations. After the show, she met and greeted fans.
I will be listening and looking forward to Nina Nesbitt's music and upcoming album. If you missed the show on Friday, you can check her out in the following cities.
North American Tour Dates
04/18 – Mercy Lounge – Nashville, TN
04/19 – Visulite Theatre – Charlotte, NC
04/23 – Club Café – Pittsburgh, PA
04/24 – DC9 – Washington, DC
04/25 – Baby's All Right – Brooklyn, NY
04/26 – Space Ballroom – Hamden, CT
04/30 – Great Scott – Allston, MA
05/01 – World Café Live – Philadelphia, PA
Visit Nina Nesbitt's website for more information and music . Beat Kitchen is located at 2100 W Belmont Ave, Chicago, IL 60618. For more upcoming events at check out the beatkitchen website