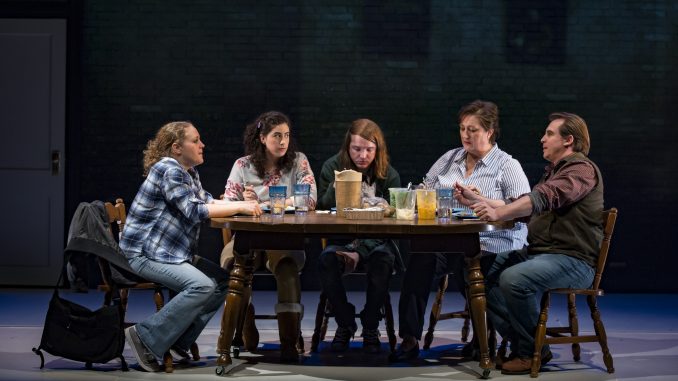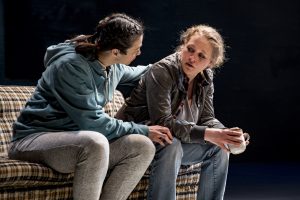 After seeing Caroline Neff in The Flick, The Fundamentals, and Uncle Vanya, I'm willing to follow her to the ends of the Earth. Her acting work is always superior, and her performance in the title role of the world premiere of Lettie, written by Boo Killebrew and directed by Victory Gardens artistic director Chay Yew, is as powerful, nuanced, and captivating as the story itself. In it, a woman is released from prison and tries to build a life for herself by training for a welding job and, more importantly, trying to create a relationship with her teenage children, from whom she's been separated for seven years.
Neff is not the only one of my favorite Chicago actors involved in this performance. Charin Alvarez, who was a spectacular Stella in Writers Theatre's production of The Scene, here plays the down-to-earth, hilarious Minny, another formerly incarcerated woman in Lettie's welding training program. Alvarez's spot-on comedic timing makes for some hilarious moments, but she also nails the serious aspects of the character when she dispenses wisdom and tries to support Lettie through her various trials. Matt Farabee, who seems to have the category of troubled teen locked down, is wonderful as always in the role of River, Lettie's estranged son.
Rounding out the cast are Krystal Ortiz, whose bubbly energy makes for a delightful interpretation of Layla, Lettie's daughter; Kirsten Fitzgerald, who perfectly embodies Midwestern Nice as Lettie's half-sister Carla; and Ryan Kitley, who skillfully portrays Carla's largely unpleasant husband in a way that makes it possible to sympathize with his point of view. Set design by Andrew Boyce is largely minimalist throughout, with the show relying on lighting and clever blocking by Yew to establish different locations, but a more complete set toward the end of the show hints at a more flesh-out, fulfilling life for the characters.
Lettie's story is certainly not a universal narrative about the struggles of those recently released from prison, but it doesn't try to be. As a white person, Lettie experiences certain privileges that her peers of color do not; Minny expresses this simply with the phrase "white people get better stuff than us." Killebrew has discovered a fascinating slice of humanity in the formerly incarcerated women who are generally the only women in trades such as welding. Lettie is a smart, well-written and well-acted story, and is highly recommended.
Ticket Information
Location: Victory Gardens Theater, 2433 N. Lincoln Avenue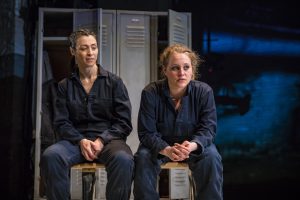 Dates: April 14 – May 6, 2018
Times: Tuesdays – Fridays: 7:30pm. Saturdays: 3:00pm; 7:30pm. Sundays: 3:00pm
Accessible Performances: Word for Word (open captioning): Friday, April 20 at 7:30pm, Saturday, April 21 at 3:00pm, and Wednesday, April 25 at 2:00pm
ASL Interpreted: Friday, April 20 at 7:30pm
Audio Description/Touch Tour: Friday, April 20 at 7:30pm (Touch tour at 6:00pm), Sunday, April 29 at 3:00pm (Touch tour at 1:30pm)
Tickets: $15 – $56. Box Office: The Box Office is located at 2433 N. Lincoln Avenue, Chicago. Call 773.871.3000 or visit the Victory Gardens website.
All photos by Liz Lauren.