GBK made its first foray into the desert and joined in the Coachella crowd as they teamed up with Art Naturals to present the Influencer and Celebrity Gifting Lounge at the Miramonte Resort in Indian Wells during the first weekend of the Coachella Music Festival on Saturday, April 14th.
Attendees included Korr_a (Social Media Influencer), Kellan Lutz ("Twilight"), The Regretts (Coachella Performing Artist), Chantel Zales (Social Media Influencer), AlexandriaFitzpatrick ("Alli Fitz", Artist), Nikki Leigh (Social Media Influencer), Ajiona Alexus ("13 Reasons Why"), Kylie Rae (Vlogger), Ser'Darius Blain ("Charmed"), Daniel Skye (Social media Influencer), Corinne Olympios ("The Bachelor") and many more.
Guests were invited to join in the festivities and pool party at the Miramonte Resort on what was a stunningly perfect day and a fantastic way to kickoff the first weekend of Coachella. What made the experience even more enjoyable was the setting, as the Miramonte Resort is a true oasis and defines what a vacation destination is all about. Guests were gifted a stay at the Miramonte Resort to further enjoy all the resort has to offer as well as Palm Springs. For more information, visit: Miramonte Resort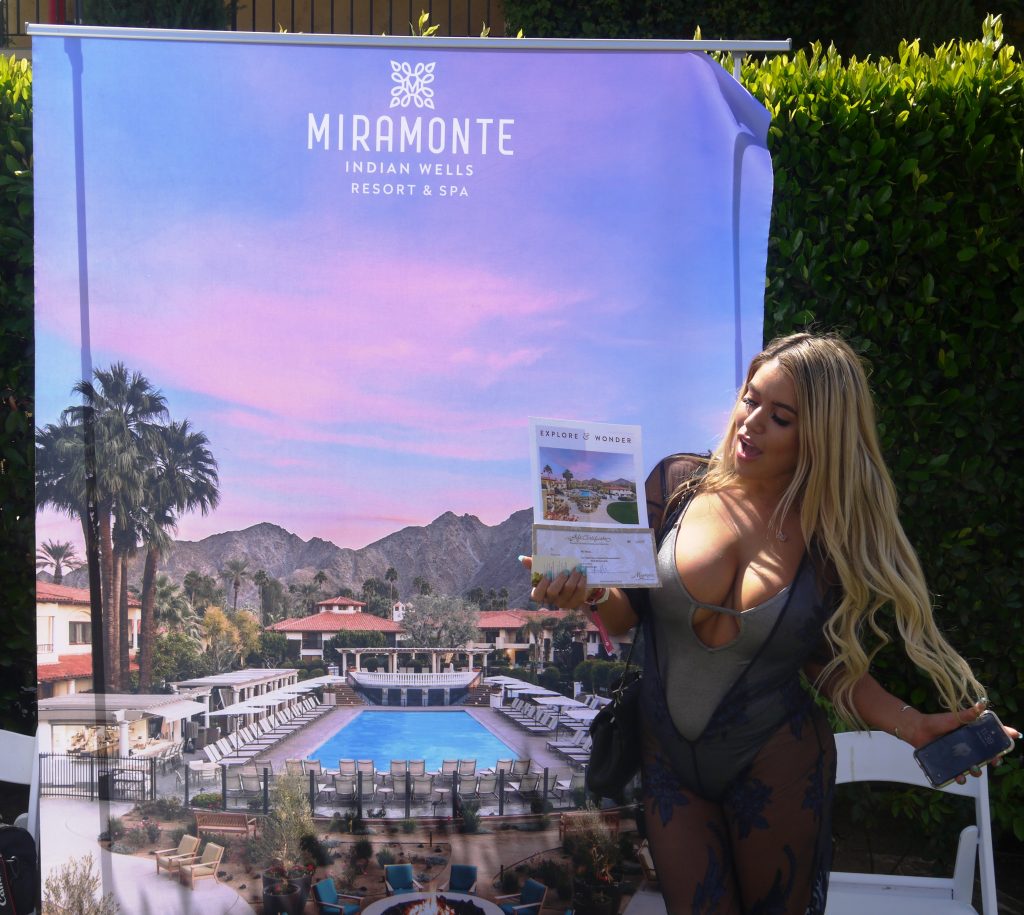 Art Naturals is a health-conscious beauty and body care line specializing in essential oils, natural based hair care, serums, masks, scrubs and other eco-friendly, BPA-free and cruelty-free products that will keep your mind, body and spirit nourished all year long! Create a relaxing atmosphere with our state-of-the-art electric cool mist aromatherapy Bluetooth Diffuser and our eight pure and therapeutic grade essential oils. Guests could also rejuvenate their hair's natural gloss and growth after a weekend in the desert with their Argan Shampoo and Conditioner Duo. For more information, visit: Art Naturals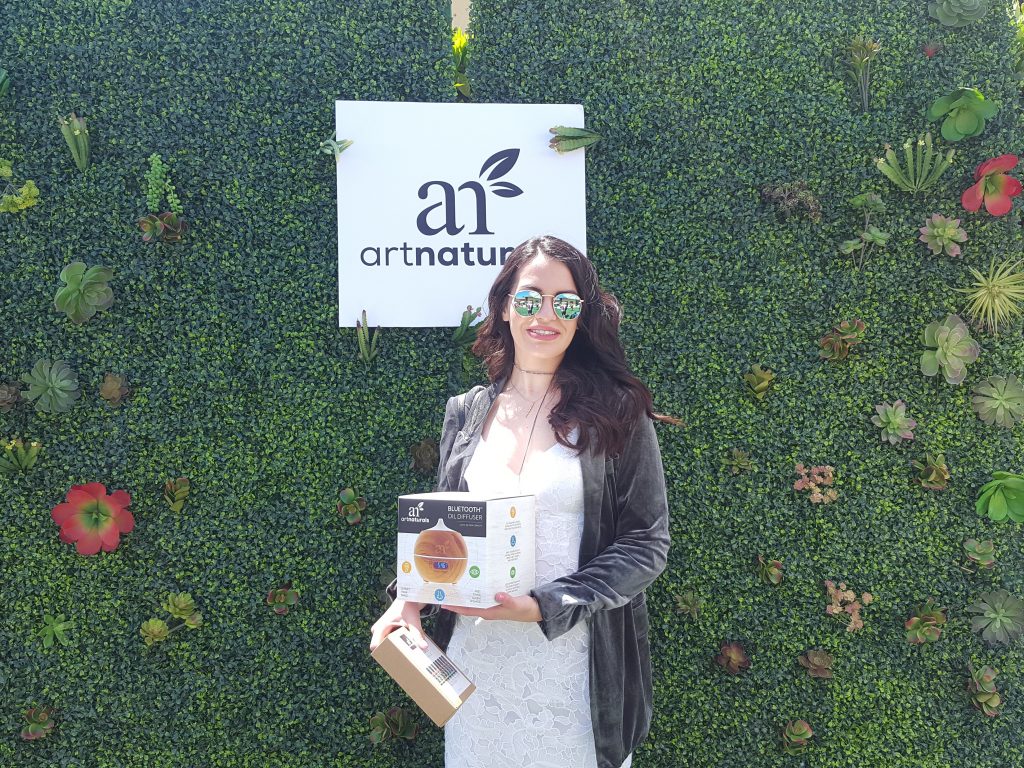 Pictorious is a social media platform where users participate in challenges and gain coins then donate these coins to the charity of their choice. For every Tweet/Share/Repost Pictorious will donate $100 up to $5,000 to the HumboldtStrong Fund.
The Youngblood aesthetic is best described by the phrase Effortless California Style. It's a way of life that encourages liberation from all things toxic, synthetic, or harmful, so that we can embrace all that is natural, beautiful, and real. You can see Effortless California Style in the radiant glow of beautiful, healthy skin, or the cool confidence of pairing the perfect lip color with jeans and a t-shirt. It's a lifestyle that's instantly associated with free spirited Californians, yet appreciated the world over. Youngblood Mineral Cosmetics created a custom gold shimmery lip gloss appropriately named "Chella" in addition to some of the brands hottest selling products. For more information, visit: Youngblood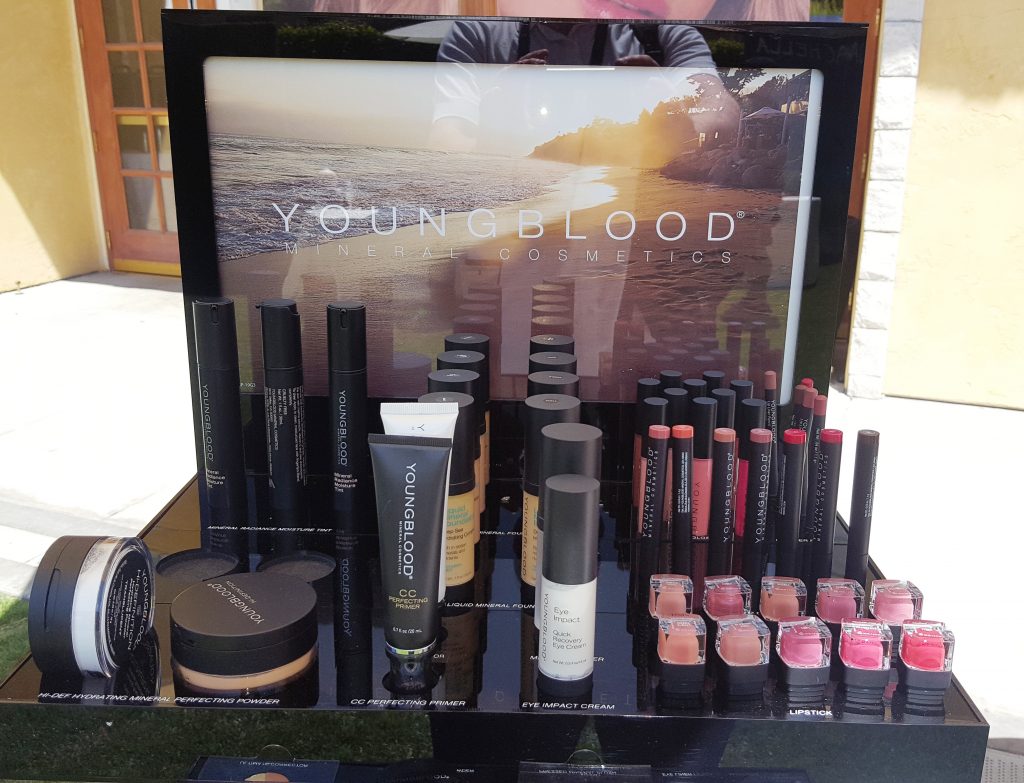 Zenni Optical not only was gifting stylish sunglasses from their 2018 Festival Sunglass Collection, but they were also gifting a certificate for a pair of prescription glasses that you can order online. The cost of glasses, especially stylish ones, are very high. Zenni Optial allows you to order your glasses online for a fraction of what you would pay at a brick and morter store and they have so many selections to choose from you can order more than one pair of glasses to change up your look and you would still save money over what you normally pay. For more information, visit: Zenni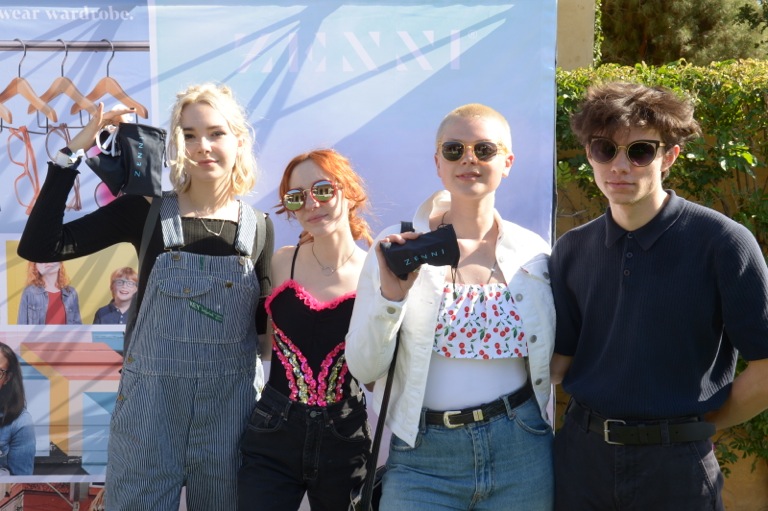 Coachella means makeup and sun, the problem is when the sunscreen wears off what should you do? You aren't likely to slap on some sunscreen and put your makeup on again, so Seriously Fab, a beauty brand creating innovative, was gifting their Zinc It Over Sunscreen facial mist. This is meant to spray right over your makeup and is effective and easy-to-use sun protection along with anti-aging ingredients. For more information, visit: Seriously Fab
Stratos has created a bottle that was made for the long hot days at Coachella. The Stratos bottles keep your favorite drinks cold for 24 hours or if you in a chillier climate, hot for 12 hours. Regardless of how you like your drink, Stratos will keep it the temperature you like.
Ammunition Wines Ammunition Wines was sampling and gifting their wines crafted in Sonoma, California. For more information, visit: Ammunition Wines
3DCheeze offers unique interactive 3D photo favors made instantly on site; fabulous for any type of celebration or promotional event guests leave with a keepsake as the star of their own hand-held mini movie. 3DCheeze will be gifting a souvenir 3D luggage tag and magnet made instantly on site as well as offering a $600 voucher for our fun interactive 3D photo booth services. For more information, visit: 3DCheeze
Swimline and Solstice Watersports was gifting their famous inflatable lounges and novelty floats. From the swan made famous by Taylor Swift to being able to bask in the sun on a slice of pizza, there are endless fun pool products as well as maintenance equipment for family pools. For more information visit: Swimline and Solstice,
Guests walked in to this festive event and were greeted by Bubbleworks and their bubbles. Bubbleworks creates large-scale bubble effects, fully produced bubble shows, and professional bubble-making equipment for the entertainment, advertising, and live event industries. For more information, visit: Bubbleworks
Daniel Wellington is a Swedish-designed, but globally embraced, watch brand whose minimalistic time pieces and affordable luxury lifestyle aim to challenge the way people think about buying a watch. Gifting their best-selling collections, the Classic and Classic Petite, have a minimalistic design and, with interchangeable straps, are a fit for any occasion. For more information, visit: Daniel Wellington
Il Palato Italian gifted a certificate for an Italian dinner experience at home for up to 15 people from Michelin Star Chef, Filippo Sinisgalli and his kitchen Brigade. Let yourself be dazzled with a real, high-class Italian dinner at your home, where exclusive dishes are paired with unique wines, and amazing flavors bloom in your mouth while you are impeccably served by their staff.
La Corte dell'Astore is formed by eight ancient buildings dated back to a millenary tradition. The interiors are made of stone according to a primitive technique and they recall the art of making these simple dwellings an example of perfect structural stability. In these dwellings that have the form of cylinders covered by cones, you can live in a dreamlike period, when simplicity was the real richness, the stone was an element of worth and tradition was a legend. La Corte dell'Astore has suites equipped with whirlpool tub and Turkish bath designed for the guests who want to enjoy a pause of well-being surrounded by natural vapors in pools carved in the rock. Professional masseurs will help our guests to relax with various massage techniques. The team "Vola Con Noi" will organize the paragliding experiences with hawks and bald eagles. It is a special way to establish a close contact between man, nature and the vast sky. The Package will be 3-night stay in one of their luxury suites. Plus one paragliding flight with bald eagles and one sailing boat trip with dinner.
Lofty Coffee was gifting fresh roasted coffee from our Encinitas California Roasting works that comes from awesome farmers doing good. For more information, visit: Lofty Coffee
MAD Diva Concierge is a full service Concierge that provides an array of services from beauty, branding, business, hospitality, marketing, personal concierge services and more. We are your one stop shop and go to source for any and all of your needs! Don't Drive Yourself MAD, Just Call The MAD Diva and we'll MAKE A DIFFERENCE! For more information, visit: MAD Diva Concierge
Maebane Wear, a street wear brand clothing company based in Chicago and Los Angeles, was gifting a selection of swimwear, shirts, hats and bandanas. For more information, visit: Maebane Wear
PortoVino® is a designer purse company that creates fashionable purses and bags with function. The PortoVino® Wine Purse is a beautiful purse with a secret insulated compartment that allows you to carry and pour up to 2 bottles of wine (or 1.5Liters of your favorite beverage). Through our PortoVino Cares mantra, PortoVino® is committed to offering an amazing customer experience and giving back to our community. Through our relationship with Feed My Starving Children (FMSC), for every purse sold, PortoVino® donates a meal to FMSC to help end world hunger. For more information, visit: PortoVino®
ABOUT GBK:
GBK, formerly GBK Productions, is a luxury lifestyle gifting and special events company, specializing in entertainment marketing integration. Formed in 2000 by Gavin Keilly, the company's Founder and CEO, GBK consists of five divisions: GBK Celebrity Gifting, GBK Special Events, GBK Weddings, GBK Charitable Consulting and GBK Marketing/Public Relations. Widely known in the entertainment industry for bringing that little extra something into the Gifting Lounge environment, GBK offers its clients a full range of marketing services. For more information on Gavin B. Keilly (CEO), or GBK, please go to gbkproductions.com.
(Photos courtesy GBK and Stephan Martin)