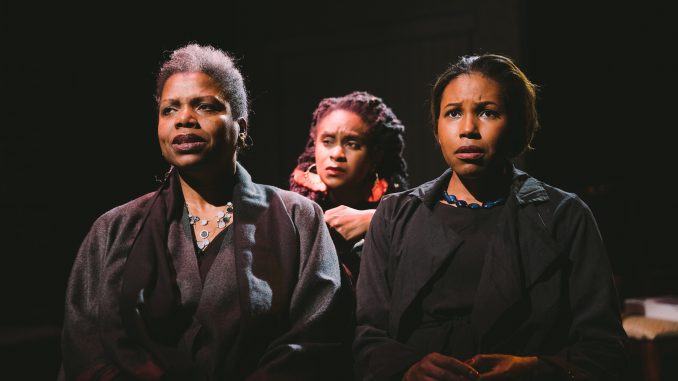 Playwright Kerri-Ann McCalla has a firm handle on the workings of a typical family as they face an atypical crisis: the untimely death of a young man who leaves behind grieving parents, sisters, and a pregnant wife. With a sure hand, author McCalla and director Jessica Hanna combine their talents to produce two intertwined tales of families facing stress and pain. In its world premiere, THE WILLOWS demonstrates just how distant family members may be – and how close total strangers may become. Communication is the key as grief interacts with secrets and hidden needs.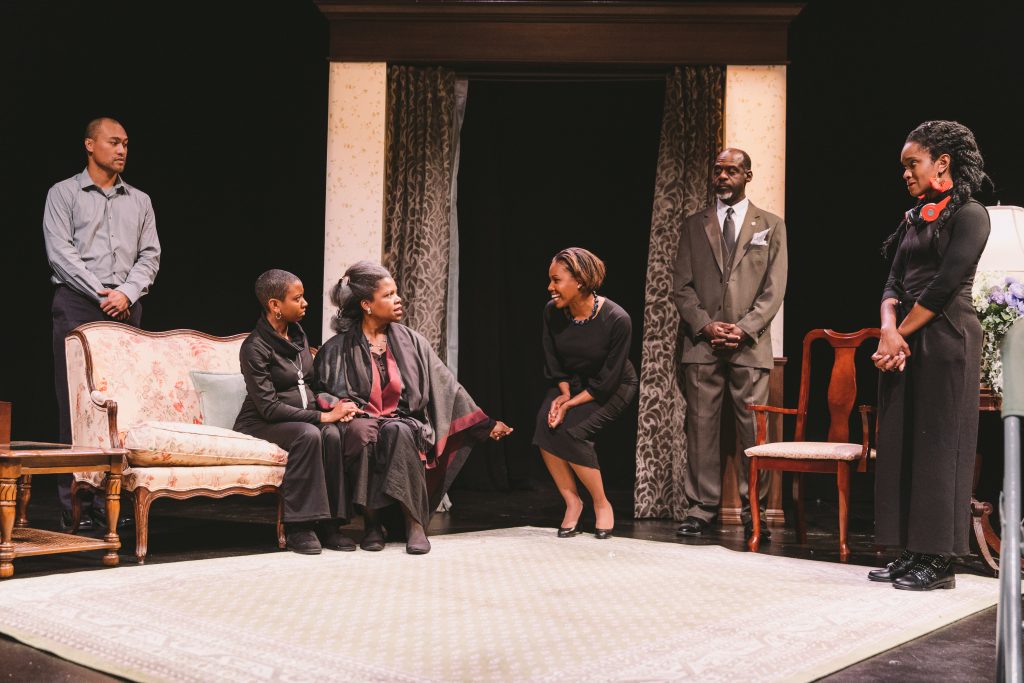 Mr. Black (Thomas Sillcott) is the ailing proprietor of a mortuary who may soon be forced to turn over the operations of his beloved business to his son Mark (Napoleon Tavale). But his son Mark can't seem to do anything right, even though he tries with all his heart to please his demanding father. Into the fray steps the family of George Jr., the victim of a fatal auto accident and Mr. Black's current mortuary client. Mama Lena (Lorinda Hawkins Smith) can't accept that her son is dead. Surrounded by her daughters Christine (Cloie Wyatt Taylor) and Pie (Kacie Rogers) and her son's widow Maya (Stefanee Martin), she desperately tries to remain the pillar of family strength. Unfortunately, with very little help from her husband George Sr. (Paul Dillon), whose memory problems and confusion seem to be escalating with every day.
Then a strange coincidence occurs. It seems that Mark, an eligible bachelor seeking "the one," met George's widow Maya years ago in Toronto for a single day – and has never forgotten her. Thereby dangles the conundrum: will Mark become the consoling mortuary aid or a man attracted to the one that got away? Meanwhile trying to impress his father with his competence, skills, and business acumen.
Author McCalla has fashioned a very believable family group facing real-life problems and painful reality. Added to the dynamic of a grieving family is the struggle between father and son – both stories elucidated with compassion and truth. Director Jessica Hanna "gets' McCalla's message and deftly helms the characters as they navigate the troubled waters. The ensemble cast does an excellent job of portraying real people faced with the immutable issues of death, pain, and loss. The occasional chuckle does double duty – to relieve tension, but also to let the audience know that all will eventually be well.
Amanda Knehans' set is simple and serviceable with the invaluable assistance of lighting by Martha Carter, sound by Carlos Torres, and costumes by Elena Flores. But there are other dynamics which are never mentioned but glaringly apparent. George Jr.'s family is biracial, with a Caucasian father and an African-American mother. Cultural issues also pervade the script as the various characters face the death of a loved one. And let's not forget that George Jr. was killed while drunk driving. THE WILLOWS is a fascinating study of how death affects all of us in different ways. As such, more questions than answers are raised. The production should appeal to anyone who has faced loss – and anyone who was raised in a family!
THE WILLOWS runs through May 5, 2018, with performances at 7 p.m. Thursdays through Saturdays and at 2 p.m. on Sundays. The Bootleg Theater is located at 2220 Beverly Blvd., Los Angeles, CA. Tickets are $20 (students and seniors, $15). For information and reservations, call 213-389-8356 or go online.