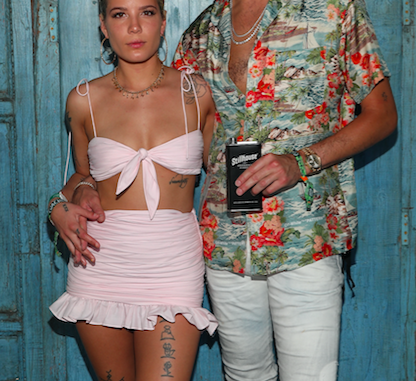 During Coachella pool parties and off-site activations can overshadow the actual festival itself! Insiders, celebrities, and media alike flock to Palm Springs to escape the LA hustle and bustle and relax – poolside and in style! What better way to relax than with Playboy – who made its remarkable debut during the biggest weekend in music – Coachella!
Playboy debuted its first ever Playboy Social Club during the first weekend of Coachella. The two-day events took place in a historic private boutique hotel in the heart of Palm Springs. Guests were entertained by DJ collective Soulection, Playboy Bunnies, Playmates, fire dancers, artist performers and more. Friday night's Magic Hour at Playboy Social Club was also the first time the iconic Bunny costume and ears were customized for a true desert, fashion vibe.
As temps reached near 100 in the desert, attendees kept their cool by lounging at the poolside oasis that Playboy Social Club has created! Halsey gave G-Eazy a pass for the day as he rolled up to Saturday's pool party in a RMD Garage Cadillac convertible with Playboy's 2018 Playmate of the Year Nina Daniele.
The 'IT' couple of the weekend, Halsey and G-Eazy, are very much in love and were pretty much inseparable all weekend. #CoupleGoals! Halsey and G-Eazy were making their rounds and bouncing from party to party throughout the day. Earlier in the day the couple was spotted at Playboy Social Club Party which was sponsored by Stillhouse whiskey, (which G-Eazy is a partner and co-creative director.) The event featured the hottest elites lounging poolside while taking in the Palm Springs heat. Guests were also able to sip on cocktails from Viva Tequila! The couple, who does not shy away from showcasing their relationship and packing on the PDA, were spotted sharing a few quick kisses at each party! The two have been an item for a few months with no signs of it slowing down. From collaborations to their relationship, it's easy to see the connection on and off stage.
Teyana Taylor arrived at the event donning a mesh neon green jumpsuit! The "Maybe" singer gave off major festival vibes and completed her Coachella look with flower-rimmed bunny ears!
Additional celebrity guests in attendance included  Anthony Russo, and Chanel West Coast, and guest of honor, G-Eazy who poured cocktails fueled by Stillhouse and Viva Tequila 32!
The two-day event was the perfect way to relax and keep your cool – in style! Although this was the first of the Playboy Social Club in Palm Springs, something tells us it won't be the last!