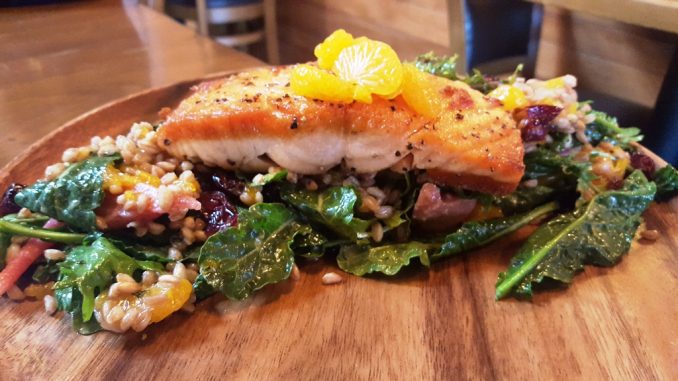 A front and center tiny kitchen along with a brand new second location and Executive Chef Chris Paul does not miss a beat as he produces such amazing food at Public House by Evans Brewing Co. you sometimes forget that the origination of this pub style restaurant was to be centered around the many selections of beer from Evans.
Evans Brewing Co. has created a mouthwatering lineup of craft beer that would be the highlight of any beer bar. The recent  addition of Executive Chef Chris to the Public House, both locations, will take guests down a new culinary path as he is already creating new items for the menu.
Chef Chris brings his culinary skills to the forefront with the pan seared salmon salad, beautifully seared and tender piece of salmon on top of a bed of kale and farro, then given tart, dried cranberries, citrus, clementines and a little bit of spice with spiced Moroccan roasted beet vinaigrette. This is just a perfect combination of flavors and textures all brought together with the salmon.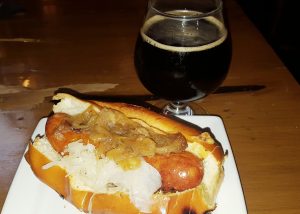 The brick oven flat bread pizzas are another item that will surprise you a little as they are so well done, think crust, cooked with just a little char around the edges and cooked evenly, but Public House has the perfect oven to create the perfect flat bread pizza. While serving up the classic margherita or a pepperoni or sausage pizza, the Mediterranean is the truly unique and must try pizza on the menu. You are going to find a big pop with the fresh garlic and then just fresh ingredients galore, including: artichoke hearts, olives, roasted red peppers and cherry tomatoes.
Signature sausages and brats that are created using the Evans Brewing beer. The old world bratwurst is infused with the Chocolate Porter, the spicy chicken sausage gets a lot of flavor from the Stout at the Devil and you have a German Style pork sausage that not only gets flavor from krHOPen IPA, but it is also has cheddar cheese in it and the Pollen Nation brings the perfect flavor to match with the chicken with Hawaiian style spices sausage. If you are looking for a place to head to after work on a Tuesday, Evans is the place to be as during happy hour you can get the featured sausages of the day and a beer for only ten dollars.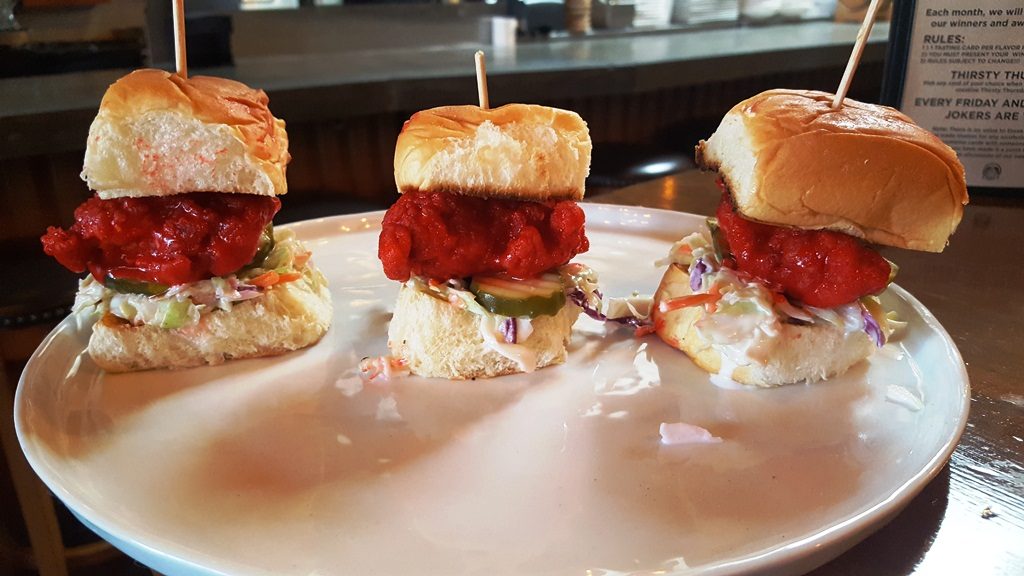 When it comes to happy hour, few places will offer the deals and the quality of beer and food of Public House. The appetizers feature wonderful tender chicken sliders that have a red color from the beets that are brought into the recipe and are finished off with a fresh coleslaw, a crisp pickle all on a velvety soft Hawaiian Bun. Soon you will also find a new variety of wings from Chef Chris using his "boss" sauce, which is more spicy than hot, but you will definitely get a lot of great flavor.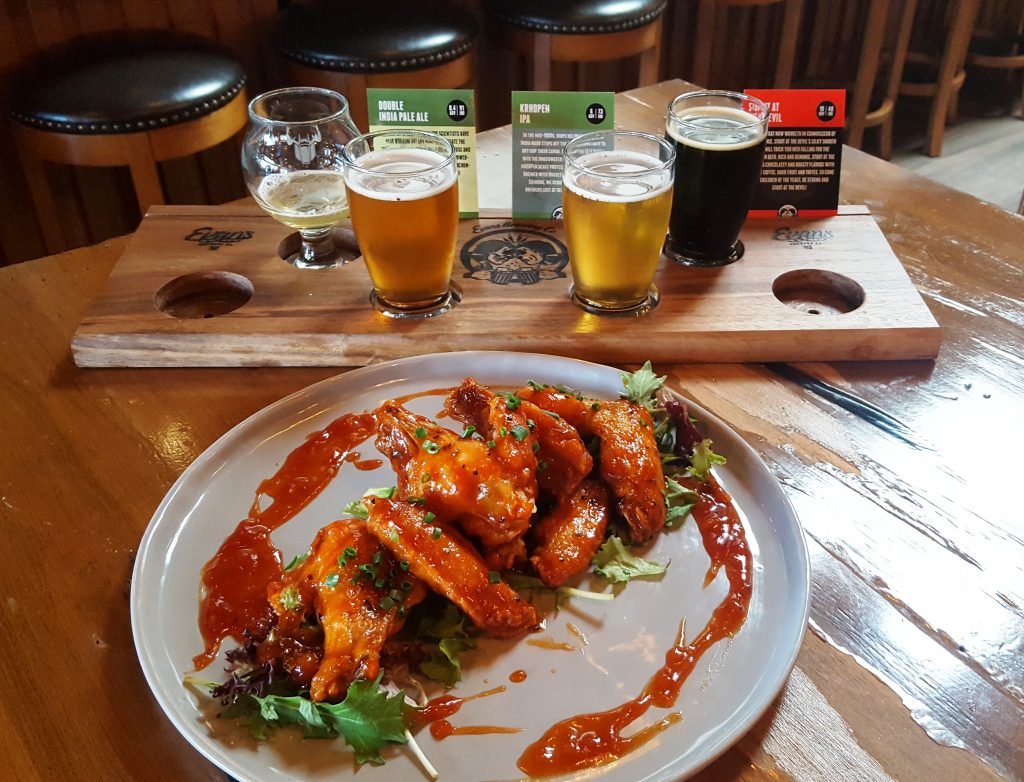 The Evans Brewing Co. experience begins with the beer, but it goes well beyond those flavorful drafts. The Public House is focused around the wide ranging selection of Evans beer, but it mixes in a great craft cocktail program, including five varieties of the Old Fashioned, including a very refreshing and unique gin version. You can come in for a beer, happy hour, a group gathering or just a leisurely weekend brunch and you can even find some great local live music Thursday through Saturday nights.
The Public House was created as venue to focus on all of the amazing beers from Evans Brewing Co., but the beer was just the beginning. One taste of the menu from Chef Chris you will see why the food is just as enticing as the beer and with a second location just opened, you can certainly hope to see this combination of beer and food spread to even more cities.
For more information visit: Evans Brewing Co.